Steve Lukather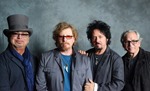 Photo : ©Heather Porcaro
After dis-banding in 2008, TOTO re-united in 2010 for the benefit of the band's bass player Mike Porcaro, who was diagnosed and battling with ALS. TOTO went on to release a 'best of' album titled "IN THE BLINK OF AN EYE 1977-2011" followed by a world tour which was featured in the band's 2014 release as a live album/DVD titled "35th Anniversary Tour: Live in Poland".
This year, TOTO released "XIV", their first studio album in 9 years. Unfortunately, just as the album came out, Mike Porcaro passed away as if he was waiting for the new album to be released. But we know that the band was able to deliver "XIV" to Mike Porcaro, who now rests in heaven with his brother Jeff Porcaro.
TOTO's "XIV" definitely proves that the band still has the power and energy to create top quality music and to live up to the expectations of their fans. Steve Lukather took time to talk to MUSE ON MUSE about the brand new "XIV" album.