Francis Dunnery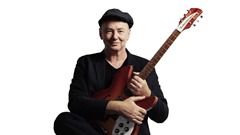 Francis Dunnery has just released his new album "Vampires" featuring re-recorded IT BITES material, following his previous album "Frankenstein Monster" which stunned many fans, showcasing a collection of re-recorded NECROMANDUS songs. NECROMANDUS was the legendary band in which his brother Barry Dunnery was part of. Francis' latest studio effort "Vampires" should definitely gather attention among the fans, as IT BITES tunes still remain to have an enduring popularity. The re-recorded IT BITES material has a more mature feel to it, along with a very beautiful sound production. Francis Dunnery took time to talk to MUSE ON MUSE about the reasons behind recording "Vampires", as well as about some of his upcoming plans.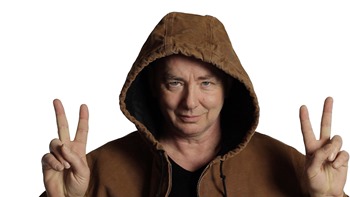 Interview / Text  Mamoru Moriyama
Translation         Louis Sesto (EAGLETAIL MUSIC)
Muse On Muse : Your new album "Vampires" which features re-recordings of IT BITES songs will definitely get a lot of attention from the fans. What was your reason behind recording "Vampires"?
Francis Dunnery : I wanted to complete my past. You cannot move forward in life if you have an incomplete past. I wanted to record them with modern sounds because I always believed the songs suffered because of 80s production. It was always on mind to do it so I wanted to finally make the effort and clear the space from my brain.
MM : How did you decide on which songs to record for this album?
FD : They were mostly my favorite songs and the ones I thought I could improve upon. You can never replace the originals because people have history with them but you can make them sound more timeless and take out the 80s sounds.
MM : IT BITES songs have been loved by the fans for a very long time. With that in mind, what was your perspective on how to please the fans in regards to the music performance and sound production of the album?
FD : I don't think there is anything on the new versions that would offend the old fans. The album has been exceptionally received by the rest of the fans around the world. I have no reason to think that the Japanese fans would feel any different. The songs sound better and I have improved on the musicality of the originals. We were very young back then. We recorded the originals with a lot of youthful spirit. The new versions are much more gentle on your ears. I think you can hear the songs better on the new versions. I think the production is far more kind to the songs. Yes I agree. That was the whole point. I'm glad you say that because it means I succeeded in what I was trying to do.
MM : Please tell us about The Sensational Francis Dunnery Band.
FD : Tony Beard on drums, Jamie Bishop on bass and Michael Cassedy on keyboards. Four very good musicians, not flashy musicians, very musical musicians.
MM : What kind of preparations were made by the band prior to the playing and recording of the songs you chose and recorded?
FD : I just sent the band the songs and told them to learn them the best they could and then I went into rehearsals and played the songs live. It's a lot of information to remember so it was difficult for all of us to remain disciplined and loyal to the old parts. It bites were a very complex, multi layered band. Its not easy re creating that sort of special energy but I think the band did a great job.
MM : The re-recorded songs have a very relaxed vibe and sound more mature. The beautiful sound production is very impressive as well.
FD : I am experienced enough now to know what I want and what it should sound like. I didn't know anything about musical production back in the 80s so I had to trust producers and engineers. The new versions sound much more authentic to me and far less reliant on effects and compression and EQ. I have a definite opinion now on how my music should sound.
MM : Your guitar performances on the original recordings were without doubt very impressive, but your guitars on this new album seem to sound more refined with performances that enhance the songs even more.
FD : That comes with being 53 years old ha ha. When you are young you are always trying to impress but when you get older you are more comfortable in your own skin and need less showing off. I think the guitar sounds on the new versions are very good. I am very happy with all the guitar on the album.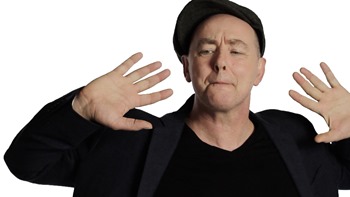 MM : Were there any new discoveries when re-recording the old IT BITES songs?
FD : Not really. I knew them intimately. There are a few new parts added to some of the songs. There is another guitar solo added to "Still Too Young To Remember" that is now my favorite part of the album.
MM : Looking back on the IT BITES albums, how do you view the following albums?
FD :
"The Big Lad In The Windmill"
Full of raw passion and youth. We were very excited and a tremendously accomplished live band for a bunch of 20 year olds.
"Once Around The World"
Probably our most accomplished album. Lots of experimentation. I thought we were beginning to develop a sound.
"Eat Me In St. Louis"
The original recordings were very very good but I think the mixes didn't do the songs any justice. We were looking for a new sound and the songs go lost in the process.
MM : Please tell us about your gear. What guitars, guitar amps, effectors, foot pedals did you use for this recording?
FD : I use a Laney Lionheart amp which in my opinion are the best sounding amps out there…. Unless you want to pay $10,000. I use a Michael Angelo T Rex pedal, and my old Rat pedal. That's it. Most of my sound comes from my hands. It's ridiculous to suggest that guitar sounds come from the instrument. Probably only 15% of a guitar players sound comes from the instrument, the rest is down to the player.
MM : You are also offering downloads to the instrumental versions of "Vampire" on francisdunnery.com. Tell us about this.
FD : I think it will be very interesting for people to hear the instrumentation on the songs. I really think musicians would appreciate it.
MM : What do you have coming up next? Tell us about your upcoming schedule.
FD : I'm re-recording welcome to the wild country for japan and I have Japanese dates coming up in the fall. House concerts, astrology readings and I have the Francis Dunnery radio show which is very popular over here. I like to keep busy and I like doing many different forms of creativity.
MM : Please give a message to your fans.
FD : I can't wait to see you all this year and I hope you will come and get together for old times sake. It's been a long time. We've known each other a long time. It will be nice to eat some decent Japanese food ha ha


Francis Dunnery official site : https://www.francisdunnery.com/
Francis Dunnery facebook : https://www.facebook.com/FrancisDunnery/




VAMPIRES / FRANCIS DUNNERY
https://www.francisdunnery.com/shop/
CD1
01. Calling All the Heroes
02. Still Too Young to Remember
03. The Old Man and The Angel
04. Feels Like Summertime
05. Underneath Your Pillow
06. Midnight
07. Screaming On The Beaches
CD2
01. I Got You
02. Rose Marie
03. Never Go to Heaven
04. Yellow Christian
05. The Ice Melts Into Water
06. Vampires
07. Once Around The World