Trev Lukather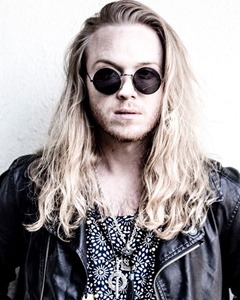 Trev Lukather has just released his latest single "Only Girl" via digital download. Trev is the son of world renowned musician and guitarist Steve Lukather, and is also a talented singer, songwriter, and guitar player. His multiple talents definitely prove himself to be a high quality rock musician.
Trev Lukather's EP "Trev" released in 2008 showcases some very impressive tunes with great hooks and melodies. The musical arrangements, including Trev's guitar riffs and simple but "to the point" licks, as well as guitar solos that stick to your ears, enhance the tunes creating an incredible rock album.
Trev has also been working with various artists as he makes his name in the music industry step by step. He writes for artists such as American rock act HALESTORM, in which he received his first gold disc, and also is the musical director for Lindsay Loha, Paul Rey (Epic), Ryan Cabrera (Atlantic/Universal), etc. Trev Lukather took time to talk with MUSE ON MUSE, with some deep insights into his music.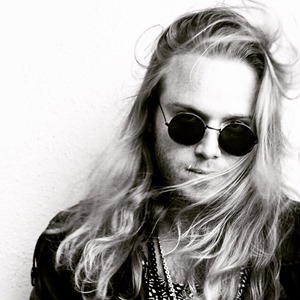 Interview / Text  Mamoru Moriyama
Translation         Eagletail Music
Muse On Muse : This will be your first interview with MUSE ON MUSE. Please tell us about yourself.
Trev Lukather : Hey all! My name is Trev Lukather born and raised musician from Los Angeles CA. Songwriter, guitarist and singer is my main scene. I also am a Musical Director worked with Lindsay Lohan, Paul Rey (Epic) Ryan Cabrera (Atlantic/Universal) among other artists but being an artist of my own is my passion and love.
MM : At what age did you start to take interest in music and how?
TL : 4 years old. My pop and Jeff Porcaro got me my first kit for my birthday I believe. Instantly fell in love and I'm grateful for the drums. It prepared me for guitar as far as timing and feel. I started playing guitar at 12 years old after watching my dad play a show here in LA. He ripped a solo on the opening song of the set. Everyone was reaching out for him and he was right up front of the stage and it changed my whole life. I didn't want to be in the back on drums, I wanted to be right up front.
MM : What artists and songs did you learn to play back then? Tell us about some of memories during your early years of practicing.
TL : Well obviously my dads band Toto is my main influence. They are the best of the best and how they were able to do it all. Their own albums and play on everyone else's albums. Best of both worlds. Then I was hip to David Gilmour, Peter Gabriel, Tom Petty, Van Halen, Journey etc. for the obvious reasons. Gabriel's writing and arrangements were out of this world. Gilmour's feel and taste on the guitar without shredding. Tom Petty's simple but classic writing abilities. Eddie VH for the obvious reasons and I grew up around him so it was just influence city. I was and am hooked.
MM : What artists and songs did you learn to play back then? Tell us about some of memories during your early years of practicing.
TL : I believe that you are given natural abilities and gifts through spirituality or genetics. Music always came pretty easy to me. Everything else was hard, music was the escape. I was able to pick up and play in time on drums easily and I was able to write songs and play guitar easily. I've never had a lesson in my life. I watched and I listened. I am an ear player, not a technical player.
MM : Tell us about the process of how you acquired your current musical style.
TL : I searched for a while, I always tried to keep up with the times and it never made sense to me or anyone I played it for. After going on the road for other artists, I got the bug to just do what I do. Write what I write and be true to myself. My producer Justin Gariano happened to text me randomly to just get together and see what happens. I brought in all my musical bros and said let's just do what we want and see where it takes us. No holds barred. The sound came from that. Natural.
MM : Your father, Steve Lukather, is a great musician and guitar player with lots of fans around the world. What kind of advice did you get from him?
TL : He loves the fact that I taught myself and found my own way. He says that's why I have my own style and vibe. He has my back and I go to him when I have concerns or questions. He's managing his own band and knows the business well. It's a blessing to have a dad who loves the dream and to be reminded on a daily basis that dreams do come true.
MM : When did you decide to become a professional musician? Tell us about your early musical activities before turning professional.
TL : I was always hanging out with an older crowd. I had a fake ID at 15 and snuck into 21 and over shows. I wanted to work as soon as possible and my pop saw I had what it took so I left everyday high school and did independent studies. I got the call for Lindsay Lohan at 17 years old. Next thing I knew I was in New York playing Good Morning America and was working. Cool moment.
MM : Your EP "Trev" released in 2008, is a great album with many songs containing very impressive melodies and hooks, definitely showcasing your talent as a singer and songwriter. How did you acquire the skills to become a good songwriter?
TL : Thank you! I just always had the passion for it. I have a lot of emotions and feelings I want to express and get out. I'm thankful for songwriting and having the ability to do so. It's not an easy skill to pick up. So many different forms. lyrics, music, melody, hooks, everyone has their thing. I'm all about music, melodies and hooks. That's my favorite part. This new EP I finished and the album that I'm currently writing is all me, no co writes and for a reason. I want to pour myself out on the record. What you hear are all real stories, experiences and emotions I've lived through. I feel people will connect to it more knowing that it's real.
MM : The arrangements on your songs also show very impressive guitar riffs and solos that are simple but with beautiful licks and phrases that really enhance the songs. Tell us about the approach you take as a guitar player in regards to writing and making your songs.
TL : A mixture of my pop and Gilmour. My pop can shred but he's such a melodic player even when he's ripping it up. I went more towards the Gilmour side of keeping it simple but to the point. Song within a song. Solo you can hum. My pops most famous solos were just that. Everyone can hum Comfortably Numb solo. I strive for that.
MM : Do you have any episodes / memories from the production of "Trev" you can share with us?
TL : Tommy Henriksen produced that EP. He's now in Hollywood Vampires and Alice Cooper. He had his own Label on Geffen Records. It was a great opportunity and he is such a genius. His production is crazy and his arrangements, vocal production was a whole new happening world.
I'd say a cool story was I met Steve Perry at Steakhouse Studios while working with Pop on his solo album. I had three songs finished on the EP at the time. I told Steve I was a fan and if he'd be into checking out a few tunes. He got in my car and I played him Voices, Still Waiting and The Game. He flipped. We exchanged numbers. Next day, I look at my phone and Steve Perry was calling. He asked what I was doing, I said we were in the studio. He came down and hung out. Threw out some vocal production ideas to us and he became a big support. I wrote with him once for his own solo demos. That was one of the coolest experiences ever.
MM : You digitally released a very beautiful power ballad "Only Girl" in June this year. Tell us about this song.
TL : Only Girl is the first single I picked for the new EP. It is one of my favorites and has a big power ballad throwback but retro chorus. I wrote it for a girl I was crushing on at the time. Her and I are good friends and had a fling for a second. The vibe was there but we are pulled in different directions so it never went the distance but I'm happy about it cause Only Girl was written in 10 minutes when I had the butterflies haha
MM : On the music video, we see a band playing with you. Can we consider this to be the Trev Lukather Band? Please introduce the band members to us.
TL : Yes! Krispy Swiggs (Bass) and Jake Hayden (Drums) have been my go to guys for over a decade and played on the recording as well. Louis Middleton on keys is a talented cat and we've jammed a few times but he filled in for the video. Steve Maggiora and Jason Derlatka who played on the record and play live with me were not available during the shoot. Louis is great tho.
MM : We can see you playing a Musicman guitar thru a Bogner amp on the music video. Tell us about your gear. What guitars, amps, effectors, pedals do you use?
TL : Yes, Ernie Ball and Bogner have been amazing supporters. I grew up with the Ball family and keep them in the loop with everything I am doing and they are behind me and dig it so that makes me happy. Same with Reinhold Bogner, he's an awesome guy who has had my back for 7 years now. Played the Shiva on the EP and live. I'm more of a plug in guy but I use T Rex pedals for delays etc.
MM : What do you have coming up next? Tell us about your upcoming schedule.
TL : I've been demoing for the album Getting the songs down so when we go into the studio I'll have the foundation there and build the beast from there. Writing is what I am doing mainly at the moment. Also for other people too. I love writing for other artists. Got my first Gold Album for writing first single for rock band Halestorm on Atlantic which is an awesome bucket list check. Wrote a few songs on the new September Mourning album on Universal Records that just came out. Grinding away.
MM : Please give a message to your fans.
TL : To everyone that supports me and connects to my music, I just want to thank you from the bottom of my heart. I am beyond grateful to have you by my side and my main goal is to get in the road and play for anyone who wants to hang, vibe and watch! Love you all and hope to meet and hang soon!! Tell your friends and help spread the word. Hit me on my socials Instagram, Snapchat, Twitter, Facebook etc for updates (@trevlukather) big hugs!!!!

Trev Lukather facebook : https://www.facebook.com/trevlukatherfanpage/
Trev Lukather twitter : https://twitter.com/trevlukather
Trev Lukather instagram : https://www.instagram.com/trevlukather/
Only Girl / Trev Lukather – Single
Released: Jun 03, 2016
Trev / Trev Lukather – EP
Released: Jun 24, 2008
1.Lives Built Around Lies
2.Look At You Now
3.Still Waiting
4.Breakdown for Eternity
5.Voices
6.Tonight
7.The Game