Kee Marcello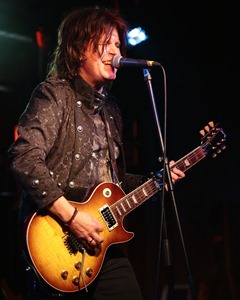 Photo by Darren Griffiths
Former EUROPE guitar player Kee Marcello has released his latest album "Scaling Up", featuring a variety of tunes from melodic and catchy to hard edged. Kee Marcello recorded "Out Of This World" and "Prisoners In Paradise" with EUROPE, and fascinated his fans with his clever licks and great sense of technique on the guitar. His latest album still displays such trademarks and style, and the album also showcases Kee's talents not only as a guitar player, but as a singer and composer as well. Supported by bass player Ken Sandin and drummer Darby Todd, the Kee Marcello Band proves themselves as an energetic live band too. Kee Marcello took time to talk to MUSE ON MUSE about his latest studio effort.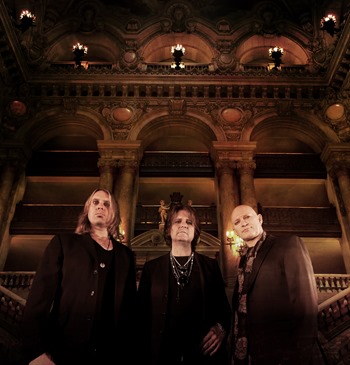 Photo by Darren Griffiths
L to R : Darby Todd: drums, Kee Marcello: guitars/keys/vocals, Ken Sandin: bass
Interview / Text  Mamoru Moriyama
Translation         Louis Sesto (EAGLETAIL MUSIC)
Muse On Muse : Your new album "Scaling Up" definitely displays your talent as a singer and guitar player. The catchy and melodic music also remind us of your career with EUROPE. Please tell us about the concept of your new album.
Kee Marcello : Well, the concept of Scaling Up derives out of spending a lot of time on the road with The Kee Marcello Band, and by doing so realizing what it is that makes us tick musically. I'm using the full monty of my musical influences on this album, but for me it basically all started with 70's hard rock, but later grew into my own particular style of song writing.
MM : The album cover seems to have a message behind it. Can you tell us about the artwork?
KM : The man on the ladder in front of an apocalyptic city is PAPA LEGBA. He's a Voodoo spirit that is said to be the gatekeeper of the spiritual crossroads. Right now humanity is facing a lot of tough choices if we want to survive as a species – we would need to speak to PAPA LEGBA.The reason I chose a Voodoo divinity to climb that ladder is because I used to live in the Turks And Caicos Islands in the British West Indies (BWI), in the late 80's, early 90's. There were a lot of Haitians there because of it's closeness to Haiti, so Voodoo was ever present, and it fascinated and inspired me.
MM : Can you introduce and tell us about each musician taking part on the album?
KM : The bass player is long time colleague KEN SANDIN(Alien, Joe Lynn Turner, Bobby Kimball, etc). He's been in the band since 2004. We've played together for so long that we've reached the point when we start thinking the same thoughts! This kind of intuitivity is a great tool in the band.
The drummer is DARBY TODD(The Darkness, Gary Moore, Robert Plant, etc). He joined the band for last years UK Tour, and he immediately became crucial for this band. Me and Ken have had different drummers in the band over the years. They've all been really gifted, but for different reasons it hasn't worked out. But when Darby joined and we started to rehearse, we just looked at each other and said with one voice: "This is the guy!"
Darby is an outgoing, social guy, pretty much the same kind of creature like me, while Ken is more thoughtful, contemplating and calm. He therefore works as a catalyst in the band – when the two fools rush in he can take a step back for perspective.
MM : How was the songwriting and actual recording done? Can you tell us some details about the production process?
KM : It all started with spending lots of time on the road. Especially the UK tour of 2015 gave me a lot of inspiration to write songs for a new album. I wrote and made demos of the songs in my studio and sent them to Darby and Ken. They listened to the songs and put their own twists to them well ahead of the recordings. Then we all met up at excellent Top Floor Studios in Gothenburg, where we recorded drums, bass and guitars the old fashioned way. The studio owner, Jake Herrmann, designed a spectacular drum sound for us, and that's what you hear on the record. No drum samples or Hocus Pocus, just a really organic, natural drum sound, designed by someone who knows what the hell he's doing!
MM : I'm positive that "Don't Miss You Much" is a song that a lot of your long time fans have been waiting for.
KM : Thank you. Yeah, I think a lot of my fans from back in the 80's/90's will feel at home with the vibe of that song. I'm very happy with the way it came out, it manages to be both groovy, heartful, melodic and somewhat rocking.
MM : I hear some very mellow and sensitive guitar playing, which reminds me of Jeff Beck, on the beautiful ballad, "Fighter On The Trigger".
KM : This song actually derives from an outtake of "Out Of This World", but back then I named it "Too Far Gone". When I was cleaning out a storage room last winter, I discovered an old quarter inch tape box lying on a shelf. It said "COMPASS POINT" on it, and then I remembered what it was. in 1987, before I moved to BWI I lived about a year in Nassau, the Bahamas. I had my home studio there and I was doing demos for OOTW, which we were about to record in London. I went to Compass Point (a legendary studio where AC/DC recorded "Back In Black" f.i.) to buy a quarter inch tape for mixing down my demos on, at this was it. I had to send it to a studio that "bakes" tapes. When tapes are that old you can't just play them back on a tape recorder – the magnetism has decreased over the years, and it will simply fall apart. When you send them for "baking", the tapes manage to keep together so you at least can make a digital copy of it. I received the digital copy after a week, and I was thrilled to hear that song again! I really tried to get the same vibe on "Finger On The Trigger" as on the demo, cause the first feel for a song is almost the right one. I even kept the feeling of the solo, and I remember that my playing on the original demo was inspired by Jeff Beck, who was a big inspiration for me when I first started playing the guitar. It was always a disappointment to me that this song never made the album, and now I finally found a perfect forum for it, after changing the preachers and rewriting the lyrics. "Finger On The Trigger" is a story about a suicide bomber that regrets his choices facing death with his finger on the trigger.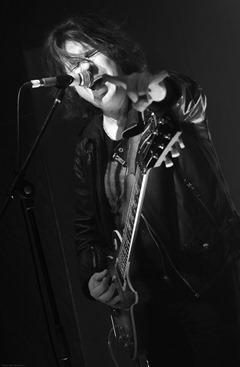 Photo by Darren Griffiths
MM : Some very aggressive and energetic guitar on "Soldier Down". Darby's drums also leave a great impact to the listener.
KM : Yeah, I'm very happy with the guitar parts of this one, where I got to use a whole variety of styles and techniques. We premiered it on the recent UK tour, so I can certify that it's also a killer live song! The instrumental parts makes it take off in a big way, and Darby's drums on it are epic! The first piece of music to come out of this was actually the classic music sounding intro, which repeats itself in the second part of the solo. That's what the whole idea of the song came from. After I "got to know" the song, the rest of it pretty much wrote itself! I dedicate it to all the brave men and women of the peacekeeping forces around the World that risk their life daily so we can be free.
MM : "Wild Child" and "Don't Know How To Love No More" were songs that were originally written for EUROPE when you were part of the band. Tell us about these songs.
KM : Well, we recorded those two songs that never made the Prisoners In Paradise album. The fans have named these unreleased demos "Le Baron Boys" after a name we (in Europe) took when we did a secret gig at the Whiskey on Sunset Strip in order to try out the new material on the fans. When I went into writing mode for Scaling Up I always had a bit of my personal attitude from "Le Baron Boys" in the back of my head. I felt that my frame of mind, song writing wise, during those recordings were very "instinctive Kee", a natural way for me of writing music. To just to let those riffs pour out of me, so to speak, made me get into the zone. My writing on this album is very intuitive. So later when I started talking with Mario de Riso and Serafino Perugino at the label, Frontiers Records, we discussed the possibility of recording a couple of songs from that era, we all mentioned those two songs, so it felt like a done deal.
MM : In the past, you released "Redux: Europe" which featured re-recordings of EUROPE tunes. Why did you decide to release "Redux: Europe"?
KM : I've been doing a lot of touring ever since the release of "Melon Demon Divine" in 2003, and when I've performed live I've always included some songs from my past. Over the years these songs developed and took on a new, more personal style, and I just thought it was time to do my own versions on an album. Besides the Europe songs I also recorded Easy Action's hit "We Go Rocking". I'm very pleased with how that album came out by making the songs "mine" by rearranging/rerecording them, and it feels so much better playing my own versions live!
MM : A very interesting and unique exchange of solos between you and Mattias Eklundh on "Good Men Gone Bad".
KM : Yeah, Matthias and I are good friends, and I thought it was about time we did something together on an album. I've been a guest lecturer at a couple of his "Freak Guitar Camps", but this was the first collaboration on disc. I love the way our playing styles are quite different from each other, but still form a sort of a unity.
MM : Your guitar performance is very impressive, and consists of a mixture of various elements such as emotional, melodic, and technical. Tell us about your approaches to rhythm guitar playing, as well as your approach to lead guitar playing.
KM : Playing rhythm guitar is very closely related to the actual song writing for me. A lot of my songs (I write only a few using keyboards), starts with me having some sort of riff/chord pattern idea that eventually turns into some sort of song part. The performance of the riffs are extremely important to me, they musn't only be in time, they have to groove! The amount of shuffle is very important, and it has to be just right. Playing riffs like the ones of "On The Radio", "Blow By Blow", and by all means, "Wild Child" is what separates the boys from the men! Playing lead guitar means to me that I'm in a way temporarily taking over the command from the lead vox – back and forth. That kind of dialougue between the guitar and voice is a very important part of my music. In a way the guitar is an extension of what the voice is incapable of. On "Soldier Down" f.i, I'm doing an alternate string skipping part that perhaps brings ones thoughts to Paganini's caprices. On songs like "Blow By Blow" and "Good Men Gone Bad" I completely take off in my distinctive "playing outside the key" style which is really a jazz phenomena inspired by John Coltrane. But it's all part of my musical library, and I love to bring it out wherever I see fit. I know not everyone love the complete take-offs I do while playing "outside the key", but I don't care. Who's gonna stop me?!
MM : I'm sure there are many fans out there that would love to hear an instrumental album from you with your very emotional and technical guitar skills. Any chances?
KM : I don't know – it would be a lot of fun! I know I would find ideas for it, and it would probably be very interesting pursuing it. BUT there are two huge "buts": time and interest from a label that likes the idea. Regardless what anyone might tell you: I know that producing albums without a backup from a serious label/record company person is a complete waste of time. Making an album is a very time consuming enterprise (hence "time" is one of the two "buts"!), and recording/releasing such a product without a solid partner is the difference of selling 10 copies as supposed to 100.000. Having said that, if I get a serious offer from the proper people – I'm in!
MM : In regards to your guitar sound, what did you keep in mind when recording "Scaling Up"? What guitars, amps, pedals did you use for the recording of this album?
KM : I played exclusively on my two signature Gibson LP's with Lundgren's "Heaven 57s" pickups http://www.lundgren.se/mics/humbucker/, and True Temperament frets http://www.truetemperament.com/necks/. They both also have Floyd Rose whammies. For the basic rhythm parts (and solos) I was using Marshall JVM405HJS and greenbacks, which I love, but for rhythm overdubs I also used a Vox night Train. It had a really nice crispiness in the high end that worked to bring out the string sound in a lot of the riffs. I use a crybaby wahwah on some riffs, but that's pretty much it FX wise. I like to be able to control what sort of/how much delay/chorus/flanger to use, so I want it put on in the mix. Live I also use a MXR chorus and a Carbon Copy delay pedal, but in the studio I like to record it clean. I also used an Vibesware Guitar Resonator for some ambient overdubs. For the acoustic parts I mostly used a nice Parkwood 6-string and my old L'arrive 6-string (with "Kee Marcello" in mother-of-pearl inlays on the fretboard) on a couple of tracks.
MM : What do you have coming up next? Tell us about your upcoming schedule.
KM : Right now I'm in the middle of an Arena tour of Sweden with "Rock Of 80's", which is a spin-off of "Rock Of Ages", in which I played one of the main roles in the Swedish production of it. We did a lot of ROA shows in Stockholm, Gothenburg and Helsingborg for some years, and the interest never seem to subside. So we decided to do an arena concert version of it, and it's selling out everywhere. Under October where doing 10 sold out 6 to 10.000 seaters(!)
Beside me on stage in the show I have Joacim Cans (singer of Hammerfall), Thomas Vikström (Therion, Candlemass), and a number of famous swedish singers.
After the last RO80's gig October 31 I'm leaving for Finland where Kee Marcello Band starts the EU tour. It starts off with Scandinavia and will bring us out on the continent later this year and early next. We've also got plans for SEA, SA and the US, more info to come!
MM : Please give a message to your fans.
KM : Thanks to all my faithful fans for all your support! Looking forward to see you all on the road during the SCALING UP WORLD TOUR! Come and see us – you've never seen anything like this band!
Kee Marcello facebook : https://www.facebook.com/keemarcello/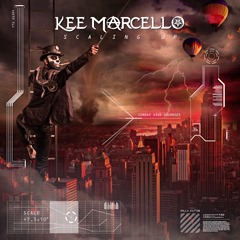 SCALING UP / Kee Marcello
FRCD757 Frontiers Records
1.BLACK HOLE STAR
2.ON THE RADIO
3.DON'T MISS YOU MUCH
4.FIX ME
5.WILD CHILD
6.FINGER ON THE TRIGGER
7.SOLDIER DOWN
8.SCANDINAVIA
9.GOOD MEN GONE BAD
10.SCALING UP
11.DON'T KNOW HOW TO LOVE NO MORE
12.BLOW BY BLOW