Philip Sayce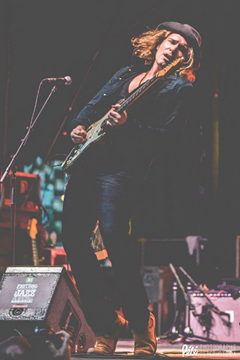 Photo by Pété Photographie
Philip Sayce has just released his new live album titled "Scorched Earth Volume 1". The album showcases Philip's powerful and emotional singing, along with a dynamic performance and sound on the Stratocaster guitar, all captured into the album without any overdubs nor fixes. The album definitely displays the real musicianship that Philip Sayce is all about.
The album title also gives the fans some expectation for a 2nd and maybe even a 3rd live album coming up after this. Check out Philip talking to MUSE ON MUSE about "Scorched Earth Volume 1".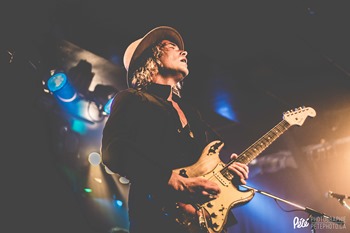 Photo by Pété Photographie
Interview / Text  Mamoru Moriyama
Translation         Louis Sesto (EAGLETAIL MUSIC)
Muse On Muse : It's been a while since you came to Japan last year, but how was it playing in Japan at last year's Fuji Rock Festival?
Philip Sayce : Playing at the Fuji Rock Festival last year was definitely a career highlight for me! A huge privilege and honor. We had such a wonderful time, it's actually one of my favorite festivals in the world. I truly hope to return to Japan soon, I'm looking for good people to work with and good opportunities to come to Japan to perform…
MM : Your album "Influence" released in 2014 was re-released by Warner Music Canada in 2015. I'm sure it helped in spreading your music to a wider range of listeners.
PS : Yes, to have the opportunity to partner with Warner music Canada, and also Warner Music Japan, is very exciting for me. I am hopeful these partnerships will allow me to connect with as many people as possible through the power of music, positivity, and love.
MM : Tell us about your recent live album "Scorched Earth Vol.1". What's the meaning behind the title? Does the title suggest that there will be another live album coming up soon after?
PS : The new live album was recorded in Toronto, Canada at The Silver Dollar Room. It was one of the shows during our April tour, and it was hot and sweaty in there! The title actually came from Warner Music Canada Vice President Steve Waxman. The exciting part about this live project is that this is volume one… Meaning we're already starting to think about volume two, volume three, and many more.
MM : The album definitely captures the enthusiasm and energy of the crowd. Was the album recorded over a number of shows?
PS : I am so grateful for the enthusiastic audience on this recording! All of these recordings are from one show in April, in Toronto, Canada at the Silver Dollar Room. There were no overdubs or fixes.
MM : How do you decide your set list for the shows? Anything you keep in mind when you choose what songs and in what order to play?
PS : Choosing a set list is usually something that happens before we go on stage. In this case, Joel Gottschalk & Kiel Feher (bass & drums) and myself put together a set list we felt would be exciting and work well for this venue. I hope that it translates through the recordings! Sometimes we will feel the energy of the room, or even directly ask "what does everybody want to hear right now!?" We try to go with the flow.
MM : Your vocal performance is very powerful and emotional as always. Is there anything you do to maintain your voice / condition while on the road?
PS : Wow, thank you so much. I always try to warm up my voice before and after shows. These warm-up exercises are extremely important for maintaining vocal clarity power and range. Some days, if I'm really worn out, I will try not to speak for the entire day to rest my voice and be in the best shape possible for the show.
MM : Your guitar performance on the album definitely leaves a great impression. Very dynamic with a very fat sound, as if your strat is roaring.
PS : Wow! Thank you so much. I truly appreciate your feedback. I gave 111%, so I hope you feel the love when you listen to the music!
MM : What do you keep in mind when creating your guitar sound in a live situation? You set your guitar amp facing upstage sometimes. Tell us why you do that?
PS : This is a tricky question, because there are so many variables. On this particular recording I was using rental back line, as were Joel and Kiel. I was using reissue Fender Twin Reverb and a re-issue Fender Deluxe Reverb. These amps are good solid tube amps, but rental amps are not my own personal amps, a little bit like wearing somebody else's shoes or pants…or a rental tuxedo… In someways, I guess it was just plug-in and play, and these rental amps were pretty strong, so it worked out OK. A lot of times at smaller venues I will turn amplifiers backwards, because they're open back amps anyways, and this helps to disperse the sound in the room but not overwhelm people with extreme volume from the front of the amp. We want it to be an enjoyable experience for everyone included, and when we can get our sound right on stage, it's a great thing. Our sound technician Jeffrey Holdip has been instrumental in helping us get our sound across to audiences, keeping it large and in charge, yet digestible and warm.
MM : Some artists like to fix all the mistakes to make a "perfect" live album, whereas others like to leave everything untouched and "raw". What's your standpoint when it comes to live albums?
PS : I think this is a really personal question, and everybody has their own viewpoint on it. For me, I prefer not to fix or overdub things in live recordings, if possible. This particular release, Scorched Earth Vol.1, is a live recording and does not include any overdubs or fixes.
MM : What's your personal most favorite live album?
PS : This is a really good question, I listen to so many bootleg live recordings of all my favorite artists, it's a little bit hard to remember what was a live album release and what was a bootleg! I really love Stevie Ray Vaughan and Double Trouble live at the El Mocambo, Led Zeppelin live at Royal Albert Hall, Cream live & the live tracks from Wheels Of Fire, Freddie King live at The Sugarbowl…and many many more!
MM : Any plans for a new studio album? If yes, can you give us some insights as to what kind of album you have in mind?
PS : Yes, I have new songs that I hope to record very soon. I'm actively writing and working on new songs, and try to come up with new riffs & ideas as often as possible. With the way the music industry has changed over the last few years, I may just start releasing one or two songs at a time. Full 12 song albums are not always necessary. It's a big project to fund a full record. Recording two or three songs at a time can feel more manageable. I think moving forward it will be a combination of live releases and new studio tracks. I think it's very important for me to be continuously releasing new material, live and studio… And I hope that it reaches as many people as possible!
MM : A message to your fans please.
PS : I thank you with my heart and soul for your continued support in Japan. We had such a beautiful adventure last summer at The Fuji Rock Festival, and I have been exploring opportunities and looking for partners who can help us return as soon as possible to perform. Thank you for continuing to share this music and helping to spread the word. Thank you with all my heart, I look forward to seeing you very soon!

Philip Sayce official site : http://philipsayce.com/
Philip Sayce twitter : https://twitter.com/PhilipSayce
Philip Sayce facebook : https://www.facebook.com/PhilipSayceMusic
Philip Sayce instagram : https://www.instagram.com/philipsayce/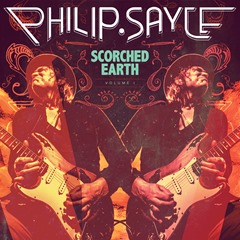 Scorched Earth Volume 1 / Philip Sayce
1.Steamroller / Powerful Thing
2.Blues Ain't Nothing But A Good Woman On Your Mind
3.Standing Around Crying / Aberystwyth
4.Beautiful
5.A Mystic
6.Out Of My Mind
7.Alchemy