THE JELLY JAM
Trio rock project THE JELLY JAM consisting of Ty Tabor from KING'S X, Rod Morgenstein of WINGER and THE DIXIE DREGGS, and John Myung of DREAM THEATER has just released their fourth album "Profit". The concept album features a fictional storyline dealing with real issues such as environmental issues. The stunning musical talent and techniques of the 3 musicians successfully enhance the atmosphere of the beautifully constructed album "Profit" which will definitely display to the listeners a sonic world of fantasy.
Ty Tabor and John Myung from THE JELLY JAM took time to answer a few quick questions for MUSE ON MUSE.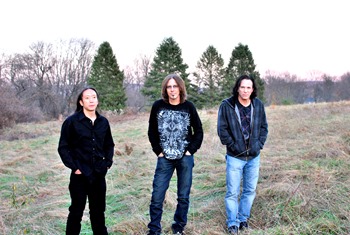 Interview / Text  Mamoru Moriyama
Translation         Louis Sesto (EAGLETAIL MUSIC)
Muse On Muse : THE JELLY JAM's new album, "Profit", is a concept album that has a deep theme reflecting on the world today. Tell us about the story of the album.
Ty Tabor : It is best to experience it like watching a movie. It is intended to be an album where you sit with the story and lyrics and follow it all the way through. As far as what the story is… it is a battle between good and evil but it isn't the typical Hollywood battle. It has an ending that is not likely to ever be a movie ending. It is a bit closer to what I think of as real.
John Myung : The story is about a Prophet the main character who's mission is to save the planet, the story line is fictional but when thinking in a metaphorical sense it takes it out of fiction and brings it into non-fiction dealing with real issues and common concerns of today, one of them being our environment..
MM : How long did it take for you to come up with the story and to do the songwriting? How did you prepare for the production? Can you tell us in detail about the process?
TT : It took about a year for the lyrics and story. As far as production is concerned the album was recorded with an organic outcome in mind. We just try things until it sounds right. There is no set way of doing production or preparing for it. The individual songs dictate how they will be recorded and mixed. We go with the flow as best we can.
JM : We usually put aside two weeks to get together and record ideas and work them into song structures, one of the differences this time around was we got together twice for two separate sessions to be able to have more than enough material to pick and chooses from, at the end of the session Ty goes back to his studio where he takes everything multiple steps further into completion of the album, everything from guitar parts, lyrics, vocals and sound production!
MM : All 3 of you are known for your high level of musicianship, but the album seems not to feature much of the flashy technical aspects, but more towards creating the atmosphere for the songs.
JM : Yes, that is the intention, to be able to have a complete song that captures the initial vibe and energy of an idea in a way that supports the melody of the song.
MM : The music on the album definitely exceeds the limit of what you would expect from a trio band, with very beautiful and fantastical sounds and arrangements. As the rhythm section of the band, what did you keep in mind in regards to sound and musical arrangements for this particular album?
JM : Thank you that is great to hear! I think the addition of the Moog Taurus Pedals on songs like Water, Perfect Lines and Strong Belief is a way of adding low end harmony that adds sonic depth and power to the song, I love the effect that sound has. As for musical arrangements whats important is how each section transitions from part to part while keeping the melody of the song that Ty hears in mind and that's done when we first start working on a song, we spend time trying different approaches until Ty gets a sense of what the melody will be.
MM : Tell us your approach to your playing in regards to rhythmical combinations with the drums and guitar, as well as how you construct your phrases on the bass guitar.
JM : The bass approach feeds off the feel of the drums are most of the time, the bass parts sometimes are also developed by just how I'm seeing and interpreting the bass part while I'm recording and if I play something unintentional but it works musically we'll keep it, and other times it's more experimental like on songs like "Water" and "Perfect Lines" where I was experimenting with harmonizing bass guitar with Moog taurus pedals.
MM : The rhythm guitars display a great variety of chords, contrasts from clean to distorted, as well as some hidden flavor-like guitar overdubs. Such guitar performances definitely seem to create the correct vision within the musical interpretation of the album.
TT : Thank you!
MM : Some of the guitar solos, such as on "Water" and "Perfect Lines (Flyin')" are very compact, yet very melodic and impressive. In contrary, the solos for "Permanent Hold" and "Mr.Man" seem to be more improvised. Tell us about your overall approach to guitar solos.
TT : Ty Tabor: It depends on the song as to whether it will be a melodic solo-part or an improvised solo. I simply do whatever sounds good to me. I don't plan what I will play so I can react organically to the song. I rarely do more than two takes when trying to get a lead down. After that I start thinking too much and I no longer like what I come up with. So leads happen fast and spontaneously. And when it feels like it needs a set melody I usually do that quickly also. I don't continue recording if I am fighting with a part. I come back later when I am fresh. Even getting away a few hours can change things. When you are working on new material you can experience that feeling of hearing a new song two or three times before it starts becoming too familiar. I think it is important to use those precious few moments to make the important decisions about a song. Initial feelings are usually right in my opinion. I try to trust those first reactions most. That usually makes it clear to me whether I should lay a spontaneous lead down or a melody-type lead.
MM : Please give a message to your fans.
JM : The Jelly Jam has just released their 4th album "Profit." We are looking forward to everyone getting a chance to hear it and hope you like it as much as we do. Thank you for your support!

THE JELLY JAM official site : http://www.thejellyjam.com/
THE JELLY JAM facebook : https://www.facebook.com/TheJellyJam/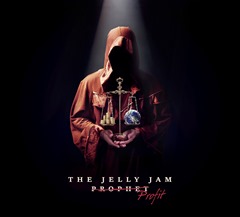 PROFIT / THE JELLY JAM
http://www.mascotlabelgroup.com/
01.Care
02.Stain On The Sun
03.Water
04.Stop
05.Perfect Lines (Flyin')
06.Mr. Man
07.Memphis
08.Ghost Town
09.Heaven
10.Permanent Hold
11.Fallen
12.Strong Belief
[THE JELLY JAM]
Ty Tabor (King's X)
Rod Morgenstein (the Dixie Dregs, Winger)
John Myung (Dream Theater)