Supersonic Blues Machine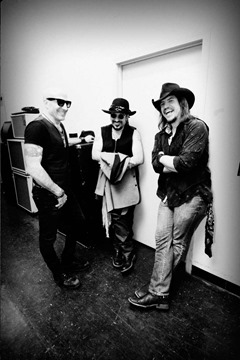 Featuring heavy blues rock with great hooks that fascinate the listeners, Supersonic Blues Machine has now released their first studio effort "West Of Flushing South Of Frisco". Supersonic Blues Machine was formed by Fabrizio Grossi, Kenny Aronoff and Lance Lopez, who are all experienced and well known names in the industry.
Not only does Fabrizio Grossi play bass on the album, but also takes on the duty as producer, songwriter and mixing engineer for Supersonic Blues Machine. Fabrizio Grossi has worked as a bass player, producer/mixer and music consultant for countless names in the business such as Steve Vai, Nina Hagen, Leslie West, Dave Navarro, and many others. Guest players on this album such as Billy Gibbons, Warren Haynes, Robben Ford, Walter Trout and Chris Duarte definitely prove Fabrizio's experience and network in the industry.
Drummer Kenny Aronoff has also played for numerous artists such as John Mellencamp, John Fogerty, Jon Bon Jovi and Celine Dion, just to name a few. Kenny Aronoff has an endless list of artists that he has worked with, and there are definitely many songs and albums that people know and have heard without knowing that Kenny Aronoff was sitting behind the drums.
Lance Lopez, blues rock guitarist extraordinaire and singer songwriter, showcases his raw and emotional guitar performances, along with a voice that truly fascinates the listeners.
MUSE ON MUSE asks the 3 members of Supersonic Blues Machine about their new band and album.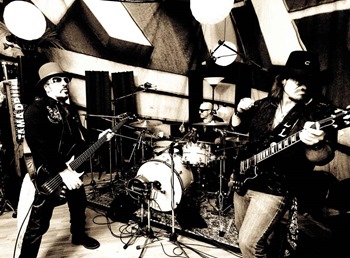 Interview / Text  Mamoru Moriyama
Translation         Louis Sesto (EAGLETAIL MUSIC)
Muse On Muse : Please tell us how the Supersonic Blues Machine was born.
Fabrizio Grossi : Since we toured with Steve Lukather's jam band The Goodfellas, Kenny and I have been talking about putting something together that would allow us to go out and play by bringing along some of our friends, in a in a full blown 60-70's jam style, but with original material. Then I ended up working on a song with Billy Gibbons, and when it was time to find it a home, it was the Reverend that suggested me to consider starting a new outfit all together, and…there you go : Supersonic Blues Machine was born !
MM : You have played drums for a wide variety of artists from John Mellencamp and John Fogerty to Jon Bon Jovi and Celine Dion. What was the reason behind your decision to join and take part in the Supersonic Blues Machine?
Kenny Aronoff : I love to play no matter what, plus Fab and I have been talking about doing something together "more permanently" than the usual records or sessions we do for others, so it was a no brainer. But also, because in SBM we do not serve anybody other than our music and ourselves. No bosses to be please here, just us.
MM : What was the concept behind the "West Of Flushing South Of Frisco" album?
FG : To do a record filled with the type of music that we like and grew up with more than anything, with that feeling, sounds and approach typical of the 60s and the 70s…which believe it or not, people is not really doing anymore. Apparently there was a big hunger for something like this because we haven't seen one single bad review yet, but been making lots of new fans and friends, and receiving tons of positive and encouraging mails…And we haven't played one show yet since the record release! I really hope it will continue cuz we're having a lot of fun, we're working on planning the tour and we have already enough material for another 2 records at least.
MM : Billy Gibbons, Warren Haynes, Robben Ford, Walter Trout and Chris Duarte appear on the album as guests. As the producer, how did you maintain a certain coherence within the album while having such unique strong characters as guest musicians?
FG : These are not simple paid guests, all of these guys are friends with whom we have already worked with and share something special. When you have such a relation, there's a lot of respect involved, and if you just let the music do the talking , things come out naturally and organically, regardless of time, place, studio etc. The differences were and are extremely welcomed because it is what makes things interesting and less "corporate-tasteless". As a producer, but also as a fan, I cannot deny that beside being a big blues and soul music fan at heart, I've always had a soft spot for eclectic bands and artists, that's why among my absolute favorite you find the Beatles, Queen, Led Zeppelin, Earth,Wind and Fire, Pink Floyd, David Bowie , Toto etc. which made a career by working on different solutions and colors for their music….I just tried to bring a bit of that attitude and experience into a blues/rock and soul context.
MM : Were you able to get any feedback from the guest musicians (Billy Gibbons, Warren Haynes, Robben Ford, Walter Trout, Chris Duarte) regarding the album?
Lance Lopez : Oh yes! The first guest I spoke to about the album was Billy Gibbons! He was performing in his hometown of Houston, Texas on the 'Perfectamundo' Tour and after the show he said "Man…how 'bout that Blues Machine!" and raised his one eyebrow! He was so happy with the finished product. And Warren, Robben, Walter, Eric & Chris were all very pleased with how it all came together and how it sounded when it was finished…
MM : From a drummer's point of view, was there any uniqueness you felt in the groove(s) of the participating musicians?
KA : All of these cats are staples in the blues, rock and jam world, and they have such a personality, that no matter what, transpires with every note or chord they play or sing. Everyone got his way and groove, I cannot point one out over the rest cuz it wouldn't be fair, but also because it's exactly their personal "groove" and the way we interacted with it as a band, and me as a drummer, is what made this "marriage" so special.
MM : How was the songwriting for the album done? Can you tell us in detail about the process?
FG : The first song written was Running Whiskey, and it was an afternoon team effort by Billy F.Gibbons, Tal Wikenfeld and myself…that song was what got Gibbons to push me into putting something more than "a record" together. Remedy was co-written with Warren Haynes, and his vocals and guitar work bring a special southern flair to it, it was the result of exchanging several ideas back and forth for a few moths till we landed on what's on the record. Beside Let's call it a day, which was written by Joey Sykes, a dear friend of mine who has a beautiful Americana taste in his songwriting, and Ain't no love in the heart of the city (the only cover we recorded) that we wanted to do as a personal tribute to Bobby Blue Bland, everything else was written either by myself or by myself with an another great friend and collaborator, Serge Simic. The music was the result of few idea exchanges , but generally it was just a big explosion of concepts that would show up unexpectedly and almost immediately documented in studio. The lyrics however represent lots of personal stuff and common life experiences, that sum up in a very hopeful and loving message of general "forgiveness", "Universal love, acceptance and understanding", which is our basic day to day life philosophy. For the next record though, you'll see more tracks written by all of us together…I think it is the obvious next step.
MM : How was it creating an album with these 3 members?
KA : These guys are great musicians and do not waste time in studio with insignificant mental masturbations, but they go straight to the matter. And when you unite 3 people that are so focused and clear on what they want,, the result is almost inevitably great. This was by far one if not the most painless record I've ever recorded.
LL : 3 Members? I thought I was recording with 10 other people!!!! ahahaaahahahahah
FG : A pleasure, and a challenge at the same time. We did everything before landing a record deal so we could only count on ourselves and our strengths, families and friends. It was a GOOD SPIRITED battle that surely unified us as friends and band mates.
MM : The album displays a warm but yet solid guitar tone, with great emotional performances. Tell us about your approach on guitar performance and creating your own sound.
LL : Fab really helped achieve a lot of what we were wanting on the guitars. We spent a lot of time dialing in tones and making sure we got exactly what we wanted. We used lots of different guitars, amps & pedals. Fab has such a great way of recording guitars that makes it very easy to give the best performance when the sound is right.
MM : Tell us about your gear. What guitars, amps, pedals did you use for this recording?
LL : We had a bit of everything. Gibson, PRS, Fender & Music Man guitars with Bogner, PRS, DV Mark, & Marshall Amps. Some of the pedals were my signature overdrive pedal Goran Guitars Fat Boy Overdrive, Mojo Hand FX Rook Overdrive, Fulltone Clyde Standard Wah, and a vintage MXR phaser…we kept it very simple and just used all different kinds of combinations to achieve what worked best for the song.
MM : "Let's Call It A Day" showcases some very melancholic guitar performances by you and Robben Ford, creating a very impressive ballad tune.
LL : Robben is one of my biggest heroes and I always learn so much from him! Joey Sykes wrote such a beautiful song and we needed the right guitarist to play on it to make it perfect. Robben is so brilliant on it, everything he plays is epic.
MM : What are your plans/schedule with Supersonic Blues Machine after this?
FG : We are currently planning a series of European shows for the late spring, then we're counting on few summer festival performances both in Europe and here at home in the States, to then go back to Europe for another stint of dates and by the end of the year we're planning to Tour the States and possibly down-under in the early 2017. We would love to take the Supersonic Blues Machine and its friends Circus wherever there's music to be played ,to every corner of the world, it might not be simple at first, but it's in the plans……now, if the Japanese fans will start requesting us with the local promoter, we might be able to pay an overdue visit to your beautiful country as well !
MM : Please give a message to your fans.
FG / KA / LL : Thank you thank you thank you for the overwhelming welcome we've been given all over the world for this album. Lots of love went into its creation and seeing that it's touching so many lives is the greatest joy and payback ever, We just hope the love grows enough for us to be able to Tour not only in the usual markets, but all over the world, so we could make more friends and spread some fun and brotherly love…God knows the world really needs it now more than ever!

Supersonic Blues Machine official site : http://supersonicblues.com/
Supersonic Blues Machine facebook : https://www.facebook.com/SupersonicBluesMachine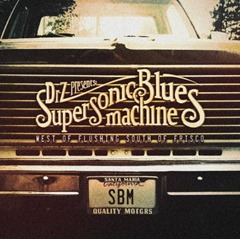 West Of Flushing, South Of Frisco / Supersonic Blues Machine
01.Miracle Man
02.I Ain't Fallin' Again
03.Running Whiskey (feat. Billy F. Gibbons)
04.Remedy (feat. Warren Haynes)
05.Bone Bucket Blues
06.Let It Be
07.That's My Way (feat. Chris Duarte)
08.Ain't No Love (In The Heart Of The City)
09.Nightmares And Dreams (feat. Eric Gales)
10.Can't Take It No More (feat. Walter Trout)
11.Whiskey Time (Running Whiskey's extended ending)
12.Let's Call It A Day (feat. Robben Ford)
13.Watchagonnado