Carl Verheyen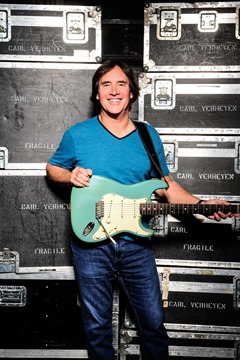 Carl Verheyen, known for his work with British rock group SUPERTRAMP, is one of the busiest musicians in the LA studio scene. Carl has worked and collaborated with numerous famed artists, as well as on film and television soundtracks. He has recently released his latest solo album "The Grand Design", which appeals to a wide range of music fans with a high quality collection of vocal songs featuring Carl's soft and clear vocal performances. No worries for the guitar freaks that look forward to listening to Carl's extraordinary guitar techniques! The album definitely displays all of Carl Verheyen's musicianship including great guitar tones with dynamics, phrases and licks with style, and numerous musical arrangements that are nothing but fascinating. Hear what Carl has to say about "The Grand Design".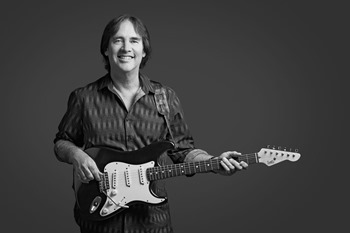 Interview / Text  Mamoru Moriyama
Translation         Louis Sesto (EAGLETAIL MUSIC)
Muse On Muse : Your new album, "The Grand Design", definitely brings out the best of your vocal and guitar performances. Tell us about the concept of this album.
Carl Verheyen : My idea from the start was to make a recording of good songs. So many guitarists put out records filled with music that is nothing more than a vehicle for them to solo. Those albums are nice to check out, but they don't hold up to repeated listening for me. It's the strong songs that make me want to hear a record again and again.
MM : Not only does the album appeal to guitar players and musicians, but with a collection of vocal oriented songs it definitely appeals to a wider range of listeners.
CV : On this record there is only one instrumental track, the rest are all vocal songs, but there is lots and lots of guitar playing and layers of textures from my acoustic and electric instruments.
MM : Please introduce to us the musicians taking part on the album.
CV : Dave Marotta (bass) and John Mader (drums and percussion) are the members of my touring band, and they form the nucleus of the record. We have a shared chemistry together that comes from many concerts together in the US, Canada and Europe that I wanted to capture on this record. I brought in my old friend Jim Cox to play keyboards; he's definitely an "honorary member" of the CVB. And I used Stuart Hamm on bass on a song and Chester Thompson on drums on another song, and these guys played wonderfully, too.
MM : Tell us about the songwriting process for this album.
CV : Each song was different. Some, like "Warrior" started with a lyrical idea. But most are the result of a daily practice routine that occasionally springs forth new musical ideas. I write everything down in a "lick book" or musical diary that I keep and many of my songs start out as a musical line I'm notating for improvising. "Live My Days" started out that way and blossomed into a nice song about home and the place we spend our time.
MM : The lyrics also are an important aspect of the album. How and where do you get your ideas for the lyrical themes.
CV : I learned a long time ago that you can't write meaningful lyrics unless you have something to say. "Beyond My Reach" is about my wife. "Closing Time Blues" is about my parents! So if I'm going to sing something it has to have special meaning to me. "Candy Fame" is about the lack of musical talent in the pop culture of our time.
MM : How do you stock your song ideas? Tell us how you usually do your songwriting.
CV : I start on paper because I can read and write music quickly. Until recently that's all I did, but now I have ProTools and can work up my ideas in a little home studio, too. But they are all written down first.
MM : "TIMES THEY ARE A – CHANGIN'" features a very beautiful rhythm guitar part with clean guitars, blended with a very emotional lead guitar part. The song stands to be a successful opener for the album, bringing a feeling of anticipation to the listener.
CV : Thank you! I was attracted to the song originally because, even though Bob Dylan wrote it in the 60's the lyrics are perfect for these times. That rhythm guitar that opens the record is my LsL CV Special signature guitar. It also plays a few of the solos.
MM : The funk rhythm guitar part on "CLOSING TIME BLUES" is very impressive.
CV : Thanks, that's my old Thinline Telecaster from 1969. It's one of those funky hollow body Teles like Jimmy Nolan from the James Brown band would use.
MM : "DISTRACTED GIRL" features Sonny Landreth. How was it collaborating with Sonny?
CV : It was a true collaboration; we played together in the studio and came up with parts and ideas together. The song was written after playing a festival in Germany where the girl in the front row spent the entire concert looking at her phone! Sonny is absolutely brilliant on this record.
MM : "WARRIOR" seems to have a strong message to it.
CV : I'm very anti-gun and I think America is way too gun crazy. It makes no sense to me and, although my song may turn off a few of my "redneck" friends, that's the way I feel.
MM : Many of the songs on the album, such as "ANGELS" and "CANDY FAME" really make a great fit with the female background vocals.
CV : I recorded the album at Sweetwater Studios in Ft Wayne, Indiana and there is a wonderful female singer there named Kat Bowser. I took advantage of her amazing voice whenever possible!
MM : "INTANGIBLES COLLIDE" is the only instrumental song on the album.
CV : It was written on my baritone electric guitar, which was a gift from Allan Holdsworth many years ago.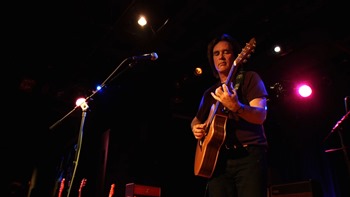 MM : Please tell us about each song on the album.
CV :
"TIMES THEY ARE A – CHANGIN'"
I love the lyric and the 6/8 time feel of this old Bob Dylan classic. The opening sound is my LsL through the clean side of my live rig, which uses a vintage Fender Showman head, and a 1976 HiWatt head. Both are loud and clean!
"CLOSING TIME BLUES"
Both Dave and John play funk so well I just had to write a song for them to groove on!
"DISTRACTED GIRL"
I played the opening figure on my 1960 Telecaster Custom and Sonny Landreth was able to play the same figure one octave higher and on slide guitar! Absolutely amazing!
"BEYOND MY REACH"
I tune my low E string down to a C and my 5th string to G, then capo at the 5th fret. It's a nice tuning I learned from Richard Thompson.
"ANGELS"
My favorite part is the drum fill coming out of the little fretless bass solo on the bridge. It has some serious "attitude."
"WARRIOR"
I'm really happy with the dynamic range of this song and the mix really brings that out. It goes from a whisper to a big rock anthem and each verse and chorus builds in intensity.
"LIVE MY DAYS"
Inspired by the many flights I've taken in the last few years. Looking out the window at 30,000 feet gives you a different perspective on the place you call home, and this song relates to that sentiment.
"ADELINE"
My guitar figure is doubled with stereo acoustics and eventually a Lowrey organ and a Vox electric guitar play it, too. The solo is on my 1972 les Paul Deluxe with real PAFs pickups from 1958.
"INTANGIBLES COLLIDE"
It starts pretty but the "chorus" gets super heavy in a hurry! Then the solo section goes to a ska beat, so there are truly intangible things colliding in this song, but it works!
"CANDY FAME"
While writing the instrumental bridge on this song I discovered how Jimmy Page composes harmonies with his riffs. He uses a major pentatonic scale to harmonize a minor pentatonic riff, and it's uniquely his sound.
MM : You always have a great guitar sound on your albums. Tell us about your gear. What guitars, amps, effectors, pedals did you use for the recording?
CV : That would take many pages and many hours, but the "special edition" of The Grand Design available at Sweetwater.com comes with a pdf file with every guitar, pedal and amp listed. It also has a short video about the guitar playing on each song and a short mixing tutorial for each song. There is a hi-res download included, too. And there's even a one hour documentary about the making of The Grand Design that you can see for free!
It's all available here:http://www.sweetwater.com/events/2016/grand-designs-album/
MM : Your guitar performance has great dynamics, and you seem to have a lot of freedom to control a variety of expressions with your sound from detailed nuances to a very powerful sound. What do you consider important when practicing to acquire such a dynamic range of expressions on the guitar. Please give us some examples as to what one should keep in mind with technical aspects such as picking, bending, vibrato, etc. in trying to acquire such techniques.
CV : I believe the key to learning a full range of any instrument is to learn many styles of music. Don't compartmentalize your practice time, instead work on a variety of musical styles from rock to country to jazz to bluegrass to metal to blues to fusion. Each style requires a different technique, therefore you're much better off learning music than playing exercises.
MM : What do you have coming up next? Tell us about your upcoming schedule.
CV : I'm currently on the road in the East Coast of the USA. We have a West Coast Tour after that and then a longer European tour in the fall. I'm still looking to come to Japan one of these days so hopefully I will make that happen before too long. Thanks so much for this nice interview, Mamoru!
Carl Verheyen official site : http://www.carlverheyen.com/
Carl Verheyen facebook : https://www.facebook.com/pages/Carl-Verheyen-Official/157574464276259/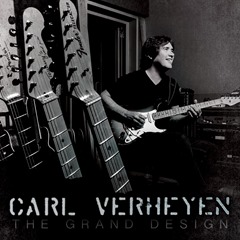 THE GRAND DESIGN / Carl Verheyen
http://www.carlverheyen.com/store-cds/
1.The Times They are A-Changin'
2.Closing Time Blues
3.Distracted Girl
4.Beyond My Reach
5.Angels
6.Warrior
7.Live My Days
8.Adeline
9.Intangibles Collide
10.Candy Fame