Supersonic Blues Machine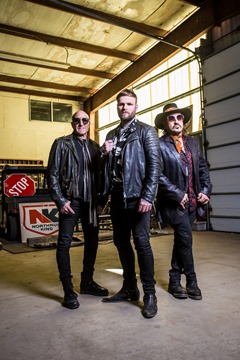 Photo by Enzo Mazzeo
The blues rock project. Supersonic Blues Machine consists of three members, Fabrizio Grossi, Kenny Aronoff and Kris Barras. Fabrizio is not only a bassist of the band, The multi-talented musician writes, produces, arranges and mixes for the band. The veteran drummer Kenny Aronoff is known for numerous works with legends like John Mellencamp, John Fogerty, Jon Bon Jovi, Celine Dion to name a few. The gifted British Blues Rock enthusiast Kris is in charge of guitar/lead vocal of the band.
The Blues Rock experts are famous for their signature Blues Rock sound with unique edges which is backed by their skills and vast experiences. Their sprit and passion for their music attracts their fellow musicians and artists like Billy Gibbons, Robben Ford, Steve Lukather, Walter Trout has worked together for past projects of the band.
Their brand new album "Voodoo Nation" has been released in June, 2022 and the album featured excellent guest guitarists like Sonny Landreth, Kirk Fletcher, Eric Gales, Joe Louis Walker and Ana Popović. The sound of the band is merged together with ones from those collaborators under the Blues Rock spirit.
We had a chat with each members about the new record "Voodoo Nation".