Martin Miller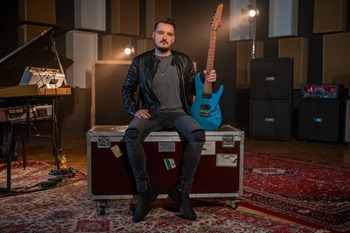 Martin Miller, a musician hailing from Germany, has gained a dedicated fanbase worldwide through his online guitar lessons, guitar resources, and his YouTube channel which holds over 700,000 subscribers and more than 120 million views. On his channel, he performs high-quality covers of classic hits from the 70s to 90s alongside the Martin Miller Session Band.
In 2013, Martin released an instrumental album focused on guitar called "The Other End". Then He released his latest album "Maze of My Mind", where he not only showcases his guitar skills but also takes on the role of a vocalist. The album, brimming with catchy song melodies and high-level technicality, exhibits a progressive heavy rock genre coloured by sophisticated feeling and sensibility in his guitar work. It doesn't just flaunt Martin's charm as a guitarist, but also his overall musical sense as a vocalist, composer, and arranger.
We had a chance to speak with Martin about his latest work, "Maze of My Mind".