Oz Noy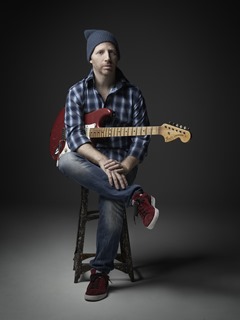 Oz Noy has just released "Who Gives A Funk", which his latest studio album following "Twisted Blues Vol.1" and "Twisted Blues Vol.2". The "Twisted Blues" albums displayed Oz Noy's unique and original music style, also featuring guest musicians such as Eric Johnson, Warren Haynes, Chick Corea, just to name a few.
Oz's latest studio effort also showcases his originality, this time with guests such as Randy Brecker, Robben Ford, Joe Bonamassa and Dweezil Zappa. Also including a horn section to the ensemble, the album's highlights include a high level of musical performance and chemical reaction between Oz Noy and the many guest musicians participating.
Oz took time to talk to MUSE ON MUSE about his new "Who Gives A Funk" album.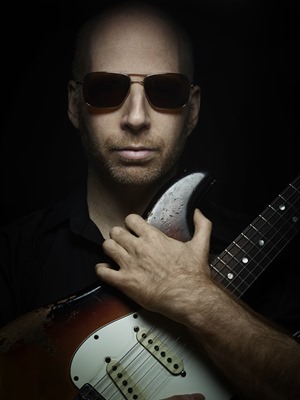 Interview / Text  Mamoru Moriyama
Translation         Louis Sesto (EAGLETAIL MUSIC)
Muse On Muse : Your past albums "Twisted Blues Vol.1" and "Twisted Blues Vol.2" focused on the blues, and your latest album "Who Gives A Funk" focuses on funk. What was your reason behind creating albums that focus on a particular music format?
Oz Noy : Whenever I make a record in order to write music I have to have a concept in my head for writing & playing, the Twisted Blues project was about taking different form of blues and changing or twisting and stretching them in different ways.
With the new album I was thinking about a funk soul band like James Brown JB's band, and in terms of the writing I wanted to write very simple catchy songs, which is the hardest things to write! It's much easier to write complicated music than simple. In general I can focus my writing and playing better when I have a specific direction in mind.
MM : What is the meaning behind the album title "Who Gives A Funk"?
ON : Its just a play with words (instead of who gives a fuck), but I really don't care about music rules and boxes of styles, I just do what I like so that's kind of like the title…
MM : The album features guest musicians such as Randy Brecker, Robben Ford, Joe Bonamassa and Dweezil Zappa. Tell us how and why they took part in this project?
ON : I love all these guys and whenever I make a record I always think of who will bring another interesting flavor to a song, that's how I choose the guests.I just called them and ask and they agreed to play. I had to send them the tracks to overdub their solos but because the music is very heavily groove based with not so much interaction it wasn't a problem to have a soloist overdub a solo.
MM : How was the recording done? Please tell us about the recording process.
ON : We (drums, bass, organ, guitar) go in the studio for a few days, we all play Live together and try to get the best performance. I will usually do about 5-8 takes of each song and then edit and choose the best parts.I don't do overdubs or fixes, I just choose best parts of takes and glue them together.
MM : There are 4 original songs on the album. Please tell us about each of them.
ON :
"Come On"
That's a riff that I wrote 20 years ago when I moved to NYC, it took me that long to finish writing it
"Flashback"
I found this song on my hard drive when I was looking for new material for the record, it was done as a demo for music library I was working with a friend of mine, it only had the A section so I wrote a B section to it but the A section was fully done.
"Ice Man"
It's a tribute to Albert Collins that I love so much, it kind of reflects on the 70's blues funk era.
"Zig Zag"
That's the song I most proud of on this new album or maybe that I ever wrote! The reason is cause I think for each band there is a famous song that people know them by like for example- the Funky Metters have- Cissy Strut, so to me Zig Zag is my Cissy Strut.
MM : "Damn, This Groove" was also featured on your debut album "Oz Live". Why did you decide to re-record it with Dweezil Zappa?
ON : I wanted to give it a different vibe and do a nice studio version of it, I always liked the main riff but the B section was too fusion for me so I re wrote some of it and gave it more of a funkadelic vibe, and called Dweezil to put some of his energy and twist on it.
MM : Tell us about why you decided to include James Brown's "I Got You (I Feel Good) and Sam Cooke's "A Chance Is Gonna Come"?
ON : "I Feel Good" I saw Buddy Guy played years and years ago really fast on some TV show and though it was cool so I did my own thing to it, and it also fits really well with the whole idea of the Funk & soul vibe of the record."Change Is Gone Come" I used to play for years with pop singer Gavin Degraw and always liked that song, it just fits so well on the guitar with a slide, it almost sounds like someone is singing it. I had to do it.
MM : You and Joe Bonamassa show some very exciting performances on the Thelonious Monk tune "Five Spot Blues".
ON : He is so great. I really love the guy, brilliant! This was more like and Allman Brothers two guitar kind of thing.
MM : You have featured Thelonious Monk's songs a number of times. What kind of inspiration do you get from his music?
ON : Some of Monks tunes fits the guitar real well and you can also interpret those songs in many different ways to fit your style of music you're playing.
MM : Many artists cover Jimi Hendrix's "Little Wings". What kind of approach did you take in covering this particular song?
ON : I wanted to do some thing different, much slower and ethereal, more atmospheric sounding but still keep the blues and soul in there.
MM : You are a very creative musician with a lot of originality. Did you start out by copying and/or playing covers of your heroes? Tell us how you acquired your current original style.
ON : I did copy a lot of my heroes! Its very hard to say how I came up with my own style, all I can say is that I studied bebop & blues as deeply as possible, and I still do! To me that's the key to playing anything really.
MM : Your guitar sound on the album is amazing and fits each song perfectly. How do you create your sound?
ON : I use 3 different amps in the studio (73 Marshall, Two Rock Gain master & 64 Fender Super Reverb), I used a few different guitars on this record (57 Gold Top les Paul, Gretch Duo Jet , 68 Strat custom shop & 58 tele custom shop) , and various pedals… my main lead to is an Xotic RC booster into an AC Booster or a Ibanez TS 808, or a new Fuzz by Vemuram pedals.I use some Boss Delays & Memory man and a LINE6 M9.I usually mix amps together when I'm mixing the record to get the best tone.
MM : Please give a message to your fans.
ON : Hi everybody, hope you enjoy my new record and have fun with it, see you in japan or somewhere else in the world soon, keep on rocking!
Oz Noy official site : http://www.oznoy.com/
Oz Noy facebook : https://www.facebook.com/oznoymusic/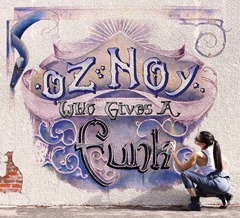 Who Gives a Funk / Oz Noy
1. Come on
2. Flashback
3. Better get it in your soul
4. I got you (I feel good)
5. A chance is gonna come
6. Ice man
7. Zig Zag
8. Dam, this groove
9. Little wing
10. Five spot blues