Supersonic Blues Machine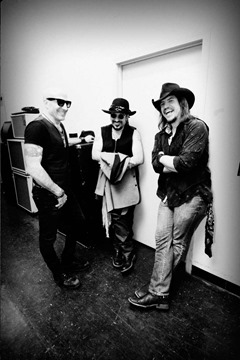 Featuring heavy blues rock with great hooks that fascinate the listeners, Supersonic Blues Machine has now released their first studio effort "West Of Flushing South Of Frisco". Supersonic Blues Machine was formed by Fabrizio Grossi, Kenny Aronoff and Lance Lopez, who are all experienced and well known names in the industry.
Not only does Fabrizio Grossi play bass on the album, but also takes on the duty as producer, songwriter and mixing engineer for Supersonic Blues Machine. Fabrizio Grossi has worked as a bass player, producer/mixer and music consultant for countless names in the business such as Steve Vai, Nina Hagen, Leslie West, Dave Navarro, and many others. Guest players on this album such as Billy Gibbons, Warren Haynes, Robben Ford, Walter Trout and Chris Duarte definitely prove Fabrizio's experience and network in the industry.
Drummer Kenny Aronoff has also played for numerous artists such as John Mellencamp, John Fogerty, Jon Bon Jovi and Celine Dion, just to name a few. Kenny Aronoff has an endless list of artists that he has worked with, and there are definitely many songs and albums that people know and have heard without knowing that Kenny Aronoff was sitting behind the drums.
Lance Lopez, blues rock guitarist extraordinaire and singer songwriter, showcases his raw and emotional guitar performances, along with a voice that truly fascinates the listeners.
MUSE ON MUSE asks the 3 members of Supersonic Blues Machine about their new band and album.