Jon Herington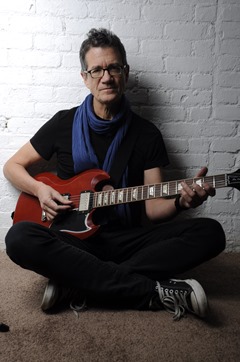 Photo by Jon Gorr
Jon Herington is a NY based producer/singer/writer/guitarist. Herington is known as being the guitarist for Steely Dan since 1999, he has also worked with Boz Scaggs and Madeleine Peyroux. Herington gained support from passionate music enthusiasts here in Japan too. As a solo artist, he has released 6 albums and this brand new album "Adult Entertainment" is an enjoyable album for any fan of his professional guitar work, with its crossover music style that adopts Rock, Jazz and Country in its melodies and arrangements. Jon Herington talked to MUSE ON MUSE about his musical background and his brand new imprint "Adult Entertainment"
Interview / Text  Mamoru Moriyama
Translation         Hiroshi Takakura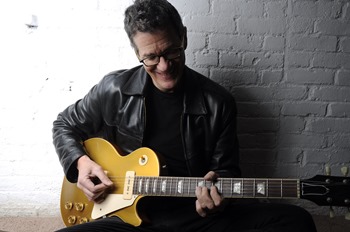 Photo by Jon Gorr
Muse On Muse : Some music fans know you as a guitarist for Steely Dan's tours and recording sessions. But some people will find you for the first time through this interview. So could you tell us your brief profile?
Jon Herington : I am a New York City based freelance guitar player, songwriter, producer and arranger, and my work is primarily a combination of global touring supporting other artists, session recording, performing with my own musical ventures (The Jon Herington Band, my trio, and a duo with Jim Beard), and private teaching.
MM : What is your "Roots" music? What sort of things did you listen when you grew up?
JH : My earliest powerful musical influence was AM pop radio in New York City. I loved many of the songs from that time, including those by the Four Seasons, the Beach Boys, the Beatles, especially, the Supremes and all the great Motown stuff. When I got a little older and there was a switch to FM radio, I fell in love with all the British invasion bands: the Beatles, the Stones, Cream, Hendrix, the Who, Led Zeppelin. It was around that time that I started playing electric guitar.
MM : To become a professional guitarist, How did you manage to improve your skill of guitar play, production and arrangement?
JH : At first I learned by dropping the needle on my favorite records and trying my best to imitate the sounds I heard on guitar and piano. That turned out to be very good training for my ear, and it served me well for many years. But because I was only interested in deciphering the secrets of the music I was hearing, and not very interested in performing them perfectly, I didn't develop more than a basic blues/rock technique for the first four or five years that I played. When I got to college, I met a bunch of players who had been very disciplined practicers. I realized I had a lot of work to do, and for the first time I found guitar teachers to work with. I committed myself to a lot of practice time every day for the next 10 years, at least, ranging between four and eight hours a day, not necessarily including performing time. So my technique began to improve.
I also studied a lot of music in college, and did a lot of intense listening. I took composition courses, jazz improvisation courses, classical harmony and counterpoint, 20th-century music studies, etc. I'm sure that's where I began to develop my composing and arranging skills.
MM : What was your first work as a professional musician? and could you tell us the memories at that time?
JH : I did my first work a couple of years after I began to play the guitar, in high school. I had a band that played locally near my hometown in West Long Branch, New Jersey, and I was already writing original pop/rock songs (though they weren't all that good!), and we even got to open for Bruce Springsteen once, since he was from the same area and was working locally all the time.
MM : How did you started working for Steely Dan? Could you tell us the detail?
JH : Donald Fagen and Walter Becker of Steely Dan were finishing the overdubs on Two Against Nature, and looking for a guitarist to play on a few tracks. My friend Ted Baker, who was playing keyboards with them at the time, recommended me, and I ended up playing on four tracks on that record. During those sessions they told me they were planning a big year of touring in the year 2000, and asked me if I would like to play. I said yes!
MM : It's a famous story that top guitarists were tried out for guitar solo part of Steely Dan's single "Peg", then finally Jay Graydon's one was chosen. From this episode, we have an impression of that Walter Becker and Donald Fagen demand high standard from their musicians. How do you think about this after working with them for long time?
JH : They do have high standards, and I like that, because I have high standards, too. They care about a lot of the most important things in music making: playing in time, playing in tune, playing well with others, and playing with serious commitment, respect and attention to the music and the moment.
MM : Do you have any impressive episodes while you worked for Steely Dan?
JH : Not that I can think of at the moment. I just know that every time I get to play with that amazing rhythm section it's one of the greatest musical thrills of my life. It's something that might be quite subtle and perhaps difficult for some listeners to hear or understand, but the joy and beauty for me is in the way the instruments of the rhythm section interlock and work together. It's beautiful because of many factors, each one managed and executed with great care – the composing, the arranging, the sounds of the instruments, the precision in the playing, including the touch of each player, the lengths of the notes, the relative volume of the notes, and particularly in the highly developed ability of each player to listen deeply and with attention to everything that's going on.
MM : Could you tell us about your new album "Adult Entertainment"? What kind of concept and direction did you have when you started working for this album?
JH : Adult Entertainment began almost as an accident. I had been working a lot with my trio playing music from our earlier records, including a lot of music from our last record, Time On My Hands. During a break from that work, Dennis Espantman and I got together just for fun and began to toss around ideas for a new song. Because we had been working so much in front of live audiences, we felt we knew what kinds of songs would work well for us in a live situation, and we wrote a song with some amusing lyrics and some catchy music. I guess because it was so easy and so much fun, Dennis and I began to get together about once a week, and before long we had enough music to begin to think about recording a new album. We decided to make the entertainment factor the priority, both in the lyric writing, and in the music writing. On Time On My Hands, my intention had been to feature a certain kind of guitar playing as well as writing strong songs. But on this new record, we decided to return to a "songs first" type of approach instead.
MM : As the title suggests, This record is a supreme entertainment for adults, which is driven by your tasteful vocal, pleasant melodies, sublime musical performance and arrangements. What are your thoughts on this album?
JH : I'm very glad that the record sounds different from all of the others I've done. It was by far the most fun and the easiest one to make, and I still think it's a fun record to listen to. I really enjoy the way the guitar solos each sound different, too. I wasn't planning on any particular approach for the guitar playing on the record, so I was free to react spontaneously to the tracks and the songs when I was recording the guitar solos. As a result, I found myself going to different sonic places, which was a lot of fun.
MM : Yourself and Dennis Espantman are credited as producers, production and arrangement in this album. How did you two work together?
JH : The record would not have happened without Dennis. We worked together on almost every aspect of the record, from the songwriting through the mixing and mastering.
During the writing phase, we would get together, usually with an idea for a lyric, or a title, and nothing more. Then we'd see if we could come up with a chorus idea, with lyrics alone or lyrics and music together. If we got something we thought might lead somewhere, we would each take the idea home and each work independently on it. We would email each other different ideas for verses, etc., and I would sing and play and record voice memo demos on my phone and send them to Dennis when I got new musical ideas. After a bit of that kind of back and forth, a song would take shape.
We were looking for tight song structures, lots of hooks, both musically and lyrically, and a kind of pop sensibility (based on music we loved from the 60's) aimed at an adult listening audience.
MM : Some tunes in this album have unique lyrics which gives insight into little things in life like "Doctor's Orders" and "Little Big Shot". How did you come up with these ideas for lyrics?
JH : We were trying to invent characters with entertainment value; characters whose traits could be exaggerated for comic effect. So in the one song we came up with a lusty older guy, and in the other a kind of socially challenged, insecure kid trying to boost his ego by trying to create a larger than life internet "personality."
MM : We can hear several horn arrangements in this album and it beautifully emphasizes tunes well. Could you tell us about these horn arrangement?
JH : Once we had the rhythm tracks done we felt there were a few songs that really needed horns. On Blacklisted in Bougieville and Doctor's Orders Dennis and I came up with the horn lines, and Michael Leonhart, my longtime Steely Dan bandmate, prepared the charts from our ideas. On Gimme Some Green and Handle Me With Care we had Michael come up with the horn arrangements by himself, then we did some editing later.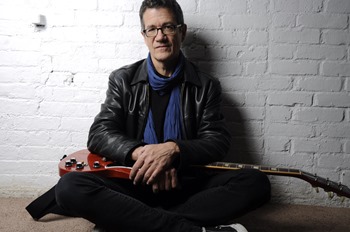 Photo by Jon Gorr
MM : We hear pleasant sounds of pedal steel guitar in "Can I Get A Volunteer" Could you tell us about this tune?
JH : That felt like a real country song, almost like something George Jones could have done, so it was crying out for a pedal steel guitar solo. I thought of Gordon Titcomb, certainly one of New York's finest.
MM : The emotional guitar solo in "Broken and Blue" has got such a rich tone of guitar. Could you let us know about it?
JH : That's a sort of sound I often go for live, and it's similar to what I was going for on most of the last record, Time On My Hands, too. Broken and Blue might be the only song on the new record where I use it, but it seemed like the right choice. I can get a similar tone with any of several Gibson guitars I have, but I'm pretty sure I used the Gibson Custom Shop SG I have through either the Guytron GT100FV or the Bludotone Bludo-Drive; I can get a similar sound from both amps. The amp is set for a bit of gain on the hotter channel with no overdrive pedals, and with a pretty dark, fat tone – it's just the guitar through the amp and speaker with a Royer mic on it. In the mix there's some delay and reverb added.
MM : Could you tell us how you did you produce vocal album as a guitarist? How did you produce guitar solos, backing guitar tracks and whole production?
JH : Though I make my living as a guitarist, I've been writing and singing songs since I began to play. My band with Dennis and Frank has worked together writing and playing off and on since the late 80's, and we began making records of songs like this in 2000. So even though people may not think of me first as a singer and songwriter, I've been doing that for a long time and it feels very natural.
Our recording process was pretty typical, with one exception. We recorded on a 16 track machine to analog tape, then transferred the tracks to ProTools. We started with rhythm section tracking – just the three of us in the Brooklyn studio Atomic Sound. Though we were able to do some background vocal, some guitar and some percussion overdubs there, too, mostly it was important to get drum tracks we liked.
After that, I took the Pro Tools files to my SoHo studio where I did a lot of editing on the basic tracks and then added vocal, guitar, keyboard, percussion and horn overdubs, and on some of the tunes we replaced the basic guitar and bass tracks, too.
The last overdubs were the guitar solos, which I did by myself in my studio. I usually start by improvising several takes, and when I come across something that seems fresh and interesting or right for the song, I'll keep part of that take and punch in on it, basically chipping away at the solo until I have a coherent whole. Sometimes I'll then learn the whole solo and replay it in one take to see if it can sound more natural. Sometimes that works and sometimes it doesn't. But the whole process becomes a sort of merging of composing and improvising, and I really enjoy it.
Once we were done with the overdubs I took the files to Sham Sundra, who mixed the record in his studio. Then the mixes went to Fred Kevorkian to be mastered, and then we pressed CDs and we were done.
MM : Could you tell us what kind of guitar, guitar amps and pedals you used for this album?
JH : Some of the guitars I used were my Tele made by Larry Wysocki, my Gibson SG, my Gibson CS336, my Gretsch 6120, my Gibson Les Paul custom, my Fender Strat with a Sadowsky neck, a George Benson Ibanez I used to have, my Gibson LesPaul gold top with P90 pickups, my National Tricone Resonator guitar, my Guild D40 acoustic, and my Danelectro electric 12 string.
There were three amps I used: the Guytron GT100FV, the Bludotone Bludo-Drive and the Bludotone J-Rod 50.
I didn't use many pedals, since I prefer to get the drive from the amps themselves. I did use Robert Keeley's Sfogato fuzz-wah pedal on the Strat in the solo section of Blacklisted in Bougieville.
MM : There are many plug-ins and softwares for DAWs which can re-create sounds of classic guitar amps these days due to development of computer technology. What do you think about these plug-ins?
JH : I haven't used any of them in many years, and I'm sure they've gotten much better by now. I recently acquired a Kemper Profiler and I am very impressed with it.
MM : Could you give your messages to fans please?
JH : Please check out Adult Entertainment and all my other records! I had a lot of fun making them; I hope you enjoy them, too. Thanks for listening!
Jon Herington official site http://www.jonherington.com/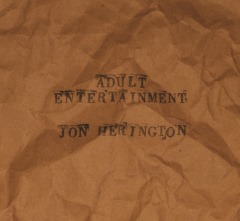 Adult Entertainment / Jon Herington
1. Mind over Matter
2. No Way No How Not Me
3. Doctor's Orders
4. Blacklisted in Bougieville
5. Little Big Shot
6. Slaughtered by Love
7. Gimme Some Green
8. Can I Get a Volunteer
9. Crazy Good
10. Out on a Limb
11. Broken and Blue
12. Handle Me with Care
https://www.cdbaby.com/Artist/JonHerington1