HAREM SCAREM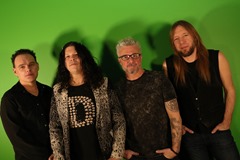 Harem Scarem continue to fascinate their fans with their 14th and latest studio album "United", displaying another great collection of melodic hard rock tunes. Their latest album lives up to their fans' expectations with Pete Lesperance's superb guitar performance filled with emotion and versatility, along with Harry Hess' catchy but melancholic vocals. The album is enriched with the trademarks of Harem Scarem and definitely stands out as an album that the fans have been waiting for.
MUSE ON MUSE talked to Pete Lesperance and Harry Hess, along with drummer/vocalist Darren Smith who did not play drums on the album but remains to be an essential part of the Harem Scarem family contributing on background vocal performances for the studio effort.
Interview / Text  Mamoru Moriyama
Translation         Louis Sesto (EAGLETAIL MUSIC)
 


Muse On Muse : Your new album "United" sounds very melodic and has great hooks, while also having a very dramatic sound to it. It is definitely an album that Harem Scarem fans have been waiting for. Tell us about the concept of this new album.
Harry Hess : This cd is very melodic for sure, we made sure that all the songs had choruses that you could easily sing along to and we also keep a lot of it rather up-tempo.
MM : Please tell us in detail about the songwriting process and production of the new album.
Pete Lesperance : We've written in many different ways over the course of 14 albums but this is the formula that seems to work best for this band. I generally develop the musical ideas and build up music tracks and send them off to Harry to see what inspires him. At this point he starts writing to the tracks and Harry also always has melodic parts (choruses, hopefully) and we start slamming the ideas together.
MM : You co-produced the album, and also did the engineering for the recording. What was your goal in terms of sound production?
HH : We are always improving on our production and engineering skills so we feel that every recording we do is a step up and a new level of what we are capable of achieving. I personally love the challenge of trying to top the last recording.
MM : As always, the guitar performance on the album show some great guitar riffs and melodic aspects that definitely enhance the songs, along with some impressive guitar solos constructed with exciting build-up and climax. What were your goals on this album in terms of guitar performance?
PL : My goal as far as the guitar playing any given record is always the same… play for the song. In the case of Harem Scarem, The songs are built from the ground up around the Voice and Guitar so I definitely get to stretch out more on Harem Scarem recordings than other projects. And I do take advantage of that.
MM : This is your 14th studio album with Harem Scarem. All of your albums have consistently been high quality with great songwriting, riffs and solos. Throughout your career with Harem Scarem, have you ever experienced a songwriting slump where you were not able to come up with new ideas for riffs, songs, etc.?
PL : Definitely. That's basically why we stopped making records after HOPE and took a 5 year hiatus. I personally felt tapped for fresh ideas and like I had said everything I wanted to say on "rock guitar" at that time.
MM : What do you do to stay creative, in order to maintain high quality songwriting, guitar riff ideas, guitar solo approaches, etc.?
PL : Music is a constant thing for me. If I'm not working on a project I'm constantly practicing or learning a new instrument. I think that's what inspires me the most.
MM : Songs such as "INDESTRUCTIBLE", "NO REGRETS" and "THINGS I KNOW" seem to have a country music essence, which was something we haven't really heard in previous Harem Scarem material.
PL : I have definitely been very into country guitar playing for the last 4 or 5 years and I guess it's really starting to fuse together with my rock playing. I even managed to sneak in a little 5 string banjo roll in the intro for No Regrets.
MM : You use the slide bar in your guitar performance to create some very expressive sounds. Tell us about how you utilized the slide bar on this album.
PL : It's actually the first time I've used slide on a Harem Scarem record. It made it onto 3 tracks, "Things I Know Ain't True", "No Regrets" and it's a Grestch Dobro for the intro of indestructible. Slide and dobro in particular is definitely something I've been putting a lot of time into these days.
MM : Tell us about your gear. What guitars, amps, effectors, pedals did you use for the production of this album?
PL : I've been a Fractal Audio (Axe-FX) user since 2012 and this year I switched from the Axe-FX to the AX-8 and I can't say enough about it.
Every guitar track on the new album was done using the AX-8 directly through a Drawmer 1960 pre-amp/compressor and right into Pro Tools. No amps or cabinets.
For guitars I double tracked the rhythms using my trusty white Les Paul Studio and a 1962 Gibson SG reissue. All the solos were done on the SG.
MM : Darren, you left Harem Scarem and later joined Jake E. Lee's Red Dragon Cartel as a singer for the band's recording and tour. Why did you leave Harem Scarem and what's the latest news on Red Dragon Cartel?
Darren Smith : I left Scarem to pursue other projects. I was writing and singing for a band called Juice and I needed to commit to one thing. I've done a few projects since then. As well as played guitar for Helix for a couple years. We are currently in the middle of recording Red Dragons second album. Should be finished mid summer.
MM :  You sing backup vocals on the new Harem Scarem album and definitely play a vital role for the band. Won't we be able to hear you play drums on Harem Scarem albums anymore?
DS : Well since I left and Creighton took over. All we really did was expand the family of Scarem. Harem Scarem is the 5 of us.
MM : We definitely look forward to seeing you play drums on tour!
DS : I'm looking forward to it as well and Thank you!
MM : What do you have coming up next? Tell us about Harem Scarem's upcoming schedule.
HH : I am doing a lot of mastering work these days for bands all around the world so that keeps me busy every day. As far as H.S is concerned we are doing interviews and playing live for the next 6-8 months.
MM : Please give a message to your fans.
HH : As usual thank you to all of our fans, you are the best!!!
PL : Thanks for following along folks! Hope to see you all on tour!
HAREM SCAREM official site
HAREM SCAREM facebook
HAREM SCAREM twitter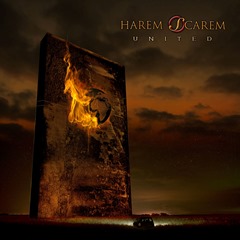 HAREM SCAREM / UNITED
CD+DVD : King Record KIZC-382/3  ¥3,600 + tax
CD : King Record KICP-1844 ¥2,600+ tax
01. UNITED
02. HERE TODAY GONE TOMORROW
03. GRAVITY
04. SINKING SHIP
05. ONE OF LIFE'S MYSTERIES
06. NO REGRETS
07. BITE THE BULLET
08. THINGS I KNOW
09. THE SKY IS FALLING
10. HEAVEN AND EARTH
11. INDESTRUCTIBLE
12. HERE TODAY GONE TOMORROW  (Acoustic Version)  JAPANESE BONUS TRACK
<DVD>
Making Of UNITED
HERE TODAY GONE TOMORROW (MUSIC VIDEO)
SINKING SHIP (MUSIC VIDEO)