Quinn Sullivan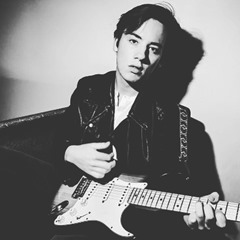 Quinn Sullivan is an 18 year old blues guitar player, whose talent has received recognition from blues master Buddy Guy. Quinn started playing the guitar at a very young age and was featured on "The Ellen DeGeneres Show" when he was 6. Quinn Sullivan has since shared the stage with big names such as Buddy Guy, Eric Clapton, Los Lobos, The Roots, Derek Trucks & Susan Tedeschi, Joe Bonamassa, and is considered as one of the most promising young and highly targeted guitar players. Quinn Sullivan has released his 3rd album "Midnight Highway", produced by Grammy winning producer Tom Hambridge, known for his work with Buddy Guy. "Midnight Highway" not only showcases Quinn Sullivan's quality guitar performances, but also displays his talents as a singer and songwriter. The collection of fine tunes definitely makes the album a pleaser for the listeners. MUSE ON MUSE asked Quinn Sullivan about his new album "Midnight Highway".
Interview / Text  Mamoru Moriyama
Translation         Louis Sesto (EAGLETAIL MUSIC)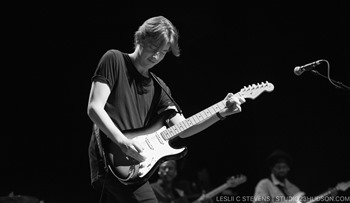 Muse On Muse : Your new album "Midnight Highway" can be considered as a significant album that could determine the course of your career. What was your goal when making this album?
Quinn Sullivan : I wanted to make an album that showed all sides of who I am as an artist. I think of music as being multi dimensional. As a recording artist and performer, you go into a mode where you want to sound like your heroes and then you realize you have to be yourself and that's what makes you the artist you are. When I was making this record, my intentions were to show all the genres I grew up listening to and incorporate that into the songs on this record. Ultimately you want to grow on each record you put out and I think this one is by far the best record I've put out.
MM : Including producer Tom Hambridge, you have a number of people from the Buddy Guy camp involved in the making of your album. How and why did they come to take part in your album?
QS : Tom brought in a lot of talented musicians to come in and play on this record. Reese Wynans on keys, Michael Rhodes on bass, Tommy MacDonald plays bass on a few tracks, and of course Rob Mcnelley on guitar. I couldn't have made this album without these people because they really make the songs what they are.
MM : Buddy Guy has been your mentor since you were young. How did you get to know Buddy Guy and how did he become your mentor?
QS : I met Buddy at a show he did in my hometown. We walked in his dressing room before the show and we met him for the first time. Buddy has this way about him that really touches you. He's such a gracious person and even though he had no idea who I was, he was still so kind. He called me up onstage that night and ever since he's been helping me out in ways I couldn't fully explain because of how much he's done for me over the years.
MM : You have other guitar players, such as Rob McNelly and Bob Britt taking part on the album. How did you decide on who plays what guitar parts on the album?
QS : Well, it all depended on who was available. The first sessions were with Bob Britt and then Rob was available for the final sessions. They're both incredible guys to work with and musically they are geniuses in my opinion.
MM : You are credited for writing the songs "Eyes For You", "Lifting Off" and "Going". Can you please tell us how each song was created and what feelings/meanings lie behind each song?
QS : "Eyes for you" was a song that I had the melody for long before the lyrics. The lyrics came after I went and listened back to the recording of the music I had. When Tom and I went to write that, I had an idea in my head based on a personal experience I had with someone. The song is a message that's basically saying that you don't have eyes for anyone else but the person you love and you're constantly letting that person know that.
"Lifting Off" was written in about an hour. I wrote that with Tom in a hotel in Denver Colorado. We were in the middle of a tour and we had the urge to write and we came up with that song pretty quickly. The song is about being ready to take off, ready to go out and explore. It's probably the most diverse song on the record because we experimented a lot with that one as far as how we went about recording it. We used electronic drums and went for a more poppy direction with that one.
"Going" is one of my favorite songs on the record. That was written based on an idea I had recorded a while back on my guitar. I had the melody but no lyrics. Kind of the same as Eyes for You. That was done kind of the same way. The song is personal experience I had about 2 years ago. Sometimes in a relationship the best thing to do is let go of it and move on. I was at that place and that song was inspired by that feeling of wanting to let go of a negative time I had with someone.
MM : "Big Sky" is a very beautiful and touching song with emotional guitar performances. Tell us about this song.
QS : That was one that was kind of spontaneous. We cut that in about 2-3 takes. It's a really cool song I'm very proud of.
MM : Tyler Bryant is credited for "Crazy Into You". Is this THE Tyler Bryant from Tyler Byant and the Shakedown?
QS : Yes!
MM : Tell us how and why did you decided to use a song written by Tyler on your album. Tyler Bryant is also a young and upcoming blues rock guitarist. What are your impressions on Tyler?
QS : Tyler is great! I've gotten to hang with him a few times over the years. It's actually a song co-written by Tom and Tyler. Tom brought this song to my attention and I immediately loved the vibe. We cut it and ended up choosing it to put on the record.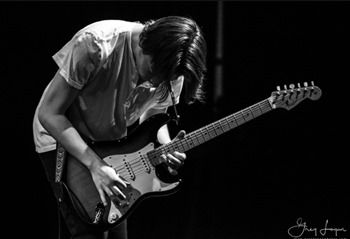 MM : Your version of George Harrison's "While My Guitar Gently Weeps" definitely shows a great deal of respect to the Beatles.
QS : yes that was a fun one to record!
MM : The last song of the album, "Buffalo Nickel" is 8 minutes long, and definitely showcases your talent on the guitar.
QS : Yes, that was also a fun one to record.
MM : Please tell us about your gear. What guitars, amps, effectors, foot pedals did you use for the recording of your album?
QS : I used a few vintage strats, a couple of vintage fender amps, and for pedals I kept it simple with an Ibanez tube screamer, a Dunlop Cry Baby wah wah and a few delay pedals.
MM : What did you learn from Buddy Guy in terms of music and guitar?
QS : Less is more. Buddy is one to play either really loud or really soft. The intensity can be at an incredibly massive level and it can also be like a ghost's whisper. It's definitely something I think me and many other guitarists watch for, is to play with space and building a solo from the ground up and not building too fast.
MM : Did Buddy Guy teach or give you any advice regarding music business, and about life in general?
QS : Not really. Buddy will never sit you down and deliberately give you advice. It's more of a natural thing we've had, and I think when he's not trying to teach you anything is when he teaches you something.
MM : What do you have coming up next? Tell us about your upcoming schedule.
QS : We're heading out on the road this summer in North America and one date in Europe. I'm excited about my new record and pushing it further with this upcoming tour and I can't wait to make more fans along the way!
MM : Please give a message to your fans.
QS : Thank you for the constant support and love, without you guys I wouldn't be doing what I'm doing so you are the ones that make me able to do what I love to do.

Quinn Sullivan official site
Quinn Sullivan Facebook
Quinn Sullivan twitter
Quinn Sullivan Instagram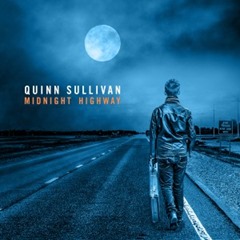 Quinn Sullivan / Midnight Highway
01. Something for Me
02. Tell Me I'm Not Dreaming
03. Midnight Highway
04. Crazy Into You
05. Eyes for You
06. Lifting Off
07. She Gets Me
08. Rocks (Bonus Track)
09. Going
10. Graveyard Stone (Bonus Track)
11. Big Sky (Bonus Track)
12. While My Guitar Gently Weeps
13. Buffalo Nickel