Vivian Campbell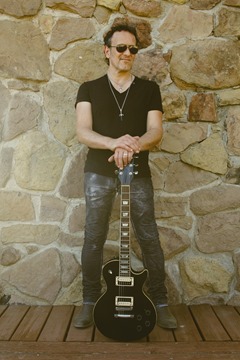 Vivian Campbell is known as a guitar hero who took part in legendary heavy metal and hard rock bands such as Dio and Whitesnake, and currently plays for another world famous rock band, Def Leppard. Vivian has just released a new album titled "California" with Riverdogs, which will be the band's 4th album, and the first in 6 years.
Riverdogs debuted back in the day with their self titled album and was well received with their blues based hard rock style. The album is still highly praised by many fans to this day. Riverdog's new album "California" was recorded with the original members of the band, featuring emotional and aggressive guitar performances by Vivian along with the soulful voice of Rob Lamothe. The album definitely has a great rock vibe showcasing a collection of great tunes with catchy hooks.
Vivian took time to talk to MUSE ON MUSE about the "California" album as well as about some of his future plans.

Interview / Text  Mamoru Moriyama
Translation         Louis Sesto (EAGLETAIL MUSIC)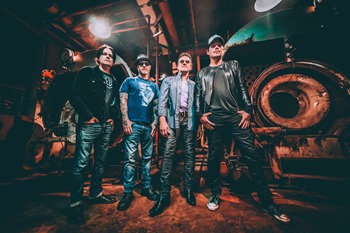 Muse On Muse : The new Riverdogs album "California" turned out to be a great album featuring your emotional and driving guitars, blended with Rob's soulful vocals. How and why did Riverdogs decide to record this new album with the original members from the 1st album?
Vivian Campbell : In 2016, several months after the release of the Last in Line album, "Heavy Crown", I received a call from Frontiers records to ask if I would be interested in writing and recording a new Riverdogs record. It was agreed that the record should be in the spirit and style of the debut Riverdogs album from 1990. Rob, Nick, Marc and I have always remained close friends and we were all excited to make the record together.
MM : What was your goal when making this album?
VC : The goal was to be a faithful as possible to the sounds and style of the debut record. We went to great lengths to achieve this, using the exact studio equipment as much as possible. But the real strength was in the writing and the performances; we always had that goal of staying true to the formula in the back of our minds and that really helped our drive, focus and expedience.
MM : What's the meaning behind the album title "California"?
VC : Many of the lyrics on "California" are extensions of the stories told on the debut Riverdogs album, so in a way "California" is a concept record. But it is also biographical in that it touches on the story of a period in time (1988-1990) in southern California when we all first met and worked together. Southern California has a strong historical resonance with all four of us as we have all spent so much of our lives living and working there.
MM : Tell us about the songwriting process for the album.
VC : We had very little money to make this record, so we had to write and record it very quickly. Marc and I still live in Los Angeles, but Rob and Nick no longer do, so they would fly into Los Angeles and we would have short writing sessions. We wrote all 12 songs in 6 days. The collective experience we all have, together with the clear focus and direction for the record, made it possible for us to work this quickly.
MM : Nick Brophy produced and mixed the album. Why did you decide to have him take over these duties?
VC : Nick is a very accomplished engineer and producer with many years of experience. Nobody knows how to get the Riverdogs sound better than Nick and he devoted a lot of his time and energy into making this record.
MM : "Revolution Starts Tonight" and "American Dream" was co-written by Zander Lamothe. Tell us about these songs.
VC : Rob's children are all very talented musicians in their own right. We all went into the writing sessions with some initial ideas and these two ideas had originally started with Rob and Zander. However, Zander was not present in the sessions with us when we completed the songs.
MM : When playing with Def Leppard, you split guitar duties with Phil, whereas with Riverdogs you play all the guitar parts and you seem to have more freedom with the guitar performances. You seem to play more aggressively on this album and that definitely is fascinating from a listener's perspective. What are your thoughts?
VC : My guitar duties in Def Leppard are much more limited as there is both less focus on aggressive guitar, plus the duties are shared with Phil. But in Riverdogs, as with Last in Line, I'm the only guitar player and so there's a lot more scope for me to play in my more natural, aggressive style. The biggest challenge for me as a member of Def Leppard is in the vocals; we work very hard to achieve the vocal sound that we have, but the guitar playing is much more contained compared to Riverdogs and Last in Line.
MM : All the songs on the album display catchy and emotional hooks on the guitar, along with very energetic guitar playing. I'm sure it's difficult to choose with this many great songs, but if you were to choose one song from the album what would that be and why?
VC : I'm very pleased with the entire album and with my guitar playing on it, so it's difficult for me to choose any one particular song. It's nice to get to stretch out as a guitar player on songs like "The heart is a mindless bird" and "Searching for a signal", but it's equally rewarding to get to play around Rob's beautiful lyrics and voice in a song like "I don't know anything".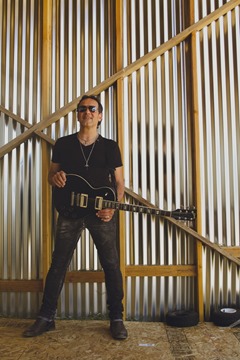 MM : When recording an album, in order to enhance the songs, what do you keep in mind regarding guitar sound? Regarding guitar performance?
VC : With the "California" album we had a very clear directive: to be true to the original Riverdogs sound. To do that I used as many of the original amplifiers and guitars as I could. But much more important than the equipment is the intent behind the performance. I've learned from many great guitarists in my life, but Gary Moore was perhaps the most influential of all. What I loved most about Gary's playing was that he played every single note with 100% intensity and conviction. I try to bring that same attitude into every note I play. Guitar playing is so much more than a mechanical exercise. To truly be a musician, it must be an emotional pursuit.
MM : Please tell us about your gear. What guitars, guitar amps, effectors, foot pedals did you use for this recording?
VC : I used the same amplifiers and guitars that I used on the first Riverdogs record. However, in 1990 I was exclusively playing a Tom Anderson custom Stratocaster whereas I now exclusively play a Les Paul guitar, so I played probably 90% of "California" on a Les Paul and only used the Anderson on a few parts when I needed variety. I also used a Yamaha D1500 hollow body guitar on a few parts, plus my 1966 Fender Telecaster. The amplifiers I used were a custom-built Soldano, a tube Randall, a Matchless Clubman 35, and a Bognor-modified Marshall JCM800 (my original Sweet Savage and early Dio amplifier). The only pedal I used was a Dunlop Jimi Hendrix wah.
MM : After leaving Whitesnake, you recorded the first Riverdogs album. The album was a definite classic with its blues oriented hard rock style and is well received by the fans to this day. Can you tell us about how you felt back then when you were making the album, and how you view this particular album now?
VC : We are all extremely proud of the original Riverdogs album and we were heartbroken when the record label told us they would not be supporting the record upon its release. It's difficult to understand the politics behind that decision, but after all these years and all the positive support that fans around the world have given the record we feel vindicated because we know we made the best record we could at the time and that it's commercial failure does not reflect it's artistic value.
MM : You have been admired and considered as a guitar hero since you were with Dio. Currently, there are many guitar players that master extreme techniques, but still don't stand out as a real guitar hero. What's your perspective on this?
VC : Mastering any musical instrument is as much about learning to project your personality through the instrument as it is about technique. I believe that my style of playing was shaped by my limitations. I am entirely self-taught and therefore I had to de-construct the instrument I order to learn how to play it. This process gave me tremendous insight into how people project themselves and their unique sounds through guitar.
MM : Def Leppard will be releasing a 30th anniversary version of "Hysteria". Tell us your thoughts on the "Hysteria" album, as well as on Steve Clark.
VC : I was always an admirer of Steve when he was alive and my respect for him has only grown in the 25 years that I've been in Def Leppard. Steve was a great riff writer and a truly inventive and creative guitarist. As a soloist, Steve's lead guitar parts are a major thematic part of the songs. The "Hysteria" album still constitutes the biggest part of Def Leppard's live show and that in itself is a testament to it's immense depth and quality. It was a landmark record and Steve's contributions to it were paramount.
MM : What do you have coming up next? Tell us about your upcoming schedule.
VC : I have a brief South American tour with Def Leppard in late September, but before that I'll be playing more U.S. and European shows with Last in Line over the summer. Then, in early September, I begin work with Last in Line on our 2nd album which we hope to release in early 2018. We are in discussions about a possible Riverdogs show in southern California in December, but beyond that show there are no plans for a Riverdogs tour.
MM : Please give a message to your fans.
VC : Thank you so very much for your support and belief in Riverdogs, Last in Line, Def Leppard and every project that I've been involved with over the years. Japan and it's people will always have a special place in my heart.
Riverdogs official site : http://www.riverdogsmusic.com/
Riverdogs facebook : https://www.facebook.com/riverdogsband/
Riverdogs twitter : https://twitter.com/RiverdogsBand/
Riverdogs instagram : https://www.instagram.com/riverdogsofficial/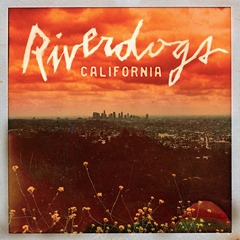 Riverdogs / California
CD GQCS-90368 / ¥2,700 WARD RECORDS
01. American Dream
02. The RevoluQon Starts Tonight
03. Something Inside
04. Golden Glow
05. You're Too Rock And Roll
06. The Heart Is A Mindless Bird
07. Searching For A Signal
08. Welcome To The New Disaster
09. Ten Thousand Reasons
10. Catalina
11. I Don't Know Anything
12. When The Mic Drops (Japanese Exclusive Bonus Track)