Stevie Salas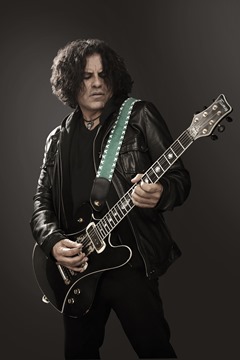 B'z singer Koshi Inaba and Stevie Salas launched the INABA/SALAS project, releasing their critically acclaimed studio album "Chubby Groove", showcasing a superb collection of music with great quality and originality. The project also set out on the "Chubby Groove Tour 2017", fascinating fans across Japan and proving their identities as true rock stars. This project has definitely helped Stevie Salas to succeed in obtaining recognition from the Japanese domestic music fans too. Stevie Salas showed a great impact to the rock industry when he debuted in 1990 with the "Stevie Salas Color Code" album, displaying a unique and original sound created by a blend of funk, psychedelic, and hard rock essences. Alongside his solo projects and bands, Stevie Salas has also played for big names such as Mick Jagger and Rod Stewart on tours and recordings. Stevie is also known as the "Idolmaker" with his role in tying up "American Idol" contest winners to the record labels.
Stevie Salas talked to MUSE ON MUSE about his recent tour and recording experiences with the INABA/SALAS project, as well as his involvement in the movie "Rumble: The Indians Who Rocked The World".
Interview / Text  Mamoru Moriyama
Translation         Louis Sesto (EAGLETAIL MUSIC)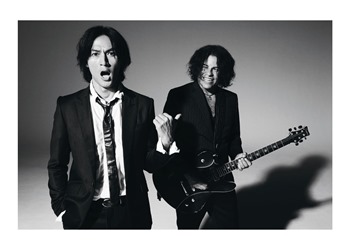 – About the INABA / SALAS Tour… –
Muse On Muse : How was your tour with INABA / SALAS, visiting different parts of Japan?
Stevie Salas : As always, touring Japan for me is a blast. The fans are amazing in Japan no matter what city your in.
MM : Your guitar performance was very wild and energetic with a great rock feel!
SS : Thanks But I was just doing my thing BUT my Framus IdolMaker guitars and the LAA Custom amps were a big help.
MM : After finishing the "Chubby Groove" album, what kind of preparations were made for the tour?
SS : None! I was surfing in Hawaii before the tour. I prepare myself for life and a lifestyle and rock n roll fits in perfect.
MM : How did you decide on which songs to play and the actual setlist for the show?
SS : Well Koshi said Let's play all he songs we wrote together. I wanted to play the song My Mirai from one of his solo records hat I played guitar on cuz I love that song and Koshi wanted to play David Bowie Moon Age Daydream. Then we added Police On My Back from my record Jam Power since Koshi and I sang it together.
MM : You did a month long tour with this band. How did you and the band spend your days off?
SS : Well in he old days I would have been going crazy but I took it easy this time because the live show took so much energy I needed rest! I'm not so young anymore after all!!
– About the "Chubby Groove" album… –
MM : Tell us about the "Chubby Groove" album. Were the songs on the album co-written by you and Koshi Inaba? How was the song writing process done?
SS : Koshi and I wrote all the songs together. We had a concept. We wanted people to be able to dance to the record. We wrote in Japan, Hawaii and Nashville. We wanted to have an original Inaba Salas sound.
MM : "Aishi-Aisare" is a catchy tune that definitely appeals to J-Pop fans. The album seems to have a nice mixture of your trademark guitar performances along with great hooks that appeal to Japanese listeners. Was this something you researched on before going into the production of this album?
SS : I actually wrote that music and melody many years ago but no one thought much of it until Koshi wrote the lyric and sang it. He has a special voice that makes a song really work. He is a very special singer.
MM : Hideyuki Terachi is credited for preproduction programming. How was he involved in the songwriting process?
SS : We both just say with a guitar and keyboards and tried ideas to discover a sound. We both were very involved on every detail.
MM : Nard Berings, Tim Palmer and Federico Miranda are credited as additional guitar players on the album. What was the reason behind having guitar players other than yourself take part in the recording?
SS : I only care about what makes the song the best and if someone else can do something that works that's what I want. It isn't about my ego it's about making great art.
MM : Many of the Stevie Salas fans expected energetic guitar solos, whereas on this album it seems like you put more weight on enhancing the songs with your groovy riffs and guitar sound. What was your concept as a guitar player when you were making this album?
SS : No it wasn't a concept. As we wrote songs I didn't hear to many guitar solos so I didn't want to put a solo in just so I could show off. For me it's always about what's best for the song.
MM : The last song on the album "Trophy" has a great impact starting with a native chant. Tell us about this song.
SS : I'm a Native American and Koshi has always been a fan of Native American culture so we went to an Indian Reservation and recorded that. We both dreamed of the audience singing that chant live and we were SO happy every night to hear he crowd doing just that. It was like a warriors chant where we felt as if the band and the fans were as one.
MM : What guitars, amps, pedals did you use for the recording and tour?
SS : I used what ever was in the studio except for my LAA Custom Nishi Drive and Dunlop Cry Baby wha wha's. I used old Fender amps and LAA Custom amps. Diamond Amps, Bogner and a Japanese amp called a Shinos amp. I used many guitars including a Tak Matsamoto signature Les Paul but mostly I used Framus IdolMakers which are my signature guitars.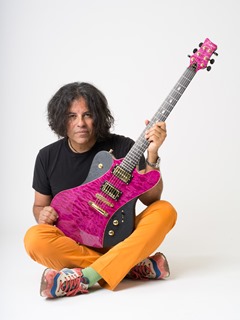 – About Stevie Salas… –
MM : You are known to guide many musicians to success. Indeed an idolmaker. What are your thoughts on Japanese rock music from the idolmaker's perspective?
SS : Japan musicians have a creative freedom that musicians in America do not have. I would like to produce more Japanese bands in the future.
MM : What do you think is essential for Japanese musicians to succeed worldwide?
SS : To be successful you need the same things no matter what country your in. Great Songs!!
MM : Many Japanese listeners do not speak nor understand English, but still like to listen to foreign rock music sang in English. In your opinion, if and when a Japanese artist is aiming for worldwide success, should they sing in English or in Japanese?
SS : Well for global success English is always better since there are more places that play English speaking music. But I think an artist should do what they love and not worry about it.
MM : You were involved with the movie "Rumble: The Indians Who Rocked The World". Tell us about this movie.
SS : I am the co creator and executive producer of RUMBLE. It's important history for America. It's a film that will teach the world about he development of pop music history in America and the role Native Americans had in that development.
MM : Is this movie going to be shown in Japan?
SS : I'm sure it will in time.
MM : Please give a message to your fans.
SS : Thank you Japan for always giving me power and confidence.
INABA/SALAS CHUBBY GROOVE YOUTUBE OFFICIAL CHANNEL
Stevie Salas official site
Stevie Salas facebook
Stevie Salas twitter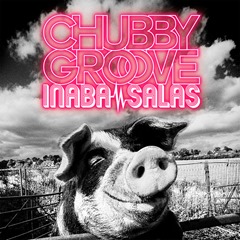 CHUBBY GROOVE : INABA/SALAS
CD+DVD BMCV-8050 ¥3,700+tax Vermillion Records
CD BMCV-8051 ¥2,800+tax Vermillion Records
01. SAYONARA RIVER
02. OVERDRIVE
03. WABISABI
04. AISHI-AISARE
05. シラセ
06. ERROR MESSAGE
07. NISHI-HIGASHI
08. 苦悩の果てのそれも答えのひとつ
09. MARIE
10. BLINK
11. MY HEART YOUR HEART
12. TROPHY