Trevor Rabin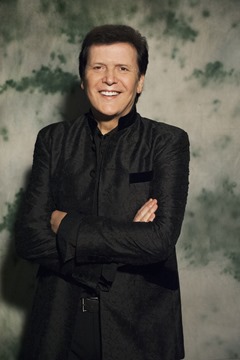 Photo by DEBORAH ANDERSON
Following a re-united YES performance at the Rock & Roll Hall of Fame, YES FEATURING JON ANDERSON, TREVOR RABIN, RICK WAKEMAN fascinated the audiences during their Japan Tour in April 2017, with a great set list filled with historic YES tunes. The combination of Jon Anderson's iconic voice, Rick Wakeman's keyboards binging forth a grandeur world of sound, and Trevor Rabin's beautiful but powerful guitar performance and vocals not only satisfied the audience, but also left great expectation and anticipation for new material by the outfit. Trevor Rabin talked to MUSE ON MUSE about the Rock & Roll Hall of Fame induction, as well as about their recent Japan Tour.
Interview / Text  Mamoru Moriyama
Translation         Louis Sesto (EAGLETAIL MUSIC)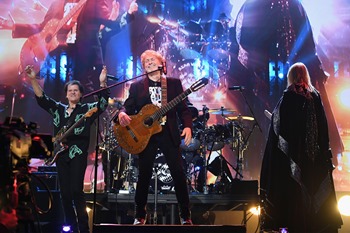 Muse On Muse : Congratulations for being inducted to the Rock & Roll Hall of Fame! Tell us how you feel.
Trevor Rabin : It's an honor, although our performance was not great. Although, Geddy Lee played great.
MM : It was a surprise not only to see the re-united YES perform at the induction ceremony, but also to see Steve Howe play bass on "Owner of a Lonely Heart", and Geddy Lee from Rush play on "Roundabout". How was it playing again with the re-united YES?
TR : It wasn't great, as I said though, Geddy was great. I did enjoy the other acts and really enjoyed playing the finale. It's a night I won't forget and it was great spending time with Alex Lifeson and Geddy. Such wonderful people.
MM : The album "90125" was a big hit for YES, but was also a controversial album especially for the early YES fans due to the new band style featuring a more catchy and modern sound. Looking back in time, what do you think of this album that became a milestone in the band's career?
TR : Well I wrote most of the music before joining the band, so it was very natural for me.
MM : You came to Japan for the first time in 23 years with YES FEATURING JON ANDERSON, TREVOR RABIN, RICK WAKEMAN. ARW's great performance definitely fascinated the Japanese fans. Tell us how you felt, personally, about the shows in Japan.
TR : I always love playing and being in Japan and was happy we got to come. We're having fun.
MM : Your guitar and vocal performances for the shows in Japan were absolutely amazing. After you decided to perform and tour as ARW, how did you prepare yourself prior to the shows in order to maintain such a high quality of live performance?
TR : In the beginning I was curious because I've been scoring film doing orchestration, conducting etc, and obviously I played a lot on my scores, and did an instrumental album in 2013 which I loved. But after 17 years and 50 films, it thought it might feel new, but it was like I got of stage yesterday, it was fine. I was rusty for a while, but I'm in ok shape now. We rehearsed well and before Japan we had played many shows, so I think we were pretty together by the time we arrived in Japan.
MM : Your guitar sound for the shows were great as well. Your set up seemed to be pretty simple. Can you tell us about your gear? What guitars, amps, pedals did you use for the tour?
TR : I've gone away from using regular amps and I'm using the Fractal unit which I love. Matt Picone who created the unit is quite brilliant. I tried many other units, but the Fractal fit me like a glove. I am able to create all my sounds in the unit. I'm still using my fender strat that I've had for decades, and I'm also using my alvarez signature guitars. SO I really use 3 guitars and an acoustic for a short time.
MM : What are the things you tend to keep in mind when it comes to guitar sound, band ensemble and performance in a live situation?
TR : It's really important for the sound to be almost regal sounding, and it's very important when I'm moving fast that the notes don't run into each other. Very important to be clean and clear. I also tend to do a bit of extra work depending on the place we're playing, which is great on the Fractal.
MM : In a past interview, you mentioned that you are not interested in releasing ARW material from a record company or label, and that you would release music on your own. How much new ARW material do you already have prepared and when will the fans be able to listen to the new music?
TR : Well because of a lot of passion from fans, we are calling ourselves "Yes, featuring Anderson, Rabin, Wakeman from now on. We have quite a lot almost ready, although often I land up working on a song and then deciding not to use it, so
it's hard to know what we'll be doing as the final. What is great is the Fractal translates perfectly from live to the studio.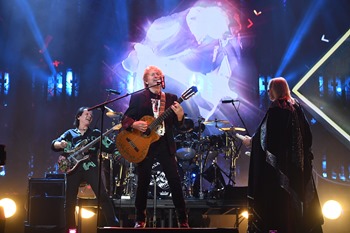 Trevor Rabin official site
Trevor Rabin facebook
Trevor Rabin twitter
YES FEATURING JON ANDERSON, TREVOR RABIN, RICK WAKEMAN official site
YES FEATURING JON ANDERSON, TREVOR RABIN, RICK WAKEMAN facebook
YES FEATURING JON ANDERSON, TREVOR RABIN, RICK WAKEMAN twitter