Angel Vivaldi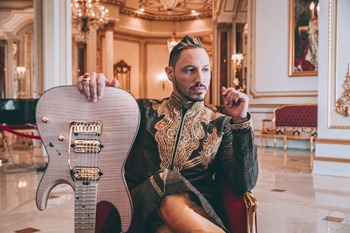 The guitarist Angel Vivaldi has been receiving remarkable attention for his musical works especially on Youtube. Angel's music video for "A Martian Winter" which was dropped in 2012 went viral and hit more than 6 million views. His other music videos went on to hit over a few hundred thousand views and he currently has over one hundred thousand people subscribed to his youtube channel.
His highly technical guitar skills truly are an art form all their own and Angel's sense to implement them at the right time really make the songs shine. The contrast of shredding technical guitar riffs and catchy beautiful melodies work well on the heavier tracks.
Listener's have been attracted to the new album for it's technical guitar, his musical taste and high production value. Also having guest musicians Nita Strauss from Alice Cooper and Guss G on the album helped to build the hype.
He took some time to talk to Muse On Muse about his musical background and his brand new set "Synapse".