Jennifer Batten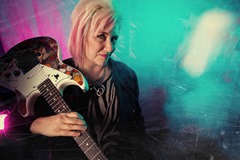 Photo by Ali Hasbach
The SCHERER/BATTEN project features Marc Scherer, vocalist extraordinaire with a skyscraping clear voice, along with female super guitarist Jennifer Batten, known for working with artists such as Michael Jackson and Jeff Beck. SCHERER/BATTEN has just released their album "BattleZone", produced and written by Jim Peterik, who is also known for his prolific collection of songs including SURVIVOR's "Eye Of The Tiger" and "Burning Heart" from the Rocky movies.
The SCHERER/BATTEN album displays a great collection of pleasant yet catchy and melodic rock tunes featuring a great vocal performance by Marc Scherer, and Jennifer Batten's melodic guitar along with a taste of some flashy licks and energetic performances.
Jennifer Batten took some time with MUSE ON MUSE to talk about the new album, and also shared her thoughts about the current music scene, as well as some of her memories with Michael Jackson and Jeff Beck.