Jake E Lee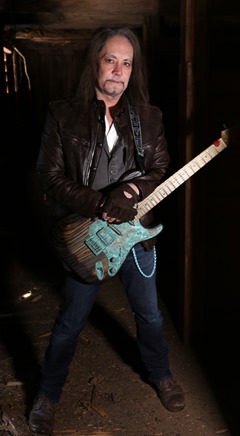 Photo by Joe Gorelick
Jake E Lee has released 2nd album as Red Dragon Cartel, "PATINA". Although the well received previous album "Red Dragon Cartel" had songs like "Deceived" which his guitar riff reminded fans of his style in Ossie's ere, he went back to his roots, Rock on this album. He displayed real Rock sounds played by real musicians and experimental various guitar sounds. You will get pulled magically into the world of his guitar and the band with every listen. I assume that this set will be loved by fans for long time. Muse On Muse interviewed Jake E. Lee himself about the new set "PATINA".
Interview / Text  Mamoru Moriyama
Translation         Hiroshi Takakura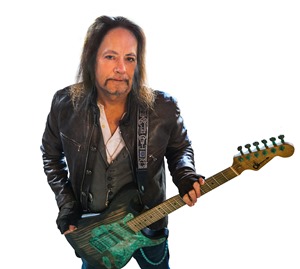 Photo by Joe Gorelick
Muse On Muse : It seems as if tracks and guitar sounds of your new album "PATINA" fascinates us more and more with every listen and is highly addictive.
Jake E Lee : Thank you. I didn't want to get bored with my own music, or guitar sounds. I tried to give every song it's own special journey, and sound. Because of this I feel like there's something new with every listen, and it gets better as time goes by. I'm very happy with how it turned out.
MM : You featured many guest singers on your previous album "RED DRAGON CARTEL". So we have impression of the last album was more "project" type of album. What was your goal making this album?
JL : I wanted Patina to sound more coherent, more consistent, sound wise. More of a band sound, less of the obviously different combinations on the first album. I think you can listen to Patina from top to bottom and feel like you've watched a movie. Different scenes, different locations all tied together.
MM : It has been 5 years since your last release. What have you been up to these years?
JL : It's been four years! Touring took up two years. Played Japan twice! Took a little time off. I have never felt the need to be constantly working. I'm perfectly fine enjoying life outside of work. So I took some time off, and the writing and recording of the album took about a year and a half.
MM : What's the meaning behind the album title "PATINA"?
JL : The definition of patina is an appearance of something, valued aesthetically and grown beautiful with age or use. I'd like to think of my music and guitar playing to be that definition.
MM : Please tell us in detail about the songwriting process and production of the new album.
JL : Unlike the first album I decided to write this album with the full band present. Anthony's studio is on a ranch in Pennsylvania and can house everyone, so we were together 24/7. I'd bring an idea into the studio and we would work on it from there. You can feel if the song is working immediately. It's much more dynamic that way and as a plus, you can tell it's going to work really well in a live environment, on tour.
MM : Your impressive guitar riffs seemed to go back to BADLANDS era or 60/70s Rock music. Also your improvised guitar solo is spectacular. Please tell us the actual recording process.
JL : Ant and I agreed to record this old school. He would meticulously mic everything. Find the right mic, the right angle and distance. Any compression, all done through actual hardware, was dialed in. If it didn't sound perfect we'd fix it there and then, no "fixing it in the mix". Same goes for performances. No auto-tuning or beat detective or any software "fixer". If you couldn't naturally perform your part, then either change it or practice it till you can.
MM : We feel influences from non-Rock music (Jazz, Fusion etc.) in your impressive phrasing especially on "My Beautiful Mess", "Ink & Water" and "Punchclown".
JL : I've always had a love for all music. I listened exclusively to classical and jazz music in my childhood years through my parents. Before moving to Los Angeles and joining Ratt I had played in a country rock band, a jazz fusion band, and a funk band with a full horn section. Sprinkling my music with all the different influences I grew up with, and still listen to, makes it so much more interesting, at least for me.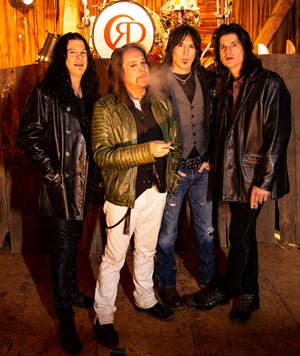 Photo by Joe Gorelick
[RED DRAGON CARTEL l to r] Darren James Smith(vo), Jake E. Lee(g), Phil Varone(dr), Anthony Esposito(b)
MM : You displayed various guitar sounds on this album from string squeaky direct sound to effective guitar sounds to enhance other elements on a track. How did you approach the guitar sounds for this album?
JL : Rather than finding a really great tone and just using that throughout the album, which is what most guitarists do (and I too, usually), I attempted to find what I thought was the best sound for each song, for every part of each song. To treat each song as a separate painting, so to speak, with its own special colors. Thinking of the album as a gallery of separate paintings.
MM : Could you tell us about your gear? What guitars, amps, pedals did you use for this album?
JL : It would take a chapter to do that! I had an arsenal of guitars provided to me from my friend, Dave Cisan, that consisted of a 52 Tele, 68 Tele, 57 Strat, 63 Strat, 57 Gretsch, 65 ES-335, 69 Les Paul, as well as my vintage collection and my Charvels. I used all of them. Depending on the specific part of a specific song, I'd have to consult my notes. I had about 100 pedals, many being old gems, a Binson Echorec, Boss Phase 5, Maestro Fuzz Phazer etc. Various amps and cabinets. I can say the majority of the guitar parts were probably the 57 Strat, my signature Charvel, my 68 SG Standard, the 335 and the Les Paul. Most of the chorus effects were probably a Roland Boss CE-1. The most used amps were a 74 50w Marshall and an Orange Anniversary model 50w. And the most used cabinet was a 4×12 filled with Celestion 25w Greenbacks.
MM : Your flashy guitar tricks led to fame as a guitar hero back in 80s. Then you displayed more Bluesy and Hard rock style in BAD LANDS' era. Now you seemed to go back to your roots Rock on this new set of RED DRAGON CARTEL. How did you morph from Ozzy to BAD LANDS to your current style?
JL : When you start out, you want people to pay attention to you, to stand out in the crowd. Especially in the "gun slinging" '80s. Once I established myself I tried to play in a more musical way. I've always considered myself more of a musician that plays guitar than a guitarist that plays music. My playing has matured, evolved, over the years. As it should. Otherwise I'm stagnant. I don't want to be a replica of what I was 30 years ago, I look forward to what my playing entails in the future.
MM : You're touring Japan as RED DRAGON CARTEL in April, 2019. Please tell us what we can expect from your shows.
JL : The bulk of the show will be the new album. Because of the way it was written, almost all, if not all, of the songs will translate extremely well live. And I think that you'll find the songs hit you much harder in a live setting than they do on record. I'm really looking forward to playing these songs live. I hope you do too!
RED DRAGON CARTEL official site   http://www.reddragoncartel.com/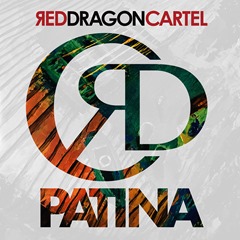 RED DRAGON CARTEL / PATINA
CD : MICP 11470 AVALON
1.Speedbag
2.Havana
3.Crooked Man
4.The Luxury Of Breathing
5.Bitter
6.Chasing Ghosts
7.A Painted Heart
8.Punchclown
9.My Beautiful Mess
10.Ink & Water
11.Havana B.C. [JAPANESE BONUS TRACK]