Robben Ford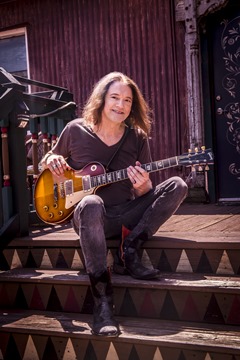 Photo by Mascha Thompson
A classic player Robben Ford has been attracting music fans by his wonderful guitar tone, phrasing, stylish production and his passionate playing style. The new album "PURPLE HOUSE" by Robben who has built a reputation as a guitarist and a vocalist, managed to display more variety of musical styles and modern fashionable atmosphere. We interviewed the guitarist / singer / producer / composer who reached even higher level about his quality Blues-Rock set "PURPLE HOUSE"
Interview / Text  Mamoru Moriyama
Translation         Hiroshi Takakura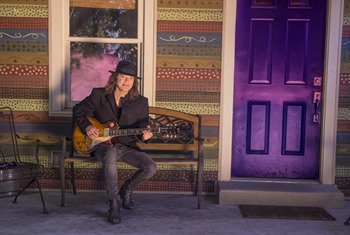 Photo by Mascha Thompson
Muse On Muse : Your fantastic new album "PURPLE HOUSE" showcased your originality and various musical elements. It also sounds very fresh and different from your past productions. What was your goal of making this album?
Robben Ford : I wanted to take more advantage of all the tools available with recording technology today rather than make the kind of records I've made for years: mainly focusing on capturing a live performance. We did indeed record live in the studio, but were able to expand the record sonically in ways that would be hard to duplicate in a live performance.
MM : How was the song-writing process for making an album has different style like this? Please give us the detail.
RF : I wrote most of the record with an acoustic guitar, sitting on my couch. I almost always do that. I gave myself a lot of room with the lyric writing, used a pretty free approach to the use of metaphors and subliminal meanings. Fundamentally its really about putting the next word in front of the last one. But I have developed a style over the years that surprises even me sometimes how well a story will evolve with less effort than it once took.
MM : Lyric, of course, is important to produce vocal tracks. How do you approach to write lyrics?
RF : I always want to begin with a very strong first line. If the first line has weight its much easier to find the second. I wrote a song for Renegade Creation called "All Over Again" in which the first line is "Raindrops like hammers hit the ground". That's a strong image. (And it was raining like crazy at the time, which is where the line came from.) Ground is a pretty open vowel until the "d" hits on the end and good rhyming words were there, like "sound", "down", which are strong words in themselves. A song can write itself if you let it.
MM : Modern and impressive arrangements for this album seems to have blues feelings on its base. Please tell us about arrangements.
RF : I write and arrange at the same time. If you come in with a good song it arranges itself pretty quickly. But certain things aren't clear and you look to others around you to add or subtract. Usually I have the most ideas because the songs are mine, but, ideally, everyone would contribute.
MM : On the other hands, guitar solos on tracks are straightforward and use direct Blues phrases in contrast to modern arrangements. Please tell us about guitar solos.
RF : I'm a blues player, so, not much to say about that. I just get a sound that I like and play to the song. It took awhile with some of these songs to find the right feeling but I always play the blues.
MM : What's the meaning behind the album title "PURPLE HOUSE"?
RF:The studio in which we recorded is in a purple house in Leipers Fork, Tennessee.
MM : The new album starts with contemporary yet powerful track "TANGLE WITH YA" and it draws us into the fantastic world of the set.
RF : That is a rocker. It began as a slow blues, but the first time I played with our drummer, he played a similar beat just testing out his drums. On the way in to rehearse next day I thought of putting the two things together, which became the way we played the song.
MM : Please tell us about beautiful and illusory tune "EMPTY HANDED"
RF : On the couch, with an acoustic guitar, I started playing the opening chords. It created a lonely, slightly desolate feeling and I searched for a word or phrase that would express that feeling. The phrase that came to mind was Empty Handed, once again a strong, weight carrying set of words. It flowed out from there considering both of personal experience and some fiction.
MM : "COTTON CANDY" displayed vocal, sax and guitar on the pleasant rhythm. Please tell us about this stunning track.
RF : This was the last thing I wrote for the record and was recorded in Muscle Shoals at Fame Studios. That place definitely has some energy you can't define but kicks things up a notch. We cut a great track on it but also made some dramatic changes and additions when we brought it home. That recording is a lot of fun.
MM : Shemekia Copeland is featured on "BREAK IN THE CHAIN" also Travis Mccready voiced on "SOMEBODY"S FOOL". How and why did they join for this project?
RF : I felt the songs need stronger vocalists than I am. I'm not a rock singer. So rather than have a vocal I wasn't happy with I brought people I felt could really make the songs come to life.
MM : Please tells about the track "WILLING TO WAIT" which Drew Smithers played guitar.
RF : I met Drew in a guitar shop in Nashville, heard him play a little later and invited him to play on the record. I like giving younger, deserving talent opportunities. The song was written during a "Super Moon" some months back. I looked up in the sky, saw that big moon and started composing the last part of the song: "As the moon trips across the sky…" I love that part. I was already working on the front of the song and this inspiration tagged onto the end perfectly, all just came together.
MM : Please tell us about your gear. What guitars, amps and pedals did you use for the recording of this album?
RF : The rhythm tracks were done thru a vintage Fender Pro-Reverb and the solos thru a Vibrolux-Reverb using a 64 SG. Rhythm parts mostly on a 59 Les Paul Junior and the acoustic is a 59 Gibson J-45, a beautiful guitar. I used an Electro-Harmonix Dejavibe here and there and an overdrive called the Twimble for some of the heavier rhythm parts. I tried a lot of things but it mostly came down to this components.
MM : Please give a message to your fans.
RF : I certainly hope you like Purple House as I'm very proud of it. Love to all my Japanese fans!
Robben Ford official site  http://robbenford.com/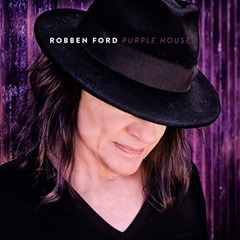 Robben Ford / Purple House
KICJ812 KING RECORDS ¥2,600 + tax
1. Tangle with ya
2. What i haven't done
3. Empty handed
4. Bound for glory
5. Break in the chain
6. Wild honey
7. Cotton candy
8. Somebody's fool
9. Willing to wait