Andreas Gullstrand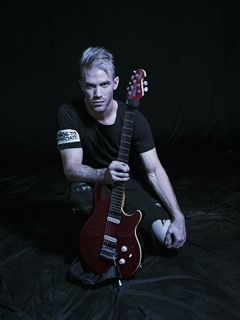 Photo by Anders Roos
Swedish melodic Rock group CREYE has just released their debut album "CREYE". This album showcased catchy soothing melodies, clear vocal and chorus, rich keyboard sounds with 80s feeling, dramatic structure and clever and emotional guitar sounds which emphasize songs.
Unfortunately the vocalist Robin Judhed and the keyboard player Joel Rönning has left the band but August Rauer[Vo] and Joel Selsfors[Key] joined the band.
The head honcho and the composer of CREYE, Andreas Gullstrand took some time to talk to Muse On Muse about this crucial new album "CREYE" which appears to Melodic Rock and AOR music fans.
Interview / Text  Mamoru Moriyama
Translation         Hiroshi Takakura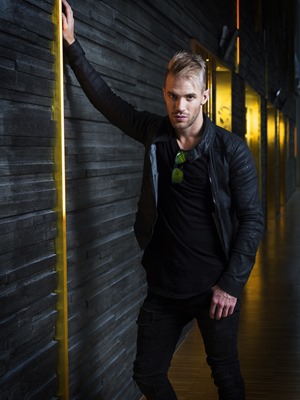 Photo by Anders Roos
Muse On Muse : Please tell us how CREYE was formed and introduce each member of CREYE?
Andreas Gullstrand : Creye was formed in early 2015 by me as studio project. After the first single "Never too late" was released in 2016 and we received some amazing response I decided to make this a "real" band and started looking for full time members. Creye made it's debut with the current lineup on stage in October 2018 with:
August Rauer – Vocals
Andreas Gullstrand – Lead Guitar
Fredrik Joakimsson- Rhythm Guitar
Gustaf Örsta – Bass
Joel Selsfors – Keyboards
Arvid Filipsson – Drums
MM : Please tell us how and why you named the band, "CREYE"?
AG : I was looking for a name that would be unique and not already used by like, 20 other bands. I had made a list of many names and narrowed it down to three names that I thought sounded good and presented them to the person that was hired to be our logo designer at the time. He then presented me with an additional name. "Creye". Which is a play on the words "cry" and "eye". It was simple and complex at the same time and was definitely unique so I decided to go with it.
MM : The fantastic new album "CREYE" displayed significant melodies and gives us 80s feeling in a good way. What was your goal when making this album?
AG : The goal was to record an album where each song is good enough to stand on it's own. No fillers in other words. We were also very keen on that we wanted to create something that was fresh and relevant to a modern audience. To give it a bit more of our personality we just added a hint of the past to create some nostalgia as well.
MM : Songwriters outside the band got involved in the making of your album alongside you and band members. Please tell us about the songwriting process for the album.
AG : There are of course a whole lot of people that were involved in the songwriting process of this album. Some have been working together externally on songs that were presented to us (like for example Miracle or Christina). It basically all started with me wanting to do some co-writes to get out of my comfort zone. Since all of this was happening very fast with releasing the EP and getting signed to a label and finishing the album just within months there wasn't really any time for me to reflect and find enough new inspiration and influences to make an entire album all on my own. I quickly realized that this was something that was going to be a problem. That in turn led to me start working with Fredrik Joakimsson who joined the band rather quickly after we started working together. Since I and Fredrik wrote most part of the album this was a major game changer for the band. Ulrick Lönnqvist (one of the writers of Miracle) and I also decided to do a co-write where we ended up writing the song "Desperately lovin". Erik Wiss who's the producer behind the album and EP knows our sound better than anyone and we've been talking about a co-write for years and finally found a blank space in our schedule where we could do that. That song ended up being "Different state of mind". We write and do pre-productions at the same time. Something that takes a bit of time. But when we're done, we're done.
MM : All of songs on this album displayed melodic and impressive guitar solos with style especially in "Still Believe in you" and "All We Need Is Faith". Tell us your approach to playing guitar for your songs.
AG : Thank you so much! My approach for solos is more ore less quality before quantity. I'd rather have a solo that is well planned and could be remembered on it's own than just to shred my way through it from start to finish. But basically I just try to imagine what I would want to hear if I was the listener and try to re-create that as best I can. When it comes to rhythm parts I'm really inspired by guys such as Tim Pierce and Dann Huff and how they work in the studio. I've taken a lot of what they talk about in their videos and just tried their approach on adding guitars to a song. But it all comes down to capturing what the song wants and needs to shine.
MM : Which musicians and guitarists were your influences in order to build your own style?
AG : In terms of session players I really like Dann Huff and Tim Pierce. When it comes to guitarists that has shaped me then John Petrucci was a big idol of mine through my teens and that has definitely shaped my both as guitarist and a musician. Then there's players such as Guthrie Govan, Larry Carlton, Steve Vai, Michael Romeo & John Mayer that has been huge inspirations for me through the years. I do however consider myself to be an all eater so there's a lot of different styles and artist that has shaped me.
MM : How did you assign roles to yourself and rhythm guitarist Fredrik Joakimsson for making guitar sounds and arrangements?
AG : Basically we just thought about how it would be played live. After that part was done then we did some dubs, clean guitars and add-ons. When we had an arrangement that we were satisfied with all the lead guitars were added properly and in some cases a few harmonies as well. When thinking about sounds it was all tracked using the same sounds that we had decided that we liked.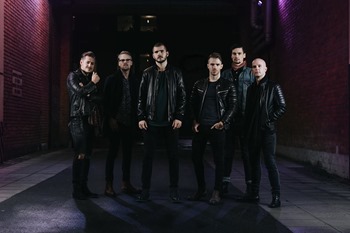 Photo by Mikael Roos
[CREYE l to r] Gustaf Örsta(Bass), Arvid Filipsson(Drums), August Rauer(Vocals), Andreas Gullstrand(Lead Guitar), Joel Selsfors(Keyboards), Fredrik Joakimsson(Rhythm Guitar)
MM : CREYE also displays splendid keyboard sounds. Tell us your approach to balancing keyboard and rhythm guitar sounds to go well together.
AG : Thank you! One part of it is how the music is arranged. For example you want everything to add something to the music by being there. So if the guitar is playing a standard power chord then maybe the synth should add a different voicing of that chord. Putting the notes in a different order to create a wider and bigger sounding chord. Maybe add some additional notes as well to the chord to give it some extra flavour. You could also do some jangle parts that will lay on top of that making it even more exciting with creating some movements in there. Another part of it is of course how you place the instruments in the mix. EQ and panning is definitely key to making this work. Everything needs their space to be able to exist in the song. If something is raised in the mix then something else needs to be lowered. So it's finding that perfect balance that is the hardest part. All credit to Erik Wiss on that end, who did the mixing. The third and final part is just to look through thousands of keyboard sounds and thousands of guitar sounds and experiment until you like how they sound together.
MM : Please tell us about your gear. What guitars, amps and pedals did you use for the recording of this album?
AG : Almost the entire album was recorded with my Axis super sport from Ernie ball Music man. In terms of gear it was just a Kemper straight into the DAW. Nothing complex. The acoustic guitars were done in a proper studio using some fancy guitar that our producer Erik Wiss had available. Can't remember the brand though.
"Straight to the top" and "Never too late" were also recorded in a proper studio with my Hughes & Kettner Blonde edition amp. A very good sounding VERY underestimated amp. Some of the lead guitars on the album were also done with my Fractal audio AX8 and my Eleven rack.
For some extra effects I used the Digitech X-series Digital Multi Voice Chorus pedal on some of the clean guitars.
MM : CREYE released EP "Straight To The Top" in 2017. Please tell us about that EP.
AG : After the success of "Never too late" we basically wanted to act fast to keep the ball in motion. Thereby we decided to re-enter the studio almost immediately to record and release a physical three song EP. The EP itself consisted of the title track "Straight to the top", previously released single "Never too late"and a cover of the song "No easy way out" by Robert Tepper. The EP featured vocalist Alexander Strandell from Art nation as we didn't have a permanent vocalist at the time. The new song "Straight to the top" showed off a much more mature and aggressive side to us. Something that was well received by our followers. The Ep was released in March 2017 and was more or less sold out within weeks. It was also a major game changer for us at it attracted many labels that were interested in working with the us. Ultimately this led to us signing a contract with Frontiers.
MM : Please tell us about your upcoming plans. What do you have coming up next?
AG : Right now we're working on some touring plans for 2019 and further promotion of our debut album.
MM : Please give a message to your fans.
AG : I just wanna thank everyone that has supported the band through the years. You are the ones making all of this possible. We hope to meet you all on the road someday!
CREYE official site :  http://www.creyesweden.com/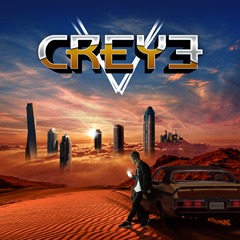 CREYE / CREYE
1. HOLDING ON
2. NOTHING TO LOSE
3. DIFFERENT STATE OF MIND
4. NEVER TOO LATE
5. ALL WE NEED IS FAITH
6. MIRACLE
7. CHRISTINA
8. STRAIGHT TO THE TOP
9. LOVE WILL NEVER DIE
10. STILL BELIEVE IN YOU
11. CITY LIGHTS
12. DESPERATELY LOVIN'
13. A BETTER WAY
14. STRAIGHT TO THE TOP (ACOUSTIC) [JAPANESE BONUS TRACK]