Billy F Gibbons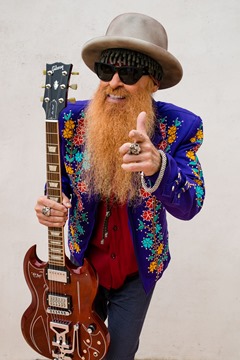 Photo by Andrew Stuart
The legendary guitarist Billy Gibbons is best known as the guitarist and lead vocalist of the American rock band ZZ Top. He was inducted into the Rock and Roll Hall of Fame. Gibbons just released his second solo album "The Big Bad Blues". Although his previous solo album "Perfectamundo" defied expectations of his fans in a positive way with its Afro cuban sounds, he is back to his roots Blues for this set and showed Blues legends respect. We can hear Billy Gibbons' signature sound which are fat driven Blues Rock guitar and his vocal throughout this album. The guitar legend took some time to chat to Muse On Muse about his new piece "The Big Bad Blues"
Interview / Text  Mamoru Moriyama
Translation         Hiroshi Takakura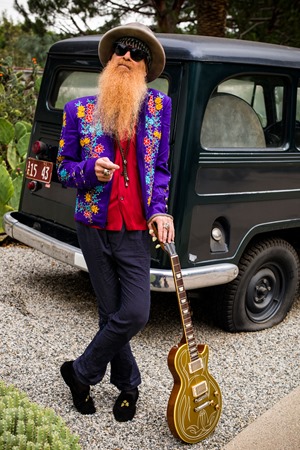 Photo by Andrew Stuart
Muse On Muse : Your new set "The Big Bad Blues" is a fantastic blues rock album filled with your personality, big-boned sound and deep feelings. Why and how did you think of making your 2nd solo album?
Billy F Gibbons : After the success of "Perfectamundo," our friend and Concord Records chief, John Burk, corralled me and asked about a follow up and suggested a blues-oriented project. As we like to say, "you can't lose with the blues" so we immediately accepted the suggestion and got to work on it. In a way, it felt like coming home since the blues is at the root of just about everything we do.
MM : Your first solo album "Perfectamungo" was a fusion of Afro Cuban and strong Blues Rock and it was surprising for fans of ZZ TOP. You seem you went back to roots of Blues Rock for this album. What do you care when you work as solo artist instead of ZZ TOP.
BG : Taking on a solo excursion is an entirely different approach… everything is different. Different recording approach, different musical collaborators. It's, maybe, a looser sensibility in terms of the resulting work. It's a genuine reward to take on the challenge with no real constraints.
MM : How was the process of recording?
BG : Initially, we just got in there and played with the other guys for a while with nothing but blues numbers to jam on. I honestly had no idea that our engineering crew was rolling tape through most of that messing around yet we're glad it rolled because a significant percentage of what was recorded actually made it onto the actual album release. The whole process was keeping an open mind and playing what felt right to play. Very empowering circumstance.
MM : This album has cover tunes of legends like Muddy Waters and Bo Diddley. How did you pick those tunes from so many classics by many legendary blues artists in its history? Also how did those tunes influence and inspire you?
BG : Those tunes have been enduringly inspiring since I first heard them. Muddy Waters, when he left the Mississippi Delta and went up to Chicago where he, so to speak, "discovered electricity" changed the course of western culture at that very moment. There would have been no electric blues, not to mention rock and roll had Muddy not been inspired to do that. "Standing Around Crying" and "Rollin' and Tumblin'" are testimony to his enduring legacy. As far as Bo (and "maraca man" Jerome Green) are concerned, they were beyond hip.. Bo's music is blues-based but the base is outer space. "Crackin' Up" was a challenge to nail down.. that intro was quite confounding yet we finally came to figure it out. As far as "Bring It To Jerome" is concerned, that's an order we're always sure to follow.
MM : Last tunes on the album "Crackin' Up" has different style from other tunes and people enjoy the contrast between it.
BG : Well, here's our chance to offer more laudation for Bo. Bo Diddley was idiosyncratic, different than all others, a true iconoclastic artist. We let him know our true admiration for him while he was with us and still enjoy keeping his memory alive.
MM : Please tell us about your gears which you used for this album.
BG : As there are only two guitars in "The Big Bad Blues" lineup. John Bolin stepped it up creating a match pair of right-handed and left-handed 6 string electrics for BFG and Austin Hanks for the frontline. Both guitars are outfitted with Andy Alt's newest version of his "Little Thunder 2" pickup which adds a low-octave bass register to the guitar's output. It gives us the addition with the sound of a bass-guitar for a super solid bottom end. Twin guitars with twin low-ends! And, coupled with Marshall's 100 watters and Magnatone's backline amplifiers, it's serious. We still use our trusted Bixonic Expandora pedal for extra boost which is big and bad for stage presentation. Matt Sorum also brings his newest drum kit from Gretsch to pound out the backbeat. Again, it adds up to being a super-serious sonic freight train.
MM : Fat, rich and emotional tone of guitar is your signature sound and it sounds outstanding on this album. I guess your technique and soul make your tone so special but how do you make your tone/sound in terms of how to use guitars, amps and pedals.
BG : It starts with the hands! It's then a question of coordinating the instrument with amps and effects.. Balance is the key in getting a sound that's appealing.
MM : Please give a message to your fans.
BG : "Hope you're liking "The Big Bad Blues." It's meant to be played loud so turn it up!"
Billy F Gibbons official site : https://www.billygibbons.com/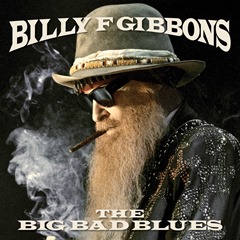 Billy F Gibbons / The Big Bad Blues
01. Missin' Yo' Kissin'
02. My Baby She Rocks
03. Second Line
04. Standing Around Crying
05. Let The Left Hand Know
06. Bring It To Jerome
07. That's What She Said
08. Mo' Slower Blues
09. Hollywood 151
10. Rollin' And Tumblin'
11. Crackin' Up
12. Hot Rod (JAPANESE BONUS TRACK)
13. Money Like Water (JAPANESE BONUS TRACK)