BLINDMAN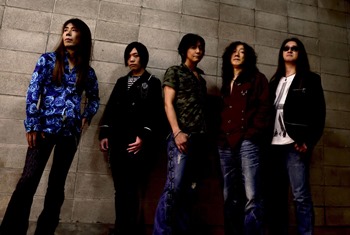 A leading Japanese Melodic Hard Rock band BLINDMAN has released their 10th studio album "Reach For The Sky". Their emotional Hard Rock style, which have been attracting their supporters, is still alive and one and only BLINDMAN will ever disappoint their fans! They even challenged new styles. A cover of "Da Doo Ron Ron" which is famous for the version by Crystals produced by a legendary, influential Pop music producer Phil Spector. Crystals' pop style track morphed into BLINDMAN style in an excellent manner. The beautiful track "Blue Moon" displays versatility of their musical style and skills and it appeals to non Hard-Rock people. It's a crucial song to be checked BLINDMAN took some time to chat to Muse On Muse about their fantastic Melodic Hard Rock set "REACH FOR THE SKY".
Interview / Text  Mamoru Moriyama
Translation Hiroshi Takakura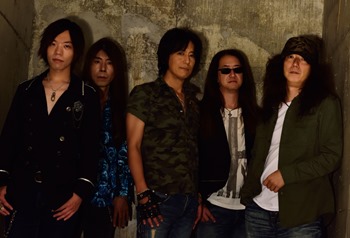 BLINDMAN L to R : Shun Minari(dr), Hiroki Matsui(key), Ray(vo), Tatsuya Toda(b), Tatsuya Nakamura(g)
Muse On Muse : You have released new album "REACH FOR THE SKY" and have been touring Japan. "What kind of responses have you been getting from your fans about this album? How is the condition of the band?
Nakamura : Our band has been very steady and we are getting very good reaction from our fans but we just finished 2 gigs which were right after the release so I'm still not quite sure about how they liked it.
MM : In the previous interview, You said how you wrote the last album was "Sit down on a chair and meditate." "My demo tracks are very much close to finished tracks crazily". How was demo tracks for this album?
Nakamura : It was same this time. Literally same.
MM : You wrote lyrics Ray, How do you imagine and write lyrics based on demo tracks given by the band leader?
Ray : I set the direction of lyrics when I hear the demo track for the first time. A first impression is very important for me. I focused on writing lyrics which fit tracks rather than setting a topic or a theme.
MM : How do you record your vocal on the demo tracks which are almost perfect. How do you speak to the band leader to exchange ideas?
Ray : When we were writing songs, I got one demo track per week from Nakamura. So I tried to write lyrics and finish rough version of my vocal before he send me the next one. There were guide melodies on demos so I used it as a bass and arranged it my way. If the first impression of the melody on the demo was good, I usually stick to it. For instance I sung "Angels Ladder" almost as same as the guide melodies by Nakamura. In an opposite case, "Roll the Dice" was sung with my style completely. When Nakamura wanted me to sing in a specific way, I of course respected the opinion from the producer. We had spoken to each other many times before the actual recording so the recording process was very easy.
Matsui : The demo tracks from our leader are actually incredible lol. I honestly think it's ready to release because of its perfection. But organ track on the demo was played in a computer so There weren't any glissandos or something like slow/fast function in Leslie speakers. Totally lacking human grooves. When I play organ, I pay attention to it. Having said that I learn a lot from our leader as he knows about organ deeply. When we were recording he said something like "do it Leslie fully!" Or "let's cut 16′ drawbar!" I was like "Is he really a guitarist?" Lol
Toda : About bass line, I play what comes up in my head. If nothing comes up, I think the bass line in the demo is the best so I play as the demo plays. There are 3 roles in recording process, "Musician", "Director" and "Composer" so I play and he decides if it's good or not. But he basically let me do what I want.
Minari : Nakamura also knows about drums deeply so I didn't change the drums in demo tracks massively. He pointed out some drum part I played to make it sounds better while we were recording, but he didn't specify any phrases really. I also could play what I wanted to play at every sessions.
MM : This is 2nd studio album for Ray and Shun. What's the difference between making previous album and this for you guys?
Ray : It's been 3 years since I joined this band so I have understood about BLINDMAN style. So there wasn't any confusion or hesitation to play for this album compare to the last one. I knew what I had to do and I was able to see our goals and how to get there so there wasn't any problems.
Minari : For me, the other drummer supposed to play for the previous album and it was written and produced for him, besides it was 90% finished so I could not do much to be honest lol. 2 years after, demo tracks I was given had many things I like and I could do. I don't think I have a unique style but he gave me a chance to express myself so I was very excited to play!
MM : This album contains not only the BLINDMAN style Hard Rock tracks like "Strangers In The night, but also cover track like The Crystals' "Da Doo Ron Ron" and a very stylish tune "Blue Moon" which appeals to non-Hard Rock fans. How come you recorded those variety of tunes?
Nakamura : When I finished writing 7 tracks for this album, I thought "it's already perfect." Then I started to think "What makes it even better?" then I came up with an idea of having completely different vibes. It would be interesting to have happy tunes which I wouldn't usually write or a very quiet tune then these tunes were born as a result.
MM : The combination between rhythm section and other elements fits well together even though the vibe of the track is not Hard Rock style.
Toda : Thank you so much. I try to play how the track want me to play rather than playing how I want to. It's very important to how I play bass on a smooth track so I think my approach to play bass changes the whole impression of the track.
Minari : Toda is very experienced player who used to play even Salsa and Funk. I also don't play not much straightforward Hard Rock or Heavy Metal outside of BLINDMAN, so we are a very rare Hard Rock band has versatile rhythm section lol. I try to not add too many things in recording sessions, It's better to subtract as much as possible.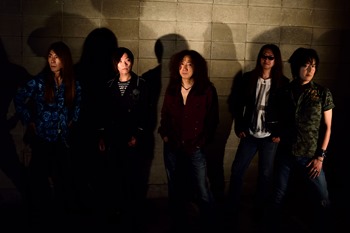 MM : Ray's vocal on "Blue Moon" is outstanding. You're a very flexible band so I want to here this type of tune more and more.
Nakamura : Do you mean whole album? It's not possible lol. It works when it's one piece of something"
Ray:We have band members can adjust to many styles and genres so it was not a problem to play tunes like "Blue Moon" at all. I always think we should play music which we can play naturally.
MM : Matsui's organ and synth is very important for BLINDMAN sounds because the beautiful sounds emphasise ballad numbers like "Angels ladder". Could you tell me what you pay attention to play tracks for BLINDMAN?
Matsui : I very much pay attention to the balance between guitar and organ and how it's mixed. When we use organ sounds in a Hard Rock band, people think something like "Guitar vs Organ", but I play organ as a side guitar. I especially care about how the organ sounds with guitar riffs to not to interrupt driven grooves of the guitar!
MM : It's probably difficult to pick one but please pick the most impressive tune from the album for you.
Nakamura : Mmm It's really difficult but I would pick "Now or Never" because it's something we have never done before.
Ray : For me it's "Angels Ladder" Because I wrote words to a stunning landscape of an inland Sea Seto which I never forget very well. The tune is a kind of tune gets better with every listen, isn't it? I reckon the song has a wonderful charm.
Matsui : For me it's "The End Of My Dream" It's straightforward Hard Rock and I get thrilled even I listen to the guitar riff in intro lol.
Toda : "Reach For The Sky"for me. I could play what I wanted to play. It became very cool.
Minari : "Roll the Dice" for me. Heavy half time shuffle tunes is pretty rare but Nakamura joined it together cleverly.
MM : Please tell us your forthcoming plans.
Nakamura : We do gigs after releases. We want to go and play as many places as we can.
MM : Please give the message to your fans.
Nakamura : Please just listen to the album. If you like it, please spread the word lol.
Ray : Thanks for your warm support every time. We are still getting better and haven't reached our goal, even haven't set the goal. We're looking forward to seeing what's waiting for us in the future. We want to reach as far as we can with you! Thank you very much.
Matsui : Thanks for your support to BLINDMAN. We will make a daily effort to make our gigs better and hope you enjoy our live. It would be great if you keep supporting us.
Toda : Thanks for your support for long time. We've done a good album. I loved previous piece "TO THE LIGHT" but I love this album even more because this is very raw and naked. I hope you enjoy it too.
Minari : I recently found out many of our fans haven't been to our gigs for more than 10 years even though they have been buying our releases. I guess they have various reasons for it, but you know we are a live band. So why don't you come to our gigs again? Lol.
BLINDMAN official site  http://www.blindman-official.com/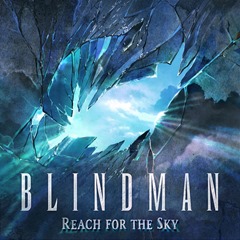 BLINDMAN / REACH FOR THE SKY
CD: WLKR-036 ¥3,240 Walküre Records
1. Strangers in the Night
2. Now or Never
3. Da Doo Ron Ron
4. Survive
5. The End of My Dream
6. Love in the Middle of the Night
7. Blue Moon
8. Roll the Dice
9. Reach for the Sky
10. Angels Ladder