Vivian Campbell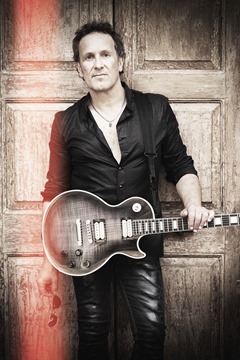 Photo by Jim Wright
Vivian Campbell has joined Rock and Roll hall of fame as Def Leopard this year in 2019. He has been getting achievements for legendary bands like Dio, Whitesnake and of course Def Leppard. Last In Line, which is the another project which Vivian puts his passion into, has just released second album " II". He continued real Rock style with Blues feelings since the last album "Heavey Crown". Result, the album came up as a crucial Hard-Rock set. Vivian displayed various guitar approaches from bohemian way to aggressive style and it impresses fans in a different way from what he does for Def Leopard. He took a time to chat to Muse On Muse about his brand new album " II".
Interview / Text  Mamoru Moriyama
Translation         Hiroshi Takakura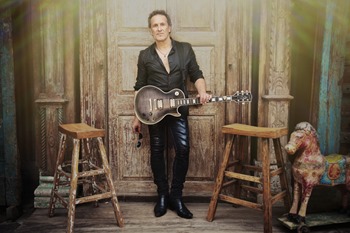 Photo by Jim Wright
Muse On Muse : Congratulations for getting into Rock of Fame as Def Leppard! How are you feeling about it?
Vivian Campbell : We're very flattered to be accepted into the Hall of Fame. The greatest part of it is the fact that we won the popular vote. Our fan's acceptance is the greatest award of all.
MM : You toured Japan in October, 2018 as Def Leppard. How was the tour?
VC : Japan has always been a very wonderful and very unique country to visit. The Japanese fans are special to me and I always look forward to my visits there. It's my hope that Last In Line can play in Japan very soon, also.
MM : You built your career through legendary bands like DIO, Whitesnake and Def Leppard, also other projects like Riverdogs and LAST IN LINE and gained success.
VC : Happiness is success, and my work has always made me happy. I've been very fortunate that I've had the opportunity to make music with so many great artists. Every day that I can do so is a successful day for me.
MM : So please tell us about new piece by LAST IN LINE " II" The album is outstanding Hard Rock set consists of nostalgic melodies from the vocal by Andrew, real sounds from real musicians, and Rock feelings. What was your goal for this album?
VC : Andrew, Vinny, Phil and myself are all incredibly proud of the new LIL "II" album. After losing Jimmy Bain in early 2016, it's been a long journey to get to where we are now. We've played many shows with Phil over the last 3 years and have really gotten to know each other and develop a unique sound. We feel that our sound is represented on the "II" album. There's nothing I would wish to change on it as I feel that it encompasses everything we aimed to achieve.
MM : You have worked with Jeff Pilson as a producer since last album.
VC : Jeff is a very wonderful and talented person. His energy and enthusiasm is infectious, and it inspires us to make great records. He's a multi-talented musician and producer.
MM : Sadly Jimmy Bain passed away in 2016 and Phil Soussan took over his bassist position. How did he join the band? How is the combination of you and him?
VC:Losing Jimmy was very sad for us all and it really stopped the momentum and movement of the "Heavy Crown" album, but after a while we elected to continue and started to search for a bass player. We auditioned many great players, but when Phil played with us we could tell that he was the right person in many ways. We've played many shows now with Phil and he's found his place in the band. His playing is similar in style to Jimmy's, but Phil plays more intricate parts. Phil has brought a lot to the new record and he has really adapted and integrated into the band over the last 3 years that we've been playing together.
MM : Could you tell us about songwriting process of this band?
VC : As with "Heavy Crown", and indeed as it was with the original Dio band, we write and create songs from the ground up. The process is organic and we start with a small idea from someone. From there, we play with the idea and each person contributes something to it until it grows and becomes a complete song. I have always believed that this is the best way to get the flavour of a band, by involving all of the musicians.
MM : Guitar riffs are very important for Hard Rock and Heavy Metal. You created various wonderful guitar riffs on this product. How do you keep making up new riffs?
VC : When I play guitar, and if I play for a long time, I almost always find something that's interesting. It's usually just a small seed of an idea. Vinny is very good at recording ideas when they happen in dressing rooms or at soundcheck. He will record things and then play them back to me months later. Sometimes these small ideas lead us to bigger things.
MM : You expressed yourself fully on your guitar solos. It's very versatile and it sometime go flashy.Please tell us about guitar solos.
VC : The first solo I recorded with Dio was "Rainbow in the Dark". I didn't work out the solo before recording and it just happened to turn out very well the first time. Perhaps it was because of that, for most of my career I didn't plan my guitar solos. Sometimes I was fortunate that a solo would turn out great, like "Rainbow in the Dark" did, but many other times I would find that I would have to work for a long, long time to find something that felt right to me. I look at guitar solos as very important musical pieces within a song. As such, they have to tell a story of their own, and must have a beginning, middle and an end and to make sense to the song. So now I always prepare before I play a solo. The differences between the "II" album and "Heavy Crown" is that on "II" I was prepared, plus I now feel that I'm at my best as a guitarist. I'm happier and more confident about my playing than I've ever been before.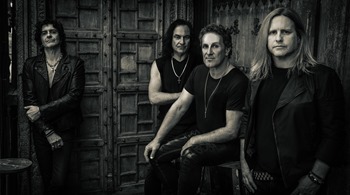 Photo by Jim Wright
MM : You've been doing your business for long time. Have you struggled to get ideas of guitar, riffs and solos?
VC : If I play guitar long enough, I can always find interesting ideas. Effort is always rewarded and ideas are always there as long as you're open to receiving them.
MM : Tell us about your gear. What guitars, amps, foot pedals did you use for the recording? What kind of guitar picks did you use? What kind of strings did you use?
VC : With Last In Line I have a very simple guitar rig. I use ENGL "Blackmore" amps. I mostly use my Dio-era Les Paul (72987537) together with my Gibson Custom Shop VC model. I use dunlop metal guitar picks and Dunlop custom gauge strings: 11, 15, 18, 30, 40, 50. I use a Dunlop Jimi Hendrix wah pedal. Jeff had me play some guitar overdubs using his MXR Phase 90 pedal, and for some of the guitar solos I used Jeff's old Tube Screamer overdrive pedal, too.
MM : What's the band "LAST IN LINE" for you?
VC : Although Last In Line is a side band, it's a very, very serious project and I devote as much of my time as possible to building the band and taking it as far as it can go. When I'm not working with Def Leppard, I'm working with Last In Line. I greatly believe in the talents within the band and I find it deeply cathartic to be able to follow this aspect of my creative personality. I started my career playing very aggressive rock guitar with Sweet Savage and Dio, and with Last In Line I can once again exercise that muscle and see where it leads me.
MM : Please tell us about your upcoming schedule.
VC : In summer of 2019 Def Leppard will play shows in Europe, Canada and some limited US shows. At all other times this year I'll be playing shows with LIL. We've already started playing LIL shows in N. America and will continue to do so until I return to play with Def Leppard. When Def Leppard finish later this year I'll go back to playing shows with LIL. 2019 is a very busy year for me!
MM : Please give a message to fans.
VC : Personally, I have always loved the Japanese people and audience and I've always been made to feel most welcome in the country. The music fans of Japan really understand and appreciate rock music. I always think of my visits to Japan with great fondness. Thank you!
LAST IN LINE official site  http://www.lastinlineofficial.com/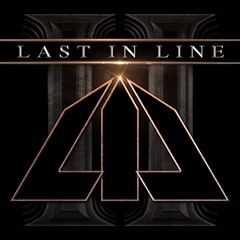 LAST IN LINE / II
1.Intro
2.Black Out The Sun
3.Landslide
4.Gods And Tyrants
5.Year Of The Gun
6.Give Up The Ghost
7.The Unknown
8.Sword From The Stone
9.Electrified
10.Love And War
11.False Flag
12.The Light
13.LANDSLIDE(Acoustic)  [JAPANESE BONUS TRACK]
Lineup:
Andrew Freeman – Vocals
Vinny Apice – Drums
Phil Soussan – Bass
Vivian Campbell – Guitars