Michael Romeo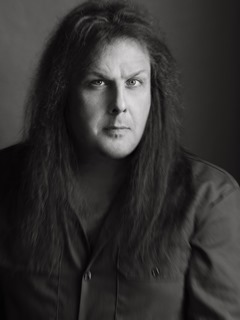 Michael Romeo, the control tower of Progressive Metal giant Symphony X, has been attracting many fans by his next level guitar technique, has released his solo album "War Of The Worlds / Pt.1" It consists of epic, dramatic and dynamic tracks which are fusion of Progressive Metal and orchestration The album gets heavy also beautiful as the story progresses with vocals and lyrics by Rick Castellano. Michael Romeo took some time to chat to Muse On Muse about his masterpiece "War Of The Worlds / Pt.1"
Interview / Text  Mamoru Moriyama
Translation         Hiroshi Takakura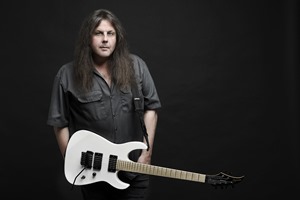 Muse On Muse : We felt like watching a spectacular film when we listened to your fantastic album "War Of The Worlds / Pt.1" What was the concept of this album?
Michael Romeo : When I first started writing for the solo album, I had a pretty clear idea of what I wanted to do. I wanted songs weaving together with a very cinematic feel. Obviously heavy riffs, some progressive elements, some electronic elements – but a lot more with the orchestra and guitar playing together. I knew I wanted those orchestral sections to have that 'sci-fi'/'space-epic' vibe. I just wanted to create something a little different by mixing up all the different types of music I like. A combination of metal, classical film music and electronic music… and still have songs and melody, but always with the guitar up front.
MM : Please tell us about musicians worked for this album. Also how and why did you choose them to join this project?
MR : All these guys are good friends of mine… and that's what I wanted for this project. I've known John Macaluso for years… he's a great drummer and a great guy and we had always talked about doing something together. JD and I went to high school together, so we've been friends since we were kids. I have a lot of respect for these guys, so they were an obvious choice for me. As for Rick, we met about 7 years ago. I was jamming with some old friends, just hanging out, having fun, and a friend introduced me to Rick. We spent the day jamming on some classic tunes, Sabbath, Priest, Rush… all that kinda stuff. I thought Rick was really great and we stayed in touch. I had always thought 'if I did a solo project or something, I'd give Rick a call'… so when I started working on this album, I gave Rick a call.
MM : Why did you make solo album this time instead of making as Symphony X?
MR : Last year, the band was taking a little break, as some of the guys were doing other things, so it seemed like a great time to put some ideas together and do a solo album. I had thought about it for a while, but time was always an issue, so having some time and some musical ideas made it all come together.

MM : You're a well known great guitarist. Didn't you think of doing solo guitar instrumental album?
MR : I thought about it for a second, but this is really the record I wanted to make, with songs and vocals… and with a very cinematic feel. That was the idea from day one. When I first started writing for this album, I wanted it to be very orchestral, very cinematic. There would be the usual heavy riffs, a lot of guitar stuff, progressive elements, but mostly a lot of interplay with the guitar and orchestra. And I wanted that orchestral flavour to have a 'sci-fi' or an 'epic space' vibe. You know… a bit of the 'Star Wars' thing going on. I wanted to give some of the music a 'film score like' quality. So, I wasn't too worried about not doing an instrumental album because I knew with this stuff, the guitar was still very upfront… even within the songs and orchestral sections, there is a lot of guitar happening.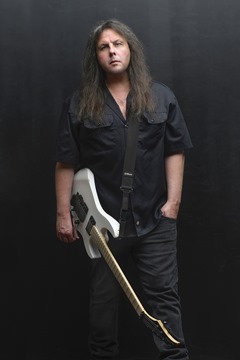 MM : How did you write songs on this album?
MR : I just wrote everyday for about 5 months. I would start with a basic riff, or a chorus idea, or even a simple melody and just build it up into a song. There was some experimentation with electronic elements, trying out different sounds, etc. And most of the orchestral stuff was with pencil and paper… old school.
MM : Apparently many people listen to an album, they pick their favourite tunes to listen and leave others now days. This album can easily be listened from intro to outro non stop, and can be repeated again and again because of its story and flow goes up and down. Please tell us about this album in terms of that.
MR : Yes, unfortunately not many people give time to listening anymore… although some still do, myself included. Regardless of that, this is what I like to do with an album, a flowing continuous journey with the music. I try to make every song cool in it's own way, but I'm always thinking about the entire album as a whole. Every note matters.
MM : According to the credit on the booklet, You seemed to record drums and re-amping guitar at specific studios. Did you basically record most of elements at your home studio?
MR : John Macaluso did the drums in Italy with our good friend Simone Mularoni. We did mostly everything else at my studio. I always record DI guitars, so we have the option for re-amping later.
MM : Please tell us about your gears.
MR : My guitar rig is simple… Caparison guitars and ENGL amps. Almost all the guitars were recorded this way, no effects… just guitar and amp. There are a few secondary guitars and layered things with a maybe a Strat, different amp/sound, acoustic, etc… that kinda thing. I've been using Cubase for a long time, my DAW of choice, with RME converters. I'm also using Vienna Ensemble Pro networked across multiple computers for the big orchestral stuff and sound design. For live recording, I have a good selection of microphones, mic preamps and compressors, and a good sounding live room. Every thing I need to get the job done.
MM : Please tell us about the sequel to this album to the extent possible?
MR : All the music for Part I and Part II was written at the same time. I had a lot of musical ideas, so it turned out I was basically doing two solo albums at once. I knew it was going to be broken down into two separate parts, but we had gone ahead and recorded the drums, bass, a lot of the guitars and vocals for everything As far as the music, there are a lot of the same themes throughout. Obviously, there are different types of songs and a few different things here and there, but overall they are two pieces of a whole idea.
MM : What is your upcoming plan? You have played at Loud Park 2016 as Symphony X and Many fans in Japan are looking forward to see your live again here in Japan. Would you consider doing a Japan tour with this album or even next album?
MR : Loud Park was great, and we hope to see you all again soon! About touring the solo thing…when I first started writing the music, I really wasn't thinking about touring at that point. It was more about the creating the sonic landscape of the record. With the band, we know we have to perform the stuff live, so during the recording sessions, you are aware of that and try not to go overboard with too much stuff going on. This was different. If a song needed 20 guitar tracks, the orchestra and a bunch of synths playing at the same time… it was ok. Although, depending on how the album is received, maybe some touring is possible… it would just take some work and some tweaks in the arrangements.
MM : Please give a message to your fans.
MR : Of course, a big thanks goes out to all the fans! Symphony X really got it's start in Japan, so I will always appreciate that! Thank you. And thanks to anyone who bought the solo album! I had a great time putting it together and I hope everyone enjoys it!
Michael Romeo official site  http://michaelromeomusic.com/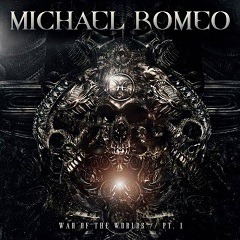 MICHAEL ROMEO / WAR Of THE WORLDS / Pt.1
1. Introduction
2. Fear The Unknown
3. Black
4. F*cking Robots
5. Djinn
6. Believe
7. Differences
8. War Machine
9. Oblivion
10.Constellations