Steve Gadd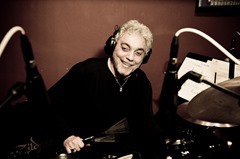 Photo by Rob Shanahan
Paul Simon, Eric Clapton, Peter Gabriel, Stevie Wonder, Chick Corea…the list goes on and on for the countless artists Steve Gadd has shared the stage with and recorded for. Steve is definitely one of the best drummers in the world today.
Along with his musical friends Michael Landau (guitar), Larry Goldings (keyboards), Jimmy Johnson (bass), and Walt Fowler (trumpet & flugelhorn), Steve Gadd released a new album titled "70 Strong" commemorating his 70th birthday. The album displays a superb band ensemble by a group of world-class musicians, along with Steve Gadd's detailed and dynamic drumming.
Steve Gadd talked to MUSE ON MUSE about his new album "70 Strong" and his approaches to drumming.