Jordan Rudess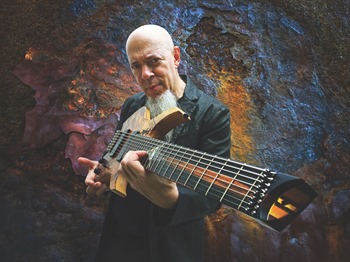 Photo by Jerry Lofaro
Jordan Rudess, who has been a big part of Dream Theater as a keyboard player, has been building his spectacular soundscape by his absolute technique and phenomenal inspiration for the band. He released his solo album *Wired For Madness" for the first time in 4 years.
The fantastic album "Wired For Madness" showcases his diverse talent as a composer, astonish technique as a keyboard player and sound-design skills. Vinnie Moore, Guthrie Govan, John Petrucci and Joe Bonamassa are guesting this album as guitarists. Notably Bluesy combination between Joe and Jordan on "Just Can't Win" leaves an fresh impression on us.
A keyboard magician, Jordan Rudess himself took some time to chat to Muse on Muse about his crucial work "Wired For Madness".
Interview / Text  Mamoru Moriyama
Translation         Hiroshi Takakura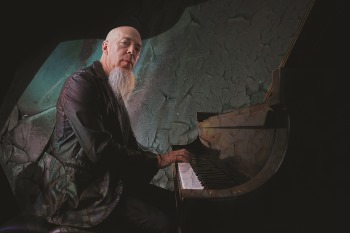 Photo by Jerry Lofaro
Muse On Muse : Your solo album "Wired for Madness" became a crucial set showcases your deep understanding of music, talent as a composer and superb technique as a keyboard player and skill to create soundscapes. How and why did you decide to make a solo album?
Jordan Rudess : My whole life is centered around creative endeavors. It's been along time since I released a rock-based solo album. I had a lot of inspiration building up inside of me and finally found the time to make this happen. Getting involved with the Mascot label also was a wonderful enabler for me to produce this album. It is a lot of work of course to do something like this and having the label support was a key factor in getting this done.
MM : What was your perspective and a goal for making "Wired for Madness"?
JR : I wanted to make an album that really expressed a large part of who I am as a musician. I didn't want to have any barriers in the creative process. I wanted to let things just flow freely out of my mind and create an honest album of my music. I've always felt that putting together my different stylistic influences comes very naturally to me and doing this kind of an album is a way to bring that all together as a composer and then share it with the world.
MM : Your "Wired for Madness" came out right after the release of new album as Dream Theater "Distance Over Time" Did you work for these 2 projects simultaneously?
JR : I did the bulk of this album in between touring and recording with Dream Theater. There are always some breaks In our schedule and when I realized we were going to have a good sized break I took advantage of that and began working on the solo album. In this way I was able to get the largest portion of the writing done in that time away from Dream Theater. Some of the additional production, like organizing my guests and a little bit of the writing happened simultaneously.
MM : How did you write songs for this album?
JR : This album was very much done in front of my keyboard on my computer. In the old days I would always use many many keyboards and have midi information flying around the whole room. I would have to walk around the room and supervise all the midi data that was circulating. In recent years it's more about using a very powerful computer with many virtual instruments that is the center piece of all my work. That said, I also do some things in the studio on my Korg Kronos. As an example, there are certain sounds that I only have on that Synthesizer. Over the years I've developed many original patches that are really custom Jordan sounds that exist on the Kronos. So aside from many of my signature sounds on that instrument almost all the other sounds are created with Virtual Instruments. Plug-ins like Synthogy's Ivory for my piano sound, 8Dio, Best Sevice and East West's instruments for orchestral sounds and sounds from SampleLogic, Spectrasonics, OUTPUT and Heavyocity are all a big part of my palette. Everything gets recorded into logic on my Apple Computer and then when I'm done with all my keyboard parts I bring the stuff to my engineer who moves it to ProTools. At that point we can get all the tracks from various guest artists and bring them into our session. As far as the writing process goes, I do that in a number of ways. Sometimes I just sit at the piano and a song will come out right very naturally. If it's a vocal song the melody Often flows along with everything else from the start. Other times I'll build something up perhaps from a timbre that interests me and do some layering to create my vision. Occasionally my ideas will also start with a rhythmic concept and a percussion sound. Although there are great drummers on this album I also used a lot of electronica type percussion sounds to drive certain sections of the music.
MM : Length of the title track of this album "Wired for Madness Part1" is about 12 minutes, and "Wired for Madness Part2" goes on for 22min 44seconds! Please tell us about these deep, unique, dramatic and magnificent tracks.
JR : I didn't want to have any limitation on the length of the compositions. This was definitely not about just writing some simple songs. They were coming from a more classical approach where I wanted to develop ideas and take the listener on an interesting musical journey.
I loved the idea of creating something that was more epic in nature and for the title track enjoyed thinking along those lines. This approach really allowed me to stretch out and explore exotic sounds, interesting rhythms and unusual orchestrations. My original thought was that the whole album might be the title track but after I got finished writing it with gentle suggestions from my wife Danielle I decided to create some things that were more easily palatable and song format as well. Of course I also enjoyed singing on this album and I'm a fan of more gentle music stylings as well as crazy epic progressive rock.
MM : It was an astonish combination between you and Joe Bonamassa on "Just Can't Win" Please tell us how and why he joined forces with you for this track?
JR:I've never done a blues song on one of my recordings But when I signed with the Mascot label and understood that Joe Bonamasa was one of their premier artists I was very inspired with the idea of doing a blues song. I've always love the blues and people who know me personally know that I play a lot of blues very naturally. I reached out to JOE and asked him if you'd be interested to play on a track of mine and he wrote back to me right away and agreed to do it so I was very inspired and wrote the song. It's a blues song with a small touch of prog mixed in. It also features a full brass ensemble. It's an all out blues production that I enjoyed creating so much.
MM : The horrn section, guitar sounds by Joe Bonamassa and your piano adds a Blues feeling on "Just Can't Win" and the track sounds something special. What do you reckon about this track?
JR : I feel like I'd like to work in the blue style more in the future. You know, I am the kind of musician that is interested in so many styles and there is not enough time in the day for me to express myself and all the ways that I want to. Perhaps the blues will be featured in my upcoming work!!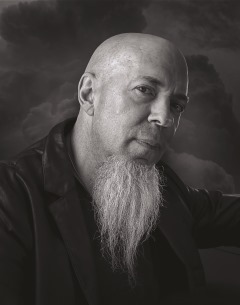 Photo by Jerry Lofaro
MM : John Petrucci, Guthrie Govan and Vinnie Moore also collaborated with you on this album. Please tell us how and why they got involved for this project"
JR : I'm so lucky to have such great guitar players in my musical world. John was kind enough to put aside some time to make an appearance on the album. It means so much to me to have him on it because we are musical brothers and I love his playing and wanted to add his expression to this album. Guthrie Govan is a phenomenal guitarist that any chance I can I will work with him. He plays on the song entitled Off the Ground And does a beautiful job playing over some very interesting and unusual chord changes. Vinnie Moore and I go back a long way. I first appeared on his time odyssey so many years ago. He is one of my favorite guitarists as well and I always love to have him involved in my projects.
MM : Not only John Petrucci, but also James LaBrie worked for this album. There could be a possibility that the track sounds like Dream Theater. How did you prevent from music sounding Dream Theater?
JR : I'm not worried that any of my music will sound very much like Dream Theater. I have many musical ideas that go in directions that are different than Dream Theater. James, makes a beautiful appearance at the end of the title track and his voice is very powerful and really suits the character of that compositional section. Since my background is classical music having studied at the Juilliard school and moving to all electronica music when I left and then progressive rock I feel that my musical mind can easily flow in directions that are independent of what I do with Dream Theater. That said of course there will be some elements of my music that one could relate to Dream Theater since that is a big part of my compositional life.
MM : This album also displays profound vocal by you.
JR : I really enjoy singing and although I haven't done it in a while on recording it was very satisfying to do on this album. Often when I'm writing The vocal part will come very naturally. The good thing is when I'm writing on my own I can compose things that naturally fit into my vocal range, which is very low. Singing is a natural expression for me. Although I'm technically not a singer I do feel like it's very musical for me to express myself vocally in my own music.
MM : We hear diverse keyboard sounds have rich tone and your originality. How did you approach sounds when you use synthesizers and other instruments?
JR : I approach my keyboard sounds almost like a painter would that uses a wide palette of colors. Nowadays there are so many beautiful instruments out there with endless sounds. I get so much pleasure out of working with my Sonic Palette! Often I'll find a sound that attracts me and I will edit it to modify it to be exactly what I need. I love being in my studio and exploring sound and mixing colors together and achieving orchestrations that tingle my imagination and feel very resonant. . At times on this album there could be up to 50 different Synthesizer tracks. I had no limitation with my approach. In many ways this was a real studio album where I could do whatever I wanted to achieve the sound I imagined.
MM : Please tell us your gears. What keyboards and other equipments you used for this album?
JR : In addition to the virtual instruments I described above and my KORG Kronos I also used my Druzkowski eight string guitar- Wizard custom model And my own Wizdom Music GeoShred for iOS.
MM : After the release of "Distance Over Time", Dream Theater's tour has started already. How is the tour going so far?
JR : It's incredibly exciting Dream Theater is at a wonderful point in our career. Not only has a new album been successful and loved all around the world, But we are also celebrating the album and Scenes from a memory which is my first album with the band 20 years ago. The combination of these two elements together have created the recipe for an amazing touring the experience. All the shows are sold out and the excitement is tangible. It's a wonderful time for us.
MM : When are you going to tour Japan as Dream Theater?
JR : I don't have the exact dates but of course we will get to Japan in 2020. I always look forward to coming to Japan because it's one of my favorite places in the world. I love the culture, and the people in the food and we will hopefully be there very soon.
MM : Please leave a message to your fans.
JR : It's been an amazing time for me with the new Dream Theater album and tour as well as my Wired for Madness album being released. I am beyond excited to release this music to the world. I can't wait to hear the reaction from all of my fans in Japan! Thank you all for the incredible support and I look forward to sharing more music with you in the future.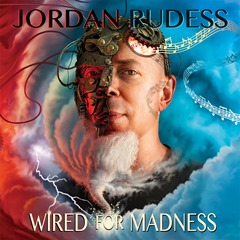 JORDAN RUDESS / WIRED FOR MADNESS
1. Wired for Madness – Part 1
2. Wired for Madness – Part 2
3. Off the Ground
4. Drop Twist
5. Perpetual Shine
6. Just Can't Win
7. Just for Today
8. Why I Dream