Eric Barnett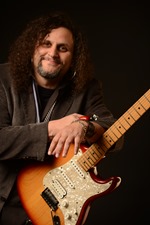 American rock instrumental trio POINTS NORTH has released their self titled second album, featuring impressive melodic tunes such as "Northstar" and "Child's Play", which is a must for all rock instrumental fans.
POINTS NORTH consists of guitarist Eric Barnett, along with ex-WHITESNAKE bass player Uriah Duffy and drummer Kevin Aiello. The instrumental trio is known for its "melodic guitar-driven instrument music", as Eric Barnett puts it.
Eric Barnett was a finalist for Guitar Player Magazine's 2008 Guitar Superstar Competition, judged by well-known players such as Andy Summers from THE POLICE, Joe Satriani, Steve Vai, Elliot Easton from THE CARS, and George Lynch, in which Eric Barnett's extraordinary guitar technique was well received by the judges as well as the audience.
Eric Barnett took time to talk to MUSE ON MUSE in depth about his musical background, about how POINTS NORTH was formed, and about the new "Points North" album.