Simon Phillips & Andy Timmons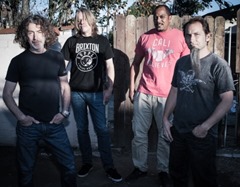 Simon Philips, one of the world's most popular drummers, has fascinated audiences worldwide over the years, performing with countless legends such as Jeff Beck, The Michael Schenker Group, The Who, and also fulfilling duties as the drummer of TOTO after the death of Jeff Porcaro.
Simon not only fascinates the world with his extraordinary drum techniques, but also displays his talent as an established composer, producer and recording engineer in the music industry. Recently, Simon has also built a new fan base in Japan as a member of the Hiromi Uehara Trio Project. Simon also leads a group of top-notch musicians, displaying his excellent techniques on the drums in a collection of some high quality hard fusion/jazz rock tunes. This project is known as PROTOCOL and they have just released their latest studio effort titled "Protocol III".
MUSE ON MUSE was able to talk to PROTOCOL leader, Simon Philips, as well as guitar player Andy Timmons, who has added an energetic feel to the music with his excellent guitar performances. Check to see what Simon and Andy have to say about "Protocol III".