Jared James Nichols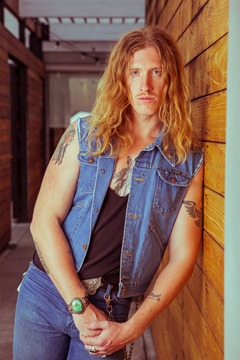 The one and only Jared James Nichols has a unique and versatile style of guitar playing where he plays without the use of a guitar pick. His delicate playing style contrasts with his heavy wild style. This rewarded original guitarist has released his latest album "BLACK MAGIC". In this album Nichols expresses his American Hard Rock and Blues sound. Also the vocals on this album carry a very personal tone which captivates the audience with his rock feelings. Muse on Muse interviewed Jared James Nichols about his new set "BLACK MAGIC"
Interview / Text  Mamoru Moriyama
Translation         Hiroshi Takakura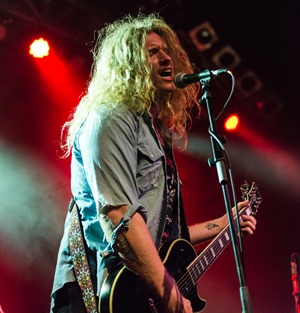 Photo by Gary Cooper
Muse On Muse : Please give us your brief profile, how you start playing a guitar and what age you were.
Jared James Nichols : I was first attracted to the guitar when I was about 14 years old.. I loved classic rock even when I was a little guy. I got excited when I heard the sound of electric guitar. I was a fanatic about bands like Black Sabbath, Led Zeppelin and Pink Floyd. I remember when I first felt the power and energy of actually playing guitar. I was mesmerized, instantly hooked, and it quickly changed my life.
MM : Which musician and guitarist are your influences?
JN : I fell in love with the blues. Even early on, it seemed so real and authentic to me. I learned from guys like Buddy Guy, Stevie Ray Vaughan and Johnny Winter. Shortly after, I got heavily into Leslie West, Eric Clapton and the whole blues/rock movement. That was a very big moment, I focused all of my energy on that style and form.
MM : You're not only a fantastic guitarist, but also a great vocalist. Who are your influences as a vocalist?
JN : Thank you! Like guitar, I have a ton of different vocal influences. I love blues singers and that whole natural singing style, also Paul Rogers from Free/Bad Company, Jack Bruce as well as Johnny Winter. It's funny, all of my favorite guitarists sang and fronted their own bands/trios. That's what I always wanted to do too. It took a lot of soul searching and time to get comfortable with my voice, but now I love to sing.
MM : You have a versatile way to play a guitar with your right hand finger picking, sometime very wildly with vibes, sometime very delicately. How did you establish your own unique style?
JN : It was a very natural progression. I used to play guitar like most people, very cautiously, trying to be perfect, and with a guitar pick! Honestly. I was never truly satisfied with my playing and I was always longing for more. It was very important for me to try have my own 'voice and sound' on the guitar. Things took off and started to really develop when I simply stopped trying to be perfect, fit in and play by the rules. I became excited and inspired. I realized that my only limit was my imagination. I never looked back, I kept running with that idea and developing more of the sound in my head.
MM : Please tell us about your brand new set "BLACK MAGIC" You and Tony Perry who is a son of Joe Perry from Aerosmith, composed and produced this album together. How and why did you two start working together?
JN : Tony and I met initially when Aerosmith was making their last record at Swinghouse Studios in Los Angeles. We instantly hit it off and became buddies. Musically speaking, he has a lot of the same influences and ideas. When it was time to head back into the studio, Tony was the first person I called to work with. It's always amazing to work with someone you trust and respect. Tony is a fantastic engineer, songwriter, and guitarist. It wasn't work when we wrote and recorded the new album, we had an absolute blast. The only goal was to make the best music we possibly could!
MM : What was your goal when making this 2nd album which follows your debut album "Old Glory & The Wild Revival" which was out in 2015?
JN : When we recorded 'Old Glory' it was the first time I had honestly ever been in a real studio. I was learning the ropes as we went along. Everything was new for me. After 'Old Glory' we toured for three years all around Europe and North America. It was amazing. I wanted to take everything I learned on the road and put that energy into 'Black Magic' We fought for a stripped-down, unpolished, and raw feel record. I wanted the tracks to be deliberate and straight to the point. What you hear on 'Black Magic' is three years on the road, developing and finding a sound.
MM : Please tell us detail of production process with Tony Perry?
JN : It was very natural and organic. Usually, it would start out with a guitar riff, or vocal melody. We would then sketch out a rough recording with the guitar and vocals. Once we had a structure, we took it to the guys and worked it up. We didn't strive for perfection, it was all about the energy and vibe with the new songs.
MM : Alongside your band member Dennis Holm, Aquiles Priester ( Angra, WASP, Tony MacAlpine ) played drums for this album. How and why did Aquiles Priester join this project?
JN : Aquiles is a great drummer and an awesome guy! He is a friend of ours and I asked if he would care to join in on a session with us and see what happens. He came in and totally blew us away! Every musician brings something unique to the table, he brought in serious energy, power, and vibe to those songs. It was an honor having him play on the record.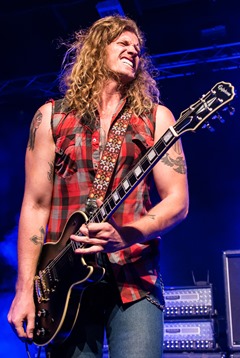 Photo by Adam Kennedy
MM : The sound effect in the beginning of "Last Chance" is fairly impressive. Please tell us about this tune.
JN : That was a fun one! We were getting crazy in the studio and messing around with effects on the guitar. I love Jimi Hendrix and how he would create soundscapes with backwards guitar parts. We took the solo of that song and just reversed it. Originally, it was just for fun on the intro and we were gonna take it out..but we ended up liking it so much we said screw it and left it in!
MM : A funky track "Honey Forgive Me" is a good spice on this album. Please tell us about this song?
JN : I love this jam! This was an old riff I had that I couldn't get out of my head. When we were getting song ideas for the record, this was one of my first choices for cool riffs. It's a blast to play and pays homage to some of my influences like Albert King and ZZ Top.
MM : Please tell us about Jessica Childress who gave backing vocal nicely on "Honkey Forgive Me", "Home" and "Run"?
JN : She is another great friend of mine who is an unbelievable natural singer. She adds such an powerful element and vibe the songs. When I hear her sing I get goose bumps. It was an honor to have her on the tracks.
MM : Please tell us about your gear for recording this album. What guitars, pedals and amps, etc. did you use for this recording?
JN : I kept it simple for the record. As always, I wanted to keep the live element of the music, so I basically used my touring rig for the sessions. I used my Gibson/Epiphone Les Paul Customs with Seymour Duncan p90s on most of the recording. I was also able to play some unreal vintage Les Pauls owned by Johnny Depp and Joe Perry. I plugged into my trusty BlackStar Artist 30 combos and a Series One 100watt stacks. For pedals I used a Seymour Duncan Boost as well as some old Dallas-Arbiter Fuzz pedals.
MM : You have been working with top musicians like ZZ Top, Lynyrd Skynyrd, Zaak Wylde, Glenn Hughes, Walter Trout, UFO and Saxson on stages. What did you learn from them?
JN : I learned everything from them. The biggest above all, was how to be a professional and bring the energy and excitement every night no matter what. It is an honor to be able to watch a ton of my heroes in the real-world setting. I used to have posters of these guys on my wall, now I'm touring with them…what a trip!
MM : What is lining up next ? Please tell us your next plan.
JN : Tour the world!!! Make records!!! Have fun!!! There are so many places I want to play and see. We have a lot of work to do, I can't wait to spread the BLUESPOWER far and wide.
Jared James Nichols' new album "Black Magic" is out now.
Jared starts his UK tour on February 22nd with Stone Broken and The Bad Flowers.
Follow Jared on Facebook – www.facebook.com/Jaredjamesnichols
Jared James Nichols twitter : http://twitter.com/JJNicholsMusic
Jared James Nichols instagram : https://www.instagram.com/jjnicholsmusic/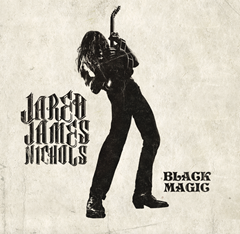 Jared James Nichols / BLACK MAGIC
1. Last Chance
2. The Gun
3. Don't Be Scared
4. Honey Forgive Me
5. Home
6. Got To Have You
7. End Of Time
8. Run
9. Keep Your Light on Mama
10. What Love