Simon Phillips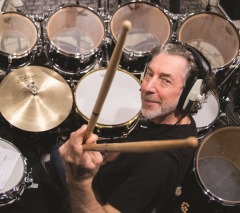 The Super Drummer Simon Phillips has released new album titled "PROTOCOL IV " which is 4th album under the alias Protocol. Simon teamed up with Greg Howe whose ultra technical guitar play has gained status amongst enthusiasts of Hard Rock & Fusion music and A young and promising keyboard player Dennis Hamm who plays for Thundercat and Ronald Bruner Jr. for this brand new album.
Beautiful guitar melodies played by the new member Greg Howe, following impressive keyboard melodies by Dennis Hamm are the introduction of the new album "PROTOCOL IV". Its musicality became even deeper and this impressive pieces approach not only their old fans, but also other underground music supporters.
This time, a skilled Japanese drummer Shun Minari interviewed Simon about his new set "PROTOCOL IV". Shun is active in the front line of supporting artists and recording sessions in Japan, most notably for BLINDMAN,

Interview         Shun Minari
Translation         Hiroshi Takakura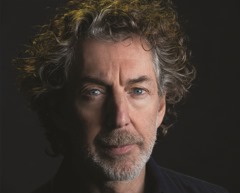 Shun Minari : Please tell us about your new set "Protocol IV". What was the concept for this album?
Simon Phillips : My concept for Protocol 4 was primarily the same as it always has been – strong melodies, interesting harmony, great grooves and of course great sound. For me this is the strongest compositional album I have done to date.
SM : Greg Howe (Guitar) and Dennis Hamm (Keyboard) joined your team instead of Andy Timmons (Guitar) and Steve Weingart (Keyboard) for this album. Can you give us some background of how they ended up playing for the album?
SP : After the last Protocol album and tour both Andy and Steve decided to go their own ways so I had the task of finding new players. I played with Greg on a short Eddie Jobson tour a few years ago and always thought that I would love to collaborate with him on a project. Dennis Hamm actually rehearsed with me for a band I was putting together to go to India back in 2009.
SM : From past albums of Protocol, I think you have been putting the most crucial track which has high energy as first track of the album of Protocol. Those tunes are saying something like "This is current Protocol Music!" for me. I reckon there is some strong meaning when you put those tunes as first tune of the album. "Nimbus" is the tune in this album, shows your new team and new direction which I felt different energy from your past works. Did you have an idea to put that track as first track from the early stage of this project?
SP : The decision to start the album with Nimbus came later – after I had finished mixing the record. I already had an idea of a sequence but as usual that changed. It's quite normal that things change once the tunes are recorded and then mixed. That's what I love about making records – the surprises!
SM : You've used A Bubinga/Maple's drum kit for long time but I've seen you using Star Maple by Tama at recent gigs. Which drum kit did you use for this album?
SP : I used my first Star Maple kit – a beautiful Burgundy Sparkle finish. I love the sound of this kit and I love the way it records. It's obviously similar to my other kits but there is a different quality to it.
SM : Do you adjust or change settings of the drum kit depending on tunes when you record an album?
SP : Actually no. I might change the snare drum but for this album I only used 3 different snare drums. The Star Maple, a new Walnut drum on 2 tracks and an SLP Aluminum 5" drum on 1 track. The change in sound comes from the way I play the tune.
SM : "Pentangle" "Solitaire" have beautiful melodies and a part which one riff repeats then it sounds like a session. Also beats and performance of those tunes are very pleasant. I almost forgot its original time signature because of it. Did you know how those tunes would get turned into when you had demo tracks?
SP : My demos are quite similar to the final result except of course the keyboards, bass and guitar are all sequencer generated. Once "real" musicians play the music it comes alive and we also make changes to make the arrangement work best for live playing. That's where the input of musicians is so important and I love to get everyone's input and interpretation of the music.
SM : I've seen a lot of drummers. It is said that "There is a drama in the tune". I feel your drum solo is very dramatic. What is the important thing to build drum solo phrases for you?
SP : Pure and simple – musicality! Above all a solo must tell a story. It is after all a composition as is any solo by any instrument. At least that is my concept of soloing.
SM : On a global level, Drummers have improved their techniques to play fills and It's not that rare to see that some of those play technically mad phrases. But meantime I also find drummers who impress people by their rhythm, swing and dynamics are getting slightly less. When I listened to your "Passage To Agra" and "Phantom Voyage", Despite of these 2 tunes have completely different rhythms, I felt that powerful beats have strong vital energy from both of them. Did you mean to create a stir in the current drummer's trend?
SP : Ha ha ha! I feel that a lot of music, especially jazz or fusion, has become a technical exercise. Sure it's wonderful to see displays of ridiculous technique but ….. music first. My music is fairly complicated in structure and harmony so the groove must be strong. If it's simplicity that's needed then that's what the song will get. You have to bring the audience in to the music – not standing on the outside!
SM : The tune "Celtic Run" sounds light shuffle but hard guitar riffs are following later in the tune. Greg Howe's played his guitar solo with Rock feeling as a response to the hard riffs. I know you've worked for lords of Hard Rock Bands and projects in your career. Do you still listen to hard sounding music or different types of music which you don't normally play and get inspired by them?
SP : When I am composing music for an album I may listen to all sorts of music to get inspiration. However most of the music I can recall from memory. For example if there is a certain groove I want to refer to I'll recall a track from something I've either heard or maybe even played. Then I'll hunt it down either on the internet or my music collection and listen to it to remind myself.
SM : I've listened a lot of your works, solo works and very much understand that you always try new things. I think that's why your drum is keeping on evolving even more. Please tell me what keeps you so inquisitive and how do you move yourself forward?
SP : I've made 7 studio albums and 2 live albums and have composed most of the music on those albums so I am very aware of not repeating myself. Obviously every composer has a style which might sound similar but I always try to write something different every time I sit down for a writing session. I'm always looking for new ways to do things!
SM : Please tell us about your upcoming plans.
SP :  My plans now are to tour with this project. Protocol 4. The band is now Ernest Tibbs on Bass, Greg Howe on Gtr and Otmaro Ruiz on Keys, and we'll be leaving for Europe at the end of October for a 31 date tour and then 10 dates in the US in December. We'll be coming to Japan in January and then other countries after that. I'm really looking forward to presenting this new band to the fans.
SM : Please give us a message to fans.
SP : Please come and see my new band – it will be very exciting and very energetic!
SM : I'm really looking forward to seeing you in Japan!
SP : Yes, next January in Tokyo!
Simon Phillips Official Website : http://www.simon-phillips.com/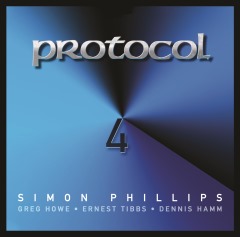 SIMON PHILLIPS / PROTOCOL IV
UCCU-1546 ¥2,808 Universal
1. NIMBUS
2. PENTAGLE
3. PASSAGE TO AGRA
4. SOLITAIRE
5. INTERLUDE
6. CELTIC RUN
7. ALL THINGS CONSIDERED
8. PHANTOM VOYAGE
9. AZORES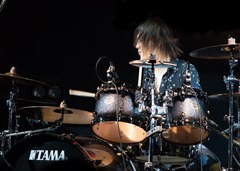 – Interviewer: Shun Minari –
Shun Minari, a promising young Japanese drummer is known for playing for one of the top Melodic Hard Rock bands BLINDMAN who released their 10th album "TO THE LIGHT" on Walkure Records in 2016. Apart from works for BLINDMAN, Shun is active in the front line of recording sessions and supporting live acts for numerous bands all over the Japan. He played for 30 years anniversary event of a Japanese legend Fumihiko Kitsutaka ( Kinniku Shōjo Tai, Shōjo Tai ) in 2015.
Shun Minari official site : https://www.shun-minari.com/