Lance Lopez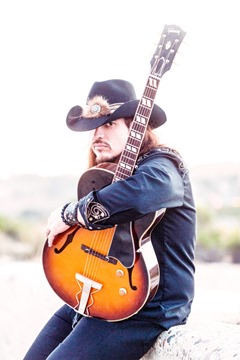 Guitarist Lance Lopez is known for the blues project Supersonic Blues Machine with Fabrizio Grossi and Kenny Arnoff. Their two released albums featured Walter Trout, Steve Lukather, Robben Ford, Billy F. Gibbons, Eric Gales and Warren Haynes as guest guitarist. Lance magnificently collaborated with those prominent guitarists with his emotional guitar performances and vocals.
Lance recently released his new solo album "TELL THE TRUTH" inviting Fabrizion Grossi on as a producer. This new album is not merely just a blues record it also features passionate hard rock guitar performances by Lance.
Lance Lopez took some time to chat to Muse On Muse about his brand new set "TELL THE TRUTH"
Interview / Text  Mamoru Moriyama
Translation         Hiroshi Takakura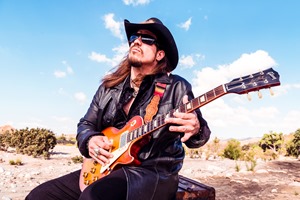 Muse On Muse : Your new set "TELL THE TRUTH" became supreme collection of your vocal and guitar sounds full of real authentic Rock and Blues feelings. What was your goal when making this album?
Lance Lopez : Thank you very much! I am very proud of the work we did to achieve what we did on "Tell The Truth"! It took 5 years to make and I was going through a lot while we were making it, so I'm even more impressed with myself that we achieved what we did. I really wanted to focus on great songwriting and having the guitar really compliment the song instead of dominate it..
MM : Your Supersonic Blues Machine bandmate Fabrizio Grossi joined your team as a producer, a composer and a bassist for this album.
LL : I am no longer in Supersonic Blues Machine. I also am no longer working with Fabrizio Grossi. He became the bass player on my album by default because he did it completely at his studio. We recorded some cool stuff together with SBM and for "Tell The Truth" However I'm moving on with a new producer, Gordie Johnson, who produces Gov't Mule and Supersonic has moved on with a new guitarist/frontman…so I think that's best for everybody…you have to continue to grow and move forward…
MM : How was this album made? Could you tell us about the songwriting and recording process in detail.
LL : Well it was a piecemeal situation with guys recording in Nashville, L.A and New York and me in Texas. We recorded it from 2012-2017. We had some great songwriters including my good friend Joey Sykes who is the lead guitarist of The Baby's
MM : Why did you decide to cover David Grissom's "NEVER CAME EASY TO ME" and John Lee Hooker's "MR. LUCKY"?
LL : I went to see David play at the Saxon Pub in Austin, Texas. David gave me a cd of stuff he was working on and that song "Never Came Easy To Me" was the first thing on the disc. I put the disc on in my car while I was driving from Austin back to Dallas and when I heard that I pulled over on the side of the highway and texted David and told him I needed to record it and he said he thought it was a great idea! I did a much different version than David's by adding slide guitar and harmonica. "Mr. Lucky" was a tribute to John Lee Hooker and also my two former bosses and mentors Buddy Miles and of course Lucky Peterson.
MM : Joey Sykes is credited as an acoustic and slide guitarist on "DOWN TO ONE BAR", "THE REAL DEAL" and "RAISE SOME HELL". Could you tell us about those tunes?
LL : I love Joey to death! He's so great and such a great writer! He wrote some amazing for "Tell The Truth" and played Rhythm guitar on those songs. It was really cool working Joey because he was writing songs about me not for me so it was really cool. We are working on lots of new songs now.
MM : A song "BLUE MOON RISING" is a wonderful ballad which your voice and guitar sounds touch listeners.
LL : That song was written by Serge Simic who I met in Belgrade years ago. He had a lot of success producing Serbian bands back in the day. We put a lot more of a Southern Soul feel to it and tried to make it really soulful with some great slide guitar by legendary Los Angeles slide guitarist Chuck Kavooras. It was also cool to have really cool psychedelic guitar solo on there as well. It's a great song I was really happy with how it came out.
MM : Could you also tell us about the title tune "TELL THE TRUTH" which has impressive guitar and vocal sounds with Hard Rock feelings?
LL : It's about being on the road traveling from Dallas down to the Galveston coast and being so exhausted that you can't do anything but tell the truth…say exactly how you feel…so tired that honesty is all you have. We wanted it to be heavy because it's a very heavy feeling..being that tired.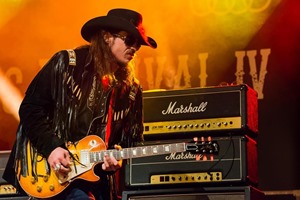 MM : Your driving guitar riff and slide guitar by Chuck Kacooras on "BACK ON THE HIGHWAY" are stunning and it goes well with lyrics.
LL : "Back On The Highway" is about traveling to work on the highway. Whether you are a musician on tour or someone who has to get up every morning and sit in traffic getting to your job. It's a very working class kind of blues song about working for a living. I played the main slide riff and Chuck Kavooras played in between the verses. Chuck is like my adopted Father. He's really been like a father to me since my father passed away. His playing on "Back On The Highway" and "Blue Moon Rising" really make those songs special.
MM : How do you come up ideas for lyrics? Do you get ideas from daily life?
LL : They are all true stories. I get them from my life experiences. That's what makes "Tell The Truth" such a special album. It is a document of real life.
MM : What's are your daily life and touring life as a Bluesman and Rock 'n' Roller?
LL : I love being on tour, however, I miss my family back home. It makes for a very happy moment when I am back home. I love playing for our fans it's a really good feeling making someone happy with my guitar. At home I spend time with my family, my wife and daughter…I enjoy cooking for my family and taking care of them. On tour, I do the same for my band, I cook meals for the band when I and we are all happy traveling together and playing every night making our fans happy!
MM : Could you tell me about your gear. What guitars, pedals, amps and any other stuff do you use?
LL : I play Gibson guitars. My main guitar is a Gibson Custom 1959 Les Paul Reissue (R9) Iced Tea Burst we call the "Barton Creek Burst" because I got it from Gibson down in Austin, Texas and My wife and I spent the first night with it at the Barton Creek Resort in Austin and stayed up all night playing it. Next is the Pelham Blue Gibson Custom VOS Firebird V Reissue we call the "Bluesbird". Then there's "Big Red" my Gibson Explorer 120. I also have a Gibson Firebird 120 set up for slide. My amp is the Bogner Helios 100, I have 2 different Bogner speaker cabinets I use with it. A 2×12 for smaller rooms that has a Celestion Vintage 30 and a Celestion Creamback 65-M and I use the 4×12 for bigger shows with 2 Celestion Creamback 65-M's and 2 Celestion 75-H's. My pedal is pretty simple a few drive pedals, a phaser and a couple of delay pedals. I'm using the Vertex Effects Boost and Dynamic Distortion, the Mojo Pedals K1 Klon Centaur clone, Fulltone Clyde Standard Wah Wah, Big Joe Stomp Box Phaser and Analog/Hybrid Delay and the Wampler Faux Tape Echo. I'm using Wireworld Cables.
MM : Please tell us about your upcoming plans. What is coming up next?
LL : We are currently on tour in North America supporting "Tell The Truth" now and making plans for our European and hopefully soon we can come to Japan because we have never played there and I have always wanted to come there and play!
MM : Please give a message to your fans.
LL : I just want to say thank you so much for taking the time to read this and continuing to support our music and we hope to see you soon in Japan. We love you!
Lance Lopez official site : https://www.lancelopezmusic.com/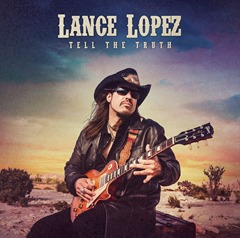 LANCE LOPEZ / TELL THE TRUTH
1. Never Came Easy To Me
2. Mr. Lucky
3. Down To One Bar
4. High Life
5. Cash My Check
6. The Real Deal
7. Raise Some Hell
8. Angel Eyes Of Blue
9. Back On The Highway
10. Blue Moon Rising
11. Tell The Truth