Angel Vivaldi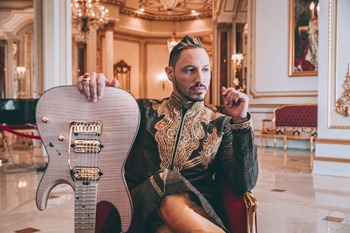 The guitarist Angel Vivaldi has been receiving remarkable attention for his musical works especially on Youtube. Angel's music video for "A Martian Winter" which was dropped in 2012 went viral and hit more than 6 million views. His other music videos went on to hit over a few hundred thousand views and he currently has over one hundred thousand people subscribed to his youtube channel.
His highly technical guitar skills truly are an art form all their own and Angel's sense to implement them at the right time really make the songs shine. The contrast of shredding technical guitar riffs and catchy beautiful melodies work well on the heavier tracks.
Listener's have been attracted to the new album for it's technical guitar, his musical taste and high production value. Also having guest musicians Nita Strauss from Alice Cooper and Guss G on the album helped to build the hype.
He took some time to talk to Muse On Muse about his musical background and his brand new set "Synapse".
Interview / Text  Mamoru Moriyama
Translation         Hiroshi Takakura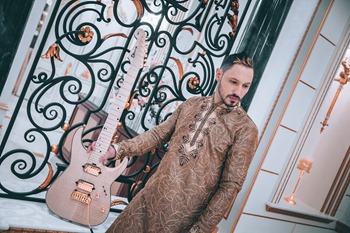 Muse On Muse : Some music fans might not be aware of you. Please tell us about yourself.
Angel Vivaldi : Hello, I'm Angel Vivaldi and I'm a guitar instrumental solo artist from New York, US.
MM : How old were you when you started getting into music? Also, what made you interested in music?
AV : I was 13 when I got heavily into music, but did not pick up the guitar until 15. Nirvana was the initial inspiration to pick up a guitar. At first I wanted to be the main songwriter in a band, much like Kurt Cobain. I never intended to become an instrumentalist, it happened gradually the more I focused on lead guitar playing.
MM : Which musicians and guitarists were your influence at the time?
AV : Kirk Hammett of Metallica was the first guitarist to inspire me to play guitar solos. From there it evolved to Eric Johnson, Yngwie Malmsteen, Steve Vai and Joe Satriani. I really enjoyed Testament and other bands such as Tool, Chevelle, Breaking Benjamin, Blink-182 as well. I grew up on electronic dance music such as early 90's house, freestyle, as well as traditional hispanic music like salsa, merengue and bachata. All of those genres had their influence on me as a musician and show in my music in various forms.
MM : You use not only authentic Rock guitar techniques, but also current highly technical shredding and use them effectively. How did you gain and improve your guitar skills to the highest level?
AV : I've always been dedicated to meeting or surpassing my own potential at everything I do, including writing music on the guitar. I had little to no support growing up to play music so that was also a very challenging hurdle to overcome. But I did and am grateful for it.
MM : You're not only a great guitarist, but also such a talented composer. How did you develop your production skills?
AV : I learned how to write songs from some of the best songwriters in the world… Kurt Cobain, Metallica, Joe Satriani, Chevelle, Soilwork, Creed amongst countless others. Learning how to play their songs was what taught me how to arrange a song and write music in general. I would analyze what sections moved me the absolute most in their songs and learn how to incorporate those aspects into my own songs. I learned their music for the first couple of years playing guitar until I got bored and started focusing on what I wanted to say musically. The more I did it the better I got to developing my own signature sound and style. It's constantly changing and evolving to this day!
MM : The trailer video of your brand new album "SYNAPSE" is very artistic and it indicates the album's quality. What was the concept of this album?
AV : Synapse is an incredibly dense record. The concept was to write a song after 9 different brain chemicals/neurotransmitters. Everything about this album from the artwork to the music videos all reflects the concept. The video was taken during the photo shoots for the album artwork. I wanted to visually bring all those photos to life which each depict a different neurotransmitter at work.
MM : How was this album made? Could you tell us about the songwriting and recording process in detail.
AV : I assigned a color to each song and painted my studio that color while I wrote each song. This had a very powerful impact on my mental and melodic approach to each song. I would also adjust my lifestyle in different ways to accommodate the mood and emotion of each neurotransmitter. Some songs I would write only at night, some in the day, some after going to the gym, others after making myself very sleepy. It was very intricate複雑な and methodical.
The lead guitar, keyboards and bass was tracked by me in my home studio. The drums and rhythm guitars were done at Backroom Studios with Dillinger Escape Plan guitarist Kevin Anatressian. I had Remi Gallego from The Algorithm assist in some additional keyboard parts for songs such as Dopamine and Oxytocin.
This entire process was filmed and will be released this fall in a documentary titled "Bridging The Synapse".
MM : The tune "Adrenaline" has a heavy and driven groove and it draws listeners into your world.
AV : This is one of my favorite songs and ironically one of the most difficult to play. I wanted something very fast and aggressive but beautifully melodic as well. The color for Adrenaline was red so being in a red room was very inspiring and helped to stay focused in that energy. I would do intense workouts then come back into the session and write to keep that rush of adrenaline while I wrote the song.
MM : The tune "Serotonin" features Nita Strauss and is a great number with fantastic melody and a lilt.
AV : The intro to Serotonin has been with me since the Away With Words writing sessions. It wasn't until I stumbled upon years later that I felt inspired enough to work on it again. Not only was this song's color green, I also filled my studio up with plants and wrote mostly in the morning and daytime hours. I wanted to maintain an upbeat and positive headspace and I feel it really translated into how the song was written. Having Nita Strauss on the song and music video only helped to amplify the mood.
MM : Also the music video of "Serotonin" with dancers is fresh and impressive.
AV : This album wasn't only about the neurotransmitters or the colors/painting… it was also about embracing the various other passions I have in life, in this case choreography.
Little known fact, I danced and practiced gymnastics for about 6 years. I thought because I was good at both guitar playing and dancing doing both would be easy…. I couldn't have been more wrong. I almost didn't do the video because it felt nearly impossible. I stayed determined and with 4 months of constant practice I started nailing the routines.
MM : You featured Gus G in "Oxytocin". How and why did he join this project?
AV : Gus and I had toured the US together on a co-headlining tour in 2016. When you tour and share a bus with others you really bond. We both inspired each-other in different ways and because Oxytocin is the bonding molecule, I knew he would be perfect. The section is played on was very specifically written for his playing style, much like Serotonin for Nita Strauss and Dopamine for Oli Herbert (All That Remains).
MM : Throughout this album, you use contemporary, technical and shredding guitar techniques but it never bores listeners because of you're also great melody maker and these high-quality tracks are composed and structured very well. How do you work on production?
AV : I produced this record myself, however Will Putney mixed and mastered this as well as most of my discography. I've worked with Will and his protege' Randy Lebeouf on previous records but because this record's concept was so deep, I felt it wouldn't be sincere to have any outside help or suggestions from anyone else. I had to honor the concept by translating my own experience into the music that had to be written.
MM : Could you tell me about your gear. What guitars, pedals, amps and any other stuff do you use?
AV : This album featured a number of guitars including Charvels, Jacksons, Fenders and Ibanez. I did not have my signature guitar with Charvel at this time, but a Charvel DK24 did make it on the record. I used a Custom Shop Jackson soloist and a Dinky as well during the writing sessions.
All of the leads were recorded using my Mesa Boogie JP-2C using the built-in Cab Clone and were tracked in my home studio. The bass was a DI from a Kiesel 6 string Xcellerator, one of my favorite brands for basses.
MM : Please tell us about your upcoming plans. What is coming up next?
AV : This summer will see my US Headlining tour as well as the completion of my Synapse Playthrough video series. I will be doing some more touring in the US at the end of this year.
The Fall will of course see the launch of my Synapse writing documentary "Bridging The Synapse." Shortly thereafter the US will see 2018's Guitar Collective tour which I put together every year.
MM : Please give a message to your fans.
AV : I humbly thank you all for your time, love and support. I do not take an ounce of it for granted, hope to see you on tour very soon!
Angel Vivaldi official site : https://www.angelvivaldiofficial.com/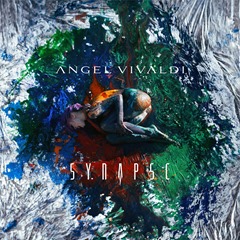 Angel Vivaldi / Synapse
1.Adrenaline (feat. Julian Cifuentes)
2.G.A.B.A
3.Serotonin (feat. Nita Strauss)
4.Dopamine (feat. Oli Herbert)
5.Endorphin
6.Oxytocin (feat. Gus G)
7.Adenosine
8.Noradrenaline
9.Synapse