Jennifer Batten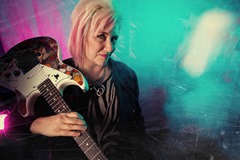 Photo by Ali Hasbach
The SCHERER/BATTEN project features Marc Scherer, vocalist extraordinaire with a skyscraping clear voice, along with female super guitarist Jennifer Batten, known for working with artists such as Michael Jackson and Jeff Beck. SCHERER/BATTEN has just released their album "BattleZone", produced and written by Jim Peterik, who is also known for his prolific collection of songs including SURVIVOR's "Eye Of The Tiger" and "Burning Heart" from the Rocky movies.
The SCHERER/BATTEN album displays a great collection of pleasant yet catchy and melodic rock tunes featuring a great vocal performance by Marc Scherer, and Jennifer Batten's melodic guitar along with a taste of some flashy licks and energetic performances.
Jennifer Batten took some time with MUSE ON MUSE to talk about the new album, and also shared her thoughts about the current music scene, as well as some of her memories with Michael Jackson and Jeff Beck.
Interview / Text  Mamoru Moriyama
Translation         Louis Sesto (EAGLETAIL MUSIC)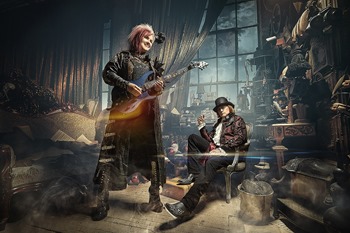 Photo by Sergey Ivanov
Muse On Muse : Your new album "Battlezone" showcases a great collection of melodic and catchy rock tunes. Can you please tell us how the Scherer/Batten project was formed?
Jennifer Batten : It started over a lunch time conversation between ex-"Survivor" band Jim Peterik and Marc Scherer about Jim's prolific back catalog of songs and unreleased gems. Jim and Marc did a previous record together and wanted to continue working together. I was originally flown into Chicago for recording sessions. After I was brought in for the second time Marc called me up a few days after my return and said he felt my guitar work had added another "voice" on the record and he wanted me to become a bigger part of the project. So the Marc Scherer CD became Scherer Batten that day. BattleZone was a song the three of us wrote after breakfast on my 2nd day with them.
MM : The album was produced and written by Jim Peterik, who also released the PETERIK/SCHERER album "Risk Everything" with Marc Scherer in 2015. The album displayed great songwriting with melodic and catchy tunes, but on the other hand also seemed to lack a bit of the flashy 80s guitar hero aspect. It seems as though your participation on the "Battlezone" album filled in the missing piece on "Risk Everything".
JB : One benefit of the BattleZone CD is the executive producer Danette Pahl is a huge guitar fan and insisted on more and more guitar. She was like a cheerleader in the studio when I was playing. It was a vibrant environment.
MM : Mike Aquino, Bryan Cole, Dave Carl and Jim Peterik are also credited as guitar players for the album. How were the guitar duties split? Did you play all the solos and were the rhythm parts played by the other guitarists?
JB : The CD was almost done by the time I joined in. The other guys recorded most of the rhythm parts and I did all the solos except the first solo in Crazy Love which I adore.
MM : Please tell us in detail about the recording process. How did you record the guitars for this album?
JB : I brought my (new at the time) BluGuitar Amp1 to Chicago along with my Digitech RP1000 for fx and expression pedal. I recorded most with my signature model Washburn JB100 guitar that's been around the globe many many times over 20 years and has been broken multiple times and stolen. I got it back and have finally retired it. I did some final bits in my own studio with my new Washburn Parallaxe PXM10 and ran it into the Amp1 plus Thomas Blug's new speaker emulator called the Blue Box which has 16 IR speaker cabs to choose from and a virtual mic placement knob. I used the Marshall 1964 model.
While I was in the studio with Jim, I found him to be very on the spot inventive with ideas and places he wanted me to fill between vocal lines and tags. Where there were obvious solo sections, he just let me go and do what I do.
MM : What did Jim Peterik, the producer and composer for this album, tell you when he asked you to take over all of the guitar solo parts?
JB : Aside from his choosing spots for me to play, several times he would think of little melodies to use for the fills and possibly harmonies to those as in the intro to Cuts Deep.
MM : Please tell us about your approach to lead guitar performance. Is there anything you keep in mind when you play and/or construct the licks and phrases?
JB : I think the best way to record guitar solos is to jam along to the solo section if you have the luxury of time on your own, which I did for the first session. Then you get a feel for what's needed and experiment with various approaches each time you fire it up and play. In the end it's all about reacting to what you're hearing and what the drums are dictating time wise.
MM : The title track "Battlezone" written by you, Jim Peterik and Marc Scherer starts out with some wild whammy bar licks. Tell us about this song.
JB : It's the only one I had a hand in writing. Jim is super prolific. They intended to do several songs and take advantage of my time in Chicago but I had no idea how much we'd really get done until I left. He suggested we get together and write something and asked me for a riff or groove. The verse groove came out immediately and he started humming a melody to it and added acoustic piano. Within an hour the sections were essentially set as was the title and a few spattered lyrics. Then Marc went to work with lyrics after I left. I really don't know how the melody and lyrics developed after I left, or how much came from Marc or from Jim. I left town with a rough iPhone recording. I think we changed keys from the original for Marc's voice. I rerecorded my parts at home and sent the update to Marc to work with.
MM : You have worked with legendary artists such as Michael Jackson and Jeff Beck. What have you learned from working with such legendary artists? Do you have any episodes you can share with us? Tell us about your experience starting with Michael Jackson.
JB : The take away from working with Michael was two fold; the power in intensive rehearsal and the importance of live entertainment beyond the music. Rehearsals for the Bad Tour lasted 2 months. The first month the band played in one room, singers in another, and dancers in a 3rd. For that tour we received cassette tapes of the tunes from the Victory Tour Michael did with his brothers so we could catch the forms and tempos of what he wanted live. Some of the tempos were insanely fast. I think had he not had players of the caliber of Ricky Lawson and Greg Philingaines, the rapid tempos would have lost the funk. Even Beat It was too fast and honestly though I did my best every night, it lost some of the killer feel of the original I used to play in a cover band. We rehearsed the 2nd month with Michael in a huge sound stage where the dancers and singers joined in as well as all the special effects, pyro and staging. So because the rehearsal was so extensive, by the time we hit the stage in Tokyo all the performers had the utmost confidence to give our best. Prior to that, typically I'd rehearse a new tune or two with a band during the day and play it at the show that night, hoping I wouldn't screw anything up. So I'm now a big believer in rehearsal time though I admit I don't enjoy it.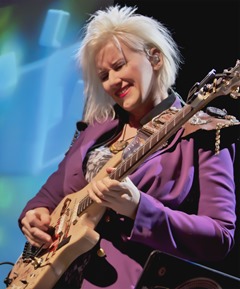 Photo by Brent Angelo
MM : Tell us about your experience with Jeff Beck.
JB : Jeff Beck was completely different in all respects. His show is about improvisation where Jackson's was about faithfully presenting what was on radio. The biggest take away from working with Jeff is the power of creativity on the spot. He wants you to support him while taking chances and trying to evolve the tunes from night to night. I also gained the duty of triggering synth sounds from the guitar for the first time for Jeff's tours. That opened up a whole new sonic world for me. He's always been a huge inspiration to me and getting to hang out with him for weeks at a time on a bus, I got to get a great insight to how he thinks and what music moves him and inspires him. He's always searching and listening to new music and always improving as a player. He's always searching for a new way to play a melody and has an endless arsenal of sounds at his fingertips.
MM : What are your thoughts on the current music scene?
JB : I don't often hear anything that really inspires me. The last thing I downloaded was Imagine Dragon's song Believer. I use the SoundHound app if I hear something interesting when I'm out to find out what it is and typically download a single song instead of a whole CD. I don't keep up on what's current. I rarely listen to the radio and I can't stand to hear ads. I listen to things that cross my radar by word of mouth mainly. If there's a buzz on some band or player I'll have a listen. The best guitarist I've heard in the last five years would have to be Brad Paisley. He' got an exciting creative energy and is wicked on guitar. His style is country so it's a completely different genre and vocabulary than I'm used to so it's fresh to my ears. He's also got a killer sense of humor in his songs. I've seen him live several times and his show is technologically cutting edge, exciting, and fun. I got to play with him once which was a thrill.
MM : Currently, there are many guitar players that master extreme techniques, but still don't stand out as a real guitar hero. What's your perspective on this?
JB : Extreme technique needs to be for a purpose. There needs to be a point to it and it needs to fit the song. If a player has great chops but a crap sense of melody and soul, it leaves you numb. Compare that to a player like Jeff Beck who isn't known for chops but can whip them out when he feels it's appropriate. When he records, it always leaves you wanting more instead of feeling like one CD is enough. There has to be an element of authentic deep emotion in a players style to really reach you at any meaningful level. There also has to be some kind of a build in a solo. If a player starts off playing his or her fastest, there's no where to go from there. But if it's well built then extreme technique in the second half of a solo can be exciting if the content has meaning. Extreme technique that is built from scale patterns can get super boring in a short amount of time.
MM : What do you have coming up next? Tell us about your upcoming schedule.
JB : Soon I'm returning home from a 2 month Euro/UK tour. I need some time off but also plan to experiment with some new sounds on guitar as well as prepping a new NAMM show demo for January 2018 for the Fishman TriplePlay wireless midi system. They have an exciting new product coming out next year that will put guitar synth in just about every guitar player's hands. I also have a lot of recording this winter. Loads of people send me tunes to work with from around the world. I prefer to record at home and take my time with projects.
MM : Please give a message to your fans.
JB : Please have a listen to my new CD Scherer Batten "BattleZone" It's a departure from my past 3 guitar instrumental CD's and for the first time, is radio friendly.
Also be sure to check out a brand new company I'm with; neckillusions.com. They offer some very creative guitar neck decals that transform the look of your guitar. I have 6 graphics available in the steampunk genre and Steve Vai also has 6 designs that he painted.
Jennifer Batten official site http://www.batten.com/
Jennifer Batten Twitter https://twitter.com/mondocongo
Jennifer Batten facebook https://www.facebook.com/jennifer1batten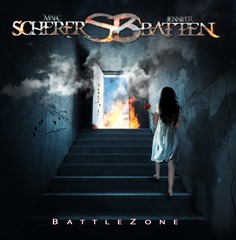 Scherer Batten / BATTLEZONE
MRR064 Melodic Rock Records
01. Crazy Love
02. Rough Diamond
03. What Do You Really Think
04. The Sound Of Your Voice
05. Battle Zone
06. It Cuts Deep
07. The Harder I Try
08. Dreaming With My Eyes Wide Open
09. Space and Time
10. Tender Fire
11. All Roads