Steve Lukather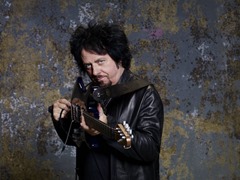 Photo by Larry DiMarzio
TOTO has just released their newest Greatest Hits package "40 Trips Around The World" which commemorates the band's 40th anniversary. This new package includes a collection of well-known long time favorites, along with 3 newly recorded tracks that showcase the trademarks and essences of what TOTO is all about. As the band has just embarked on their European tour in support of the new Greatest Hits album, Luke-san took some time during his busy schedule on the road to talk to MUSE ON MUSE about his recent TOTO release, autobiography, as well as some of his future plans.
Interview / Text  Mamoru Moriyama
Translation         Louis Sesto (EAGLETAIL MUSIC)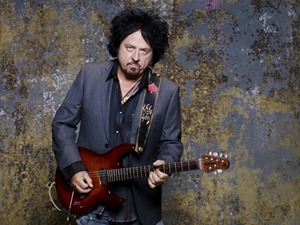 Photo by Larry DiMarzio
Muse On Muse : TOTO has released 'best of' albums in the past too. How and why did you decide to release the new 'best of' album "40 Trips Around The Sun"?
Steve Lukather : We got a call SONY wanted to do something and with the extra NEW team at SONY, one that LIKES Toto has done an amazing job!
WE have 10 new. New /old songs we found ands finished on the box set in summer 2018 but the 40 Trips record is all RE-Mastered by the 4 of us in Toto with Elliot Schiener od Steely Dan fame and Gavin Lurssen off the UN-EQ'd master baked tapes. They did such an amazing job it sounds remixed! Particularly the really old stuff off the first 3 albums. Its a revelation. You hear things you never heard before NO over compressed BS ! HI FI!!
MM : How did you decide on which songs to put on this album?
SL : WE worked with Sony. The resurgence of the song Africa has really helped and will get the Millenials who heard it in an EDM rave like it and now everyone is singing that song hahahah
We thought we would do something to commemorate our 40th anniversary and took on a HUGE project. Box set in summer with more music you have never heard!
MM : The 3 new songs, "Spanish Sea", "Alone" and "Struck By Lightning" I believe are definitely the type of songs that the TOTO fans expect to hear.
SL : Yes its new and old. Same band. Or as close as we could. It was amazing playing with Jeff and Mike again on some of this!! I miss them so much…
MM : I heard that on "Spanish Sea" you played along with actual tracks left by Jeff and Mike. Please tell us in detail about how you recorded the song.
SL : Yes. We write a new chorus and finished 5 songs from the olden days… but they sound like we did it last week. Still very fresh. The new and old hold up side by side…
MM : How did you feel playing and creating a new song again with Jeff and Mike?
SL : Bittersweet. We laughed and then a few tears too… it sucks they are gone but they are always with us in the heart and the music!
MM : I'm sure that a lot of fans would be very interested in seeing/listening to unreleased videos/music from TOTO. Any plans we may be able to see anything like that come out in the near future?
SL : There are a few bits but not a lot. I do wish we had gotten more. Perhaps down the line,. Lots of looking to do to find old stuff, if it exists.
MM : Your autobiography will be out in Japan too. What is the message behind your book?
SL : DONT do what I did. hahahaha Its the story of my life and times and some of the old shit I got up to when I was young, FUNNY and also sad sometimes… and lots of stuff about making some of the classic records and cool photo's…
MM : TOTO will release "40 Trips Around The Sun" and you will be touring after the release. What do you aspire to do after that?
SL : More of the same. Its all I know how to do. hahaha I do all sorts of fun and crazy projects. I still love being in Toto with my high school brothers…
MM : Please give a message to your Japanese fans that are awaiting to see you and TOTO play in Japan.
SL : My friends…. 40 years…. and japan is always a highlight since we first came in 1980. A lifetime of friendship and love for the Japanese friends we have. See you next year on this tour. Thank you with all my heart!
Steve Lukather official site : http://www.stevelukather.com/
TOTO official site : http://www.totoofficial.com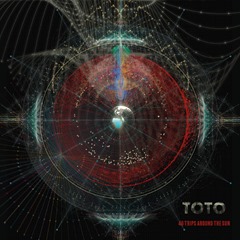 TOTO / 40 TRIPS AROUND THE SUN
1. Alone
2. Spanish Sea
3. I'll Supply The Love
4. I'll Be Over You
5. Stranger In Town
6. 99
7. Struck By Lightning
8. Pamela
9. Afraid Of Love
10. I Won't Hold You Back
11. Jake To The Bone
12. Stop Loving You
13. Lea
14. Hold The Line
15. George Porgy
16. Rosanna
17. Africa