Steve Morse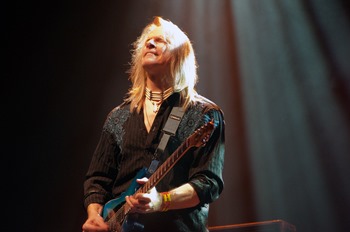 Flying Colors consists of five real musicians, Steve Morse (G), Mike Portnoy (Ds), Neal Morse (Kb, Vo), Casey McPherson (Vo,Kb) and Dave LaRue (B), who all have deep understanding of different type of music and have extreme skills to play from Progressive Rock to other type of music flexibly.
The fantastic 3rd studio album as Flying Colors "Third Degree" contains not only progressive tunes which appeal to core music fans who expect advanced musical skills from you, but also tunes which impress fans who love quality Rock & Pops then those different vibes are merged into one and only Flying Colors style with a balance.
Steve Morse himself talked to us about brand new studio album "Third Degree".