Sonny Landreth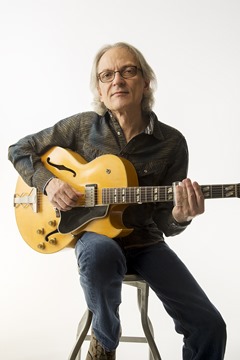 Photo by Greg Miles
The one and only flexible slide-bar maestro, Sonny Landreth speaks to people with his outstanding Blues Rock. He has released a studio album "Blacktop Run" for the first time in 5 years. He displays not only the signature slide play, but also talent as a vocalist and a song-writer who touches listeners. His highly regarded skill is even approved by the legend Eric Clapton when he played for Eric's Crossroads festival. Muse On Muse had a chat with Sonny Landreth himself about the outstanding Blues Rock product "Blacktop Run"
Interview / Text  Mamoru Moriyama
Translation         Hiroshi Takakura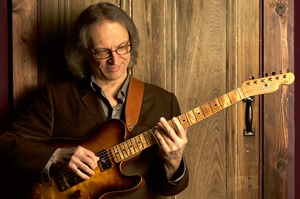 Photo by Robley Dupleix
Muse On Muse : Your mastery of the expressive vocal, guitar play and outstanding production lead to the whole ensemble producing pleasing effect on your new album for the first time in 5 years "Blacktop Run". This crucial Blues Rock album will certainly not disappoint your fans.
Sonny Landreth : Whenever I make a new album, I always want people to like it. But it's also important to try new things and to go into different directions. I think that's the nature of creativity and also, it's what I should do for the listeners. Otherwise, I'm not giving them my best effort.
MM : When we interviewed about your previous album "Bound By The Blues", you said you wanted to pay a tribute your heroes, Blues legends. What did you aim for this project?
SL : I mostly just wanted to mix it up this time and make it more eclectic with different kinds of songs- electric and acoustic, vocals and instrumentals, original songs and a few written by someone else (Steve Conn). Rockers and ballads. I didn't really want preconceived notions to limit our approach and I wanted to be willing to push some boundaries. An interesting thing happened, though. Even with those intentions , I still somehow came up with a thematic thread. These songs are all inspired by the spirit of change and the essence of transition.
MM : We found the name RS field for the first time in a while on the booklet as a co-producer. How was the work with him?
SL : It was absolutely great! Though we hadn't worked together in many years, it felt like we'd never stopped and picked up right where we'd left off. Bobby (R.S.) is a genius and is the best at assimilating a multitude of information and crystallising it into a meaningful work of art. My engineer and co producer Tony Daigle and I had 90 per cent of the tracks already recorded when I brought Bobby onboard. The advantage of that was that he could bring a fresh perspective to the mix and, as always, he'd come up with new, cool ideas in the final process to make it extra special. We still make a good team and I like that a lot.
MM : How was the song-writing and production process for this album?
SL : For me, writing has always involved different layers of attention. Many of the ideas- lyrics, melodies, guitar techniques- just occur to me in a stream of conscious fashion. While I tend to write words, thoughts or whole lines down, I always snatch the musical ideas by recording them briefly with my guitar even if just using the Memo app on my phone. But once I decide to turn those ideas, fragments and pieces into an actual song , then I go into a deeper, more focused place. It's like I have to flip a switch and invite the muse in. Because it involves idea construction, writing is the internal part of the process while recording is the outward manifestation of those ideas. At that point, my goal with production- choice of mics, amps, cabs, ambience etc- is to articulate and capture the sounds in my head. Simply put, to sonically serve the inspiration behind each song as best as I possibly can.
MM : Please tell us about the title track "Blacktop Run".
SL : It's the title track because it embodies the spirit and the thematic overview for the whole album. I wanted to capture the feeling of being in between phases of one's life. There is turmoil and uncertainty when you let go of attachments that are familiar but there is also excitement and hope in the anticipation for what could lay waiting for you up ahead. The writing aspect was interesting because both the lyrics and the melody of the opening lines came to me on the back seat of a van while traveling with my band. Typically it doesn't happen in such an orderly, linear fashion for me but this time it did. And obviously, being on the road helped to provide the right vibe to write a road song.
MM : An uplifting and bouncy tune "Lover Dance With Me" and "Groovy Goddess" has a strong groove, as the name suggests, are the songs which people can dance to.
SL : Yeah, there's nothing like a deep groove, right? Sometimes, I'll start with a rhythmic pattern that feels good to get me going in the right direction. You can use that momentum to open the door, so to speak, to the inspiration that will help you create meaningful lyrics and music. "Lover Dance With Me" is a more recent song that I wrote and played in standard tuning without a slide so it has a completely different vibe to it than all the other songs on this album. It's actually one of a batch of similar non-slide instrumentals that I want to record in the future. "Groovy Goddess" is an older instrumental that we actually recorded, for the most part, several years ago. We sort of rediscovered it during preproduction and after listening to it after so much time had passed, I realized that it not only held up to the test of time but was also a perfect fit for this record. Whereas "Lover" is more sensual, and focused, "Groovy" is more free wheeling and improvised.
MM : "Somebody Gotta Make A Move" and "Don't Ask Me" were written by the keyboard player of the band, Steve Conn.
SL : Yes, I have always loved these two songs and have been playing them with my old friend, Steve Conn, for years and decided, with his permission and approval, to reinterpret them and record them with a different approach. To cover somebody's song should be a deeply personal choice, especially if that person is your best friend, so I really wanted them to turn out special! I decided to take an all acoustic approach with "Don't Ask Me" and played Reso guitar to bring it into the Delta blues meets New Orleans tailgate territory. I love the funky edge we got and Steve's accordion track was a different twist from the keyboards he played on his original version. "Somebody" is moodier and I love the spaciousness of it. I played slide in a minor 7th tuning that I came up with long ago but had never used until now so, I think, that gives it a unique voice. I really love singing this song and think it could become a Blues standard done by many different artist around the globe.
MM : You issued a warning about global environmental problems on "The Wilds Of Wonder".
SL : This was one instance where I wrote all of the lyrics first, very much in the form of a poem, and then began the process of writing the music. I was really fond of the narrative so I wanted the music to be every bit as worthy. I must've written 30 completely different versions over the course of 3 years before I got it right. Words should stand on their own, music should make them more powerful and together they should be like a force of nature. I felt like this all came together in quite a cinematic way that was most appropriate for the subject matter and it's one of my favorite tracks.
MM : How do you get ideas and inspirations for lyrics for vocal tracks?
SL : From books, films, art, other musicians work, conversations, life's lessons. If you're open to it, inspiration is everywhere but you have to be humble and treat it with respect. As a writer, you have to be passionate enough to want it, bold enough to reach for it and resilient enough to fail time and time again until you succeed.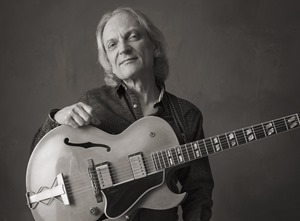 Photo by Greg Miles
MM : The dramatic instrumental track "Many Worlds" is impressive.
SL : Of the hundreds of fragments of song ideas I've "jotted down" by way of scattered home recordings, this piece evolved in my head with several thematic sections that segued one into the other. Though I even had a title for it, I'd never completely finished it- let alone fully recorded it- but I always wanted to circle back to it someday. After Bobby Field arrived and helped Tony and I finish mixing, we had a total of 9 songs and I felt there should be 1 more. Then it hit me that "Many Worlds" would be perfect to round out the album. So, we recorded it on the spot and though I'd already had it mapped out in my head, the delivery was very spontaneous and a lot of fun. It's the only song that came together in the moment with the 3 of us and got recorded, produced and mixed straight away.
MM : The beautiful and untainted number "Something Grand" deserves the final track of the album.
SL : If I had to pick an all time favourite, I've come to believe this would be the one. It's a deeply personal song and yet I do think it speaks to a universal truth regarding the power of forgiveness and redemption. I think there is a great misconception about vulnerability per se, that it represents weakness and is to be guarded at all times. Actually, allowing ourselves to be vulnerable can be one of the purest expressions of our humanity and also one of the most liberating. Somehow, I feel like I tapped into a deeper well and found a way to articulate that with "Something Grand". And interestingly, all this and no guitar solo- go figure.
MM : The album contains ten tracks in total. Six are vocal tracks which people can enjoy your verbal magic and message behind the lyrics, Other four are instrumentals which your mastery of guitar play including slide guitar will not bore your fans. How do you manage to balance vocal track and instrumentals for making an album?
SL : It's part instinct, part trial and error and what you learn in the process. The main thing is how the album in it's entirety makes you feel. Do the songs, regardless of vocals or instrumentals, segue nicely or do you feel a let down from a certain track to another? You could think of it this way…your album is like a book (hopefully a good one), and each song is like a chapter. When you listen all the way through, is it similar in experience to when you get to the last page of a book that's so good that you want to go back to the beginning and read it again? If the answer is "no" then you should probably rethink your choices. If the answer is "yes", then you've got exactly what you need.
MM : Please tell us about your gears, What guitars, amps, effectors and pedals did you use for this album?
SL : 
Guitars…
•Vintage 1960 Gibson Les Paul Standard
•Vintage '66 Fender Strat w/original pickups
•prototype signature Strat w/DiMarzio DP181 p.up in a Tele bridge plate bolted to the trem block , custom mid & neck noiseless single coil p.ups by Michael Frank Braun at Fender
•'88 Strat with Fishman Fluence single coils
•late '80s 1957 reissue Strat with Lindy Fralin p.ups and Suhr Silent Single Coil backplate
•'88 Strat with DiMarzio DP181 in bridge, Virtual Vintage in middle & neck, 2TEK bridge system
•"Frankensteined" road Strat with Borisoff Trilogy Tuning Bridge, DiMarzio p.ups
•Larry Pogreba "Hubcap" Reso guitar, aluminum body
•'69 Martin D-28
Amp Heads…
•1995 100 watt Dumble Overdrive Special
•1989 75 watt Demeter TGA-3
•1965 Blackface Fender Bassman
•Komet 60 with 6L6s
Cabs:
•mid 60's 2×12 Fender Bandmaster w/V30s spkrs
•4×12 Marshall w/ Celestion V30s spkrs
•1×12 Dumble w/Celestion GH-100 spkr
•Leslie 900 w/ original preamp pedal
Pedals:
Demeter Fuzzulator Mosferatu drive
Analogman Compressor
Voodoo Lab Giggity EQ
Analogman Chorus
Wampler Faux Tape EchoV2
extra notes:
I had the same pedalboard in the studio that I always take on the road. First in the chain is the Demeter Fuzzulator which I mostly use as a boost for solos while the rest of the pedals are always on. But for a super clean sound, I dialed in the Analogman comp and bypassed the rest. Another change up was a Fulltone '70 Fuzz for "Groovy Goddess".
Also, in lieu of the Analogman Chorus I like to use onstage, I went for the epic swirl of the Leslie cab in the studio. I think it developed into such an effective color that it actually became a signature, thematic voice for the whole album.
Tunings, left to right, low to high strings..
(G)
D G D G B D
(E)
E B E G# B E
(Em7) "Somebody Gotta Make A Move"
E B E G D E
(Standard) "Lover Dance With Me", I didn't play slide at all on this song
(Am) "Beyond Borders"
E A E A C E
all strings are D'Addario…
for chordal tunings electric guitars:
EJ22set
.013 thru .056
for standard tuning electric:
EXL 120 set
.09 thru .042
for acoustic guitars:
EJ17 Phoshor Bronze set
.013 thru .056 f
Slides…
•Dunlop #215 Pyrex for electric gtrs
•Chrome plated Steel tube cut from Harley Davidson handlebars for acoustic gtrs
Picks:
IKEDA flat/thumbpick manufactured in Japan.
Acrylic nails on 1st, 2nd &3rd fingers right hand
MM : Please send a message to fans.
SL : Because of the awful pandemic, I could not bring my band to play the shows we had booked in Japan for October this year. However, we are rescheduling for the end of February next year to play two shows per night in three cities, so please watch for our itinerary! Meanwhile, I want you all to know how much your support and appreciation for my music means to me. I love Japan, you are the best fans in the world and I thank you from the bottom of my heart. Hope to see you next year!
Sonny Landreth official site  https://www.sonnylandreth.com/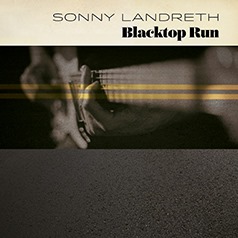 Sonny Landreth / Blacktop Run
1. Blacktop Run
2. Lover Dance With Me
3. Mule
4. Groovy Goddess
5. Somebody Gotta Make A Move
6. Beyond Borders
7. Don't Ask Me
8. The Wilds Of Wonder
9. Many Worlds
10.Something Grand