Bill Leverty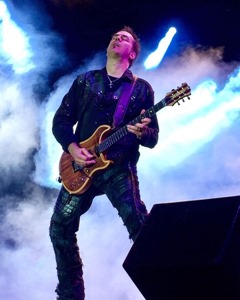 The early era of the band FireHouse was massively supported by a Rock giant Jon Bon Jovi. Their self titled debut album "FireHouse" consists of hit songs like "Love of a Lifetime", "Don't Treat Me Bad" and "All She Wrote". Its catchy yet melodic sounds caught fire across the nation and it resulted in the current success of the band. Bill Leverty is the guitarist who has been playing a significant role of the band and has incredible skills to play impressive guitar riffs, solos with dramatic structure and flashy yet catchy phrases. Bill has released his solo album "Divide We Fall" which can reach not only FireHouse fans, but also all Rock lovers. We had a chat with Bill Leverty himself about the crucial Rock album "Divide We Fall"
Interview / Text  Mamoru Moriyama
Translation         Hiroshi Takakura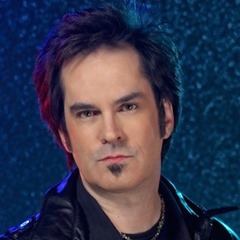 Muse On Muse : Your striking new album "Divided We Fall" can literary rock not only FireHouse fans, but also all Rock music lovers. What was your aim in this album?
Bill Leverty : Thank you so much. My aim was to put out the best songs that I could. I didn't think of any specific direction. I just wanted the best songs that I could create. I released most of the songs immediately after I had written them, one at a time. The first song I wrote for this collection of songs was written over 6 years ago. Doing an album this way, under no pressure, gave me the chance to make the music as good as I could possibly make it.
MM : For us this is a type of album which we listen to this album more and more, we love more and more. Various musical elements gave a depth and vibes to the album.
BL : Thank you so much. I tried to let each song tell me how it needed me to be treated rather than having a pre-conceived idea of how to make each song sound. I experimented a lot on everything from melodies, lyrics, guitar sounds, overdubs, etc. to make the songs shine in their best light. I mixed each song very carefully so all of these elements could be heard.
MM : How was the production process for this album? Could you also tell us how you normally get ideas for tunes in your usual life?
BL : FireHouse has been playing 55-60 shows a year. I also have been mixing other artists and recording other artists in my studio, so this project was more of a labor of love in my free time. I didn't have a due date and I could do whatever I wanted. All of the songs were completed one at a time, sometimes several months apart so everyone recorded with a lot of enthusiasm and energy. As far as the writing, each song came to me in a different way. Each song had several re-writes with the lyrics because I had to have the words flow and really mean what I wanted to say at the same time. Usually, the melody and backing chords would come first, but on a song like "Ace Bandage", the whole chorus came to me all at once. I usually get the hook or title of the song first and then write the rest of the song backwards, finishing the chorus, then the pre-chorus, then the verses and if the song calls for a bridge, that's usually last. Guitar riffs come from practicing for hours. I don't get many of them that come to mind without many hours of just playing. Sometimes, like on the song, "Divided We Fall", the riff comes first. There is no formula. I just need to be thinking about writing, otherwise, nothing comes out.
MM : How was the recording process for this album? I guess it wasn't usual one due to the pandemic.
BL : Nine of the songs were completely finished before the pandemic hit. Only the song, "Divided We Fall" was finished after the pandemic. Each song was recorded in my studio and most of them were recorded in a non traditional way. I would demo up the song with my basic guitar tracks, rough bass line, and my vocals to programmed drums and then bring Michael Foster or Andre LaBelle into the studio to record keeper drum tracks. These guys are so good that their foundation lifted the songs to a new level with unique energy and creativity. After that, I'd bring in Keith Horne to lay down his bass guitar. He's a true musical genius. He just knows exactly what to play and how to make it sound right. All of these guys shared their vision of the songs, had total creative license to play what they wanted, and they made these songs totally come to life. After their tracks were done, I'd start mixing. While mixing, I still had the flexibility to add keys, more guitars or vocals. It was nice to not be in any hurry. I spent more time mixing each song than I spent tracking them. I wanted the mixes to compete with the best mixes out there today.
MM : Your flashy guitar solo emphasizes songs like "You're A Natural" and "Strong" which have melodic and catchy vibes.
BL : "You're A Natural" is in F# minor. I love that key. It's a heavy key and I think that this is the heaviest song on the album. I felt that this song was asking for the music to be a little deeper with a few more changes and parts. I did some harmony parts in the solo that make me feel like I'm listening to two guitarists playing together. I love bands that do that.
"Strong" was written around the chorus riff and I found a vocal melody and lyric that worked well for me. I was also singing about my wife, so there was added inspiration there! The solo is in A minor which is a key that feels really comfortable to solo in, so I was able to try some challenging things as well as melodic things and make the solo a little song within the song. I used my right hand to tap harmonics and some other notes in the second half. I always try to tell a little story with my solos. I want the solo to have a climax. I want the listener to hear the solo and really feel the emotion. That's the most important thing to me.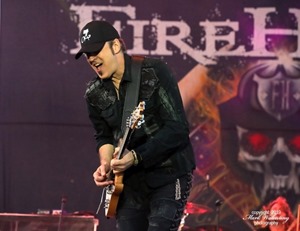 MM : The dramatic structure of "The Bloom Is Off The Rose" beautifully catch us into the song.
BL : This one starts off a little soft and spooky. The intro of this song has some guitar swell sounds and some cleaner guitar sounds helping provide the groove. I tried to make the mood of the music match the lyrics. The chorus lifts the song to a heavier place with some dirty guitars that come in. There's a mini solo before the second verse where Michael Foster added some really interesting percussion by playing his cymbal stands and the mics picked it up. There's a bridge in this song that has a little bit of orchestration to contrast that section from the rest of the song at half time and then it goes into the solo. I come out of the gate playing pretty fast on this one because I felt like that's what was called for after that bridge. The vocals in the last chorus bring out the emotion of anger that reveals the true meaning of the song.
MM : Please tell us the title track of the album "Divided We Fall".
BL : This song took me a long time to write. The music came first. I had the riff, the chord progressions and the vocal melody, but I couldn't think of what I wanted to write about. The lyric finally came to me after months of not coming up with anything that I felt was good enough. "United we all stand tall, but divided we fall" came to me and felt perfect. I wanted the lyrics to be more about humanity and how we can be so good together. We can lift each other up. If we don't, we will fall. It's about helping each other out. Musically, it's a shuffle groove which is so fun to play. The song is in Ab minor which is a very challenging key for me, but it was the right key for this song, especially the chord progression of the chorus.
MM : "Memorable" which featured horn section, Blues/Country type of "The Heart Heals The Soul" and "For Better Or Forget It" give accent to the album.
BL : I am from Virginia, so I was exposed to a lot of southern rock and country. The influences of Lynyrd Skynyrd, ZZ Top, Dixie Dregs, The Eagles, Allman Brothers, etc. will always be a part of me. These songs that you mention here are songs that have that southern vibe.
"The Heart Heals The Soul" is a little more of a folk song with the finger style guitar playing, but it's got dobro in there along with mandolin that lift the chorus. Lyrically, it's about the light at the end of the tunnel when you're feeling down. When we go though troubled times, we get stronger and this is where the heart heals the soul.
"Memorable" is the more of a funk song with a southern feel. I do have horn section that comes in after the last chorus lifting that song to a jam at the end. I love funk music. It just makes me feel good and I hope this one makes everybody who listens to it feel that fun vibe. I did an organ solo right before the guitar solo.
"For Better Or Forget It" is hard rock country. I made the rhythm guitars heavy. I played a Telecaster on this one to get that tone that only a Tele can give. My wife wrote the lyrics to the bridge. The song is about a guy and a girl who get married and she's only in it for the good times, not the bad. I play dobro, mandolin, organ and slide guitar on this one. It wanted some country sounds so I did my best to play that style.
MM : Your techniques, intelligence, versatility and melodic phrases which emphasize whole tracks well merge together into your signature guitar sounds. How do you make conversation with tracks when you play either backing guitar or lead guitar?
BL : Thank you. Time is my best friend in the studio. There is no substitute for being able to experiment and listen to different ideas played back. I can lay down rhythm tracks and then lay down a vocal and hear different ways to fill in the holes of the vocal. Sometimes, the holes need to be left alone, but when there is time to hear different ways to fill those holes, I am able to try what I hear in my head and make better decisions. I try to play what's in my head, not in my fingers. This also applies to lead lines. For example, the intro to "Love Is Like A Song" has a lead guitar that works in concert with the rhythm guitars, then, in the chorus of this song, the two rhythm guitars are playing different parts in each speaker and hopefully compliment one another for the listener. I always try to err on the side of melody. I want people to be able to hum or whistle something from the song above and beyond the vocal.
MM : Please tell us about your gears. What guitars, amps, effectors and pedals did you use for this album?
BL : My guitars on this album were my two CR Alsip Guitars except for "For Better Or Forget It" which was my Tele. These CR Alsip Guitars are really awesome instruments. My "13" guitar has a very unique midrange and my brown CR Alsip (which I named "Haole") has a similar tone but many more switching variations. They are both neck-through-body design with purpleheart wood as their main wood.
All of the guitars were recorded using my Fractal Audio Axe FX. I had an Axe FX 2 for the first 7 songs and then I got an Axe FX 3. I have sold all but two of my old amps because the Fractal sounds so good to me and it's got every amp and cabinet I could ever want in there. I didn't use any other pedals. It's got every pedal I would ever want inside. I use effects pretty sparingly anyway. The Fractal has everything that I need to get my sound. I usually don't print any delays or reverb. I record my guitars dry and add ambience later in the mix.
MM : The current ongoing situation with COVID-19 should have affected either your solo project or activity for FireHouse. Please tell us your future plans.
BL : In March, everything was going great. Then, all of the sudden, we got locked down. Concerts were the first thing to be shut down and they will be the last thing to open back up. FireHouse has played only one public show since March. It was a show that I appreciated more than any show I had played in a LONG time. The music felt SO good. This virus has been very difficult for us as a band.
I was very lucky that my solo album was finished shortly after the virus shut us down for live performances. The fans have helped me though this tough time by buying the album off of my website and buying a t-shirt or whatever. I can't wait to get back out on tour and play again with FireHouse. We hope to come back to Japan to perform and celebrate our 30 year anniversary. We have been playing the first album over here from start to finish in its running order. It's been so much fun.
MM : Please leave a message to your fans.
BL : I can't thank you enough for helping me have a career in music for 30 years. I hope to see you on tour this year. If you get a chance, please check out my new CD. If you get it from my website, I'll sign it to you! Just send me a message. Thanks again for your decades of support!!
Bill Leverty Official site  https://www.leverty.com/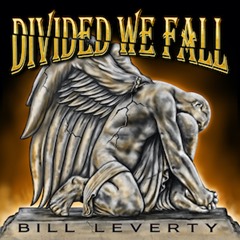 Bill Leverty / DIVIDED WE FALL
01 You're A Natural
02 Strong
03 The Bloom Is Off The Rose
04 Divided We Fall
05 Memorable
06 Love Is Like A Song
07 The Heart Heals The Soul
08 My Right Mind
09 Ace Bandage
10 For Better Or Forget It