Reb Beach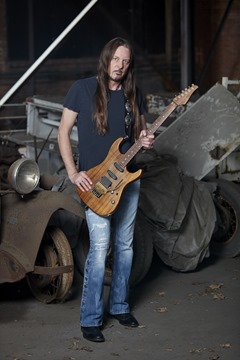 Photo by Brian Kaldorf Photography
Reb Beach developed his remarkable guitar techniques through his early career of being a studio musician for many big names. Since his debut for Winger in 1988, Reb gained his name as a promising guitar hero for next generation by his story-telling guitar play and signature phrasing which emphasize tracks largely. Then he joined bands/projects like Dokken, Whitesnake and his main band Winger. Reb has recently released Fusion Rock instrumental album "View From The Inside" which displays from a hypnotically catchy tracks to 70s style Fusion tracks to improvised tunes. His fans won't ever be bored by Reb's musicianship and the power of guitar through the musical journey which this record delivers in a beautiful way. Muse On Muse had a chat with Reb himself about his crucial Fusion Rock album " View From The Inside".
Interview / Text  Mamoru Moriyama
Translation         Hiroshi Takakura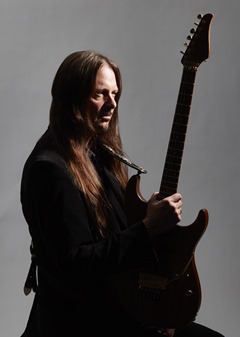 Photo by Brian Kaldorf Photography
Muse On Muse : Your long-awaited solo album "A View From the Inside" will be released. Could you tell us why it took so long? We have heard about this project many moons ago.
Reb Beach : Yeah, it was just a pet project of mine that I worked on a little bit here and there. It started when Winger broke up in 1993. I decided maybe I could be kind of a Joe Satriani guy and made demos of instrumental music. I couldn't get it signed back then, so I sold the demos on my website, and they sold really well. Through the years, I had so many comments of people saying it was their favorite thing I had ever done, and I knew I really wanted to do a whole record one day. The problem was, I was always writing for Winger, or Whitesnake, or Black Swan, and I was constantly touring. Those projects all had a deadline, so I was constantly putting the instrumental record on the back burner. When Covid hit, I asked Kip Winger what he thought I should do, and he asked me what ever happened to the fusion stuff I had been working on forever, and I said " Oh yeah! Goood idea!! That stuff is done and sitting on my hard drive. Thanks Kip!!"
MM : 70s Fusion style of instrumentals, stunning melodies and some improvisation, the outstanding album spans wide range of styles and it will never disappoint your fans. What were your aim and goal for this album?
RB : Well thank you for those kind words, and that was exactly my goal for the record haha!! I didn't want the typical hard rock instrumental record with nonstop shredding every second and not much musical substance. There is plenty of shredding, but its not always over similar sounding music. I tried to make melodies that were pleasing, and that would stick in your head.
MM : Tunes like "Black Magic" and "Cutting Loose" are your classic tunes and fan's all time favourite. Why did you choose these songs to re-record?
RB : Because they sound like shit. They were recorded on an 8 track cassette recorder, with a tiny Alesis SR-16 Drum machine for the drums. I still get royalties from Japan because they still use Black Magic for the Osaka baseball team!! I am going to send them the new one. I wonder if they will like it better. That would be great haha!!
With Cutting Loose, that song was never released, except for in my instructional video, which was only available on VHS. It became the song I was most asked about through the years." What was that first song on your instructional video from 1989? I love that song so much!!" I would tell them that the song didn't have a name, and it was just a jam I wrote for the video. Well, now I put a melody on it, which it didn't have before, and the quality of it is 8 billion times better. I decided to call it Cutting Loose because that was the name of the video haha!
MM : Please tell us production process for other original songs.
RB : I did them all the same. I recorded the songs with a drum program and played all the instruments. Then I would send the songs to the bass player and keyboard player to replace my parts. We took those tracks to the little church in Pittsburgh that is a recording studio for Throck to play the drums, and then I sent it to the great Steve Langely in Detroit to mix and master it.
MM : What are important things to make an album exciting without having vocalists?
RB : If you listen to the songs that have been actual hits that are instrumentals, (and you'd be surprised how many there are ) they all share some common things. George Benson Breezin, Chuck Mangione Feels so Good, Jessica by the Allman Brothers, Cliffs of Dover by Eric Johnson, Frankenstein by Edgar Winter…the list goes on and on. These songs usually have rhythm sections that are hooks in themselves, with undeniable melodies. Almost every section is a hook, and the solos are all world class, and not overdone.
MM : Please introduce musicians who worked for this project and how you teamed up with them?
RB : Dave Throckmorton is the reason I put my little local band The Reb Beach Project together. I did it for the opportunity to play with him. He is my favorite drummer. He did the drums on my 2003 solo record "Masquerade", and like everything he plays on, he brought this record to a new level.
Paul Brown was a funk keyboard player friend of Kips in Nashville. He was perfect for this because he used real instruments, like a B3 organ and an authentic clavinet, and I love those seventies keyboard sounds.
I needed a funky bass player and a friend told me to watch Steve Vai's bass player, Phillip Bynoe, on youtube. I thought he was perfect, and I was so excited to have him on this. My friend John Hall, who plays in the Reb Beach project played bass on some songs, as well. I played bass on Infinito 1122, because I got married to my bass part. I should have had Phillip or John just play my part, because you can tell there is a guitar player playing bass on that song. It's not the right pocket like a bass player. Although, I saw a comment on youtube where a guy said that the bass player outshined me on that track. I outshined myself haha!!
Our stage manager with Winger Robert Langely played on "The Way Home" from his house. I forgot I needed an extra song for Japan, and Robert offered his assistance, and got a great fat drum sound.
MM : How was the recording process with musicians?
RB : I would send them the song and they would send back their part. I would say what I liked or disliked, and they would redo it and send it back. With Aurora we were on the road with Whitesnake, and there was a guy who knew a guy that had a piano in a church in Detroit, and we had a day off there. We took the laptop and recorded Michelle Luppe for that song.
MM : The music video of "INFINITO 1122" was released ahead of the album.
RB : That's Throck and John Hall of the Reb Beach Project at the church where we recorded the drums here in Pittsburgh. Writing that song started when I came up with the intro lick, which is cool because it's one finger on only one fret for the whole section. The rest are just open strings. It sounded sad, but with hope, so I kept that feel for the whole song. Google the numbers 1122. They are the angel numbers that it's time to start your life again. I was seeing them everywhere.
MM : "Little Robots", which has a hypnotic melody, and catchy "Aurora Borealis" lure us into your own style.
RB : Little Robots was the first fusion song I ever wrote in 1986. It is my favorite song on the record. It is by far the simplest, but maybe the most effective. It has everything I love in an instrumental, including a great outro solo. I love a good outro solo haha!
Aurora started with that Irish sounding intro lick, which inspired me to write the song. I always like the way acoustic piano sounded with an electric guitar, so I wrote the rest of the song on the piano, and then just jammed over it. It was called Finnigan's Wake, which is the worst name ever, so I asked Rod Morgenstein what I should call it, and he thought for a minute, and said " Aurora Borealis!" I figured what the heck! It's an instrumental. I can call it whatever I want.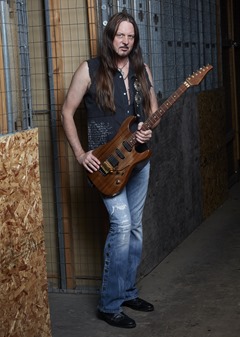 Photo by Brian Kaldorf Photography
MM : "Attack Of The Massive" and "The Way Home" are Rock/Fusion songs which displays your identity, stylish rhythm guitar and clever phrases on brilliant guitar solos.
RB : "Attack of the massive" is easily the most difficult song on the record. I wanted a fast, epic jam that would be the big live song. It has a breakdown ala Peter Frampton's Do you feel like I do, where you can start soloing with lots of air in the track, and tons of room to build. There are great dynamics in that song, and that is super important to keep the attention of the listener. I almost put a fake audience on it because it sounds so cool as a live song, but I knew I would get busted haha!
The Way Home is my second favorite song, and was the last song written for the record. It was intended to be the Japanese extra track, but I fell in love with it, and I didn't want to leave it off the release for the rest of the world. It has a Jean Luc Ponty vibe, who is my favorite instrumental artist. It's another simple one, which sometimes really is the best thing. It's just a rhythm that plays over and over, but it is so great to play over that you can play forever, and it doesn't get boring. It's kind of hypnotic, actually.
MM : "Sea of Tranquility" has beautiful melodies and fits well as the last tune of the album.
RB : I wrote this one on the piano, and I played those melodies in the first five minutes I played guitar over it. Yes, I like to end albums with ballads just like Whitesnake with Forevermore and Sands of time, and Winger with Headed for a heartbreak and Witness. It's cool to end the album with a big outro solo. The best solo I ever played was Witness from Kharma. This is a very lovely song, but my favorite is still Duxbury Bay from the fusion demos. That is the best ballad I have ever written. I will re-record that one for the last song if I ever do another instrumental record.
MM : Please tell us about your gears. What guitars, amps, effectors and pedals did you use for this album?
RB : Its very boring. The same answer I have given for 30 years. It's my Koa Suhr guitar with EMG pickups and Suhr modded Marshall or a Suhr head. I use an overdrive for solos, and I have been using the Suhr Shiba Drive for a long time. I add the delays later.
MM : We used to listen to guitars very carefully to know what are happening technically, but now we can access lords of technical lessons on youtube and some lessons go deep like how to phrase, where to put hands on the neck etc. Could you give some advice for those who are learning guitar.
RB : Well I learned electric guitar first from a guy who was painting our house, and showed me the pentatonic scale, and better ways to play basic chords though distortion, as opposed to the acoustic. Then I learned how to solo from one record. Molly Hatchet's first record. Every solo is like going to a class that is called soloing 1A. It is the most basic soloing in the pentatonic, but it's great, with great phrasing, and all kinds of different techniques. Lynyrd Skynyrd solos were too hard haha!
Learn tight rhythm playing. Learn composition and arranging. This way you can write good songs. It won't matter if you are a great player if your songs suck. That is, of course, unless you join a band where someone else writes the songs, but they would make all the money.
MM : Please tell us about upcoming plans for yourself, WINGER and WHITESNAKE.
RB : Of course, I am busy writing with Kip. It seems all the bands are writing a new record with all this time off from touring, and it's a perfect time to write the epic album of doom. We have ten songs but are only using five of them on the record so far, so we are halfway done with the writing. Already, I like this record better than the last one, and it's only halfway done! We want every song to be undeniably good and hooky, but with serious jams. Hopefully we will start back up again touring in May to support the record, which we want to be out around that time.
As far as Whitesnake, David texts us the funniest jokes every day. He keeps in touch with us big time, but there is nothing on the table at this point. I do think that when the venues open to the point where they can have enough people there to make a profit, then bands and fans will clammer to be there. Unfortunately, if this goes on too long, the venues won't be there.
MM : Please leave a message to your fans.
RB : When I first had the idea to make this record, it was with the Japanese fans in mind. I have many Japanese students, and the Japanese people love detailed, pleasing, good music, and they LOVE guitar. Japan and Italy are my favorite places to be because I love both of their cultures, and both of their traditional foods hahaha!!! I think I am the most excited to release this record in Japan, because the fans are so great there. Much love to the beautiful people of Japan.
Reb Beach official site  http://www.rebbeach.com/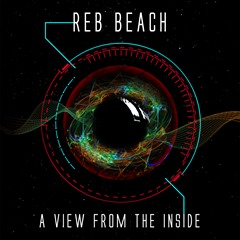 Reb Beach / View From The Inside
01. BLACK MAGIC
02. LITTLE ROBOTS
03. AURORA BOREALIS
04. INFINITO 1122
05. ATTACK OF THE MASSIVE
06. THE WAY HOME
07. WHIPLASH
08. HAWKDANCE
09. CUTTING LOOSE
10. SEA OF TRANQUILITY
11. HOBOKEN (JAPANESE BONUS TRACK)