Trevor Rabin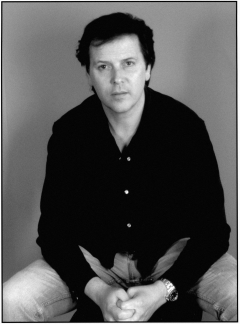 Trevor Rabin is going to release a box set "Changes" which, is a summary of his career, includes his solo albums, early demos, unreleased live recordings and some of soundtracks he has done. Trevor is not only known as the main man behind the biggest hit of YES, "90125", but also solo artist and a film composer who was in charge for music for numerous films- Bruce Wills' "Armageddon" Arnold Schwarzenegger's "6th Day" to name a few. Remarkable melodies which Trevor himself created were delivered to the people worldwide and not be forgotten.
This box includes solo albums which Trevor has released, unreleased live recordings, Jack Frost soundtrack and demo tracks of YES ere, so fans are able to acknowledge how his music has evolved through those albums.
Muse On Muse had a chat with Trevor Rabin himself about this box set "Change"
Interview / Text  Mamoru Moriyama
Translation         Hiroshi Takakura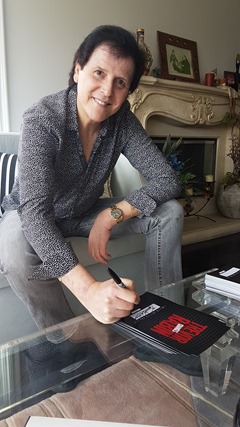 Muse On Muse : Please tell us the whole story that led up to release a box set consists of 10 discs.
Trevor Rabin : Frankly, the idea came from Rob (Robin Ayling). I wasn't sure about the idea. Rob convinced me. "You need to document your career up to now. It was tough to choose. A lot of what's not included are my 80 hours of film music. Most of the film music was released by different record companies and not possible to include. Many of my film scores I am very proud of, particularly the orchestral ones. (most of the scores are orchestral) But while the collection includes some film music, it's essentially about my career as a recording artist.
MM : The box set does not consist of "Jacaranda" which you released in 2012. Do you have any reason for that?
TR : Jacaranda is on a different record label. I'm very fond of Jacaranda. Being categorised as a jazz album, the album is still "working its way" so to speak. Jazz records traditionally move more slowly than rock records and take a longer time to deep into people's ears.
MM : Could you review your early solo albums "Beginnings", "Face To Face" and "Wolf" including episodes back in the days? You had proven your musical skills as a singer and multi-instrumentalist plays guitar, bass and keyboard, and your outstanding talent of production/arrangements at your early career.
TR : Hard to review ones own work but I'll say a couple of things. Beginnings I wrote and recorded after a wonderful time in my band Rabbitt. It was a new time as I was moving to London from South Africa which was is a totally different vibe. Face to Face was done in South Africa while I was already living in London. A confusing time. There are moments which I'm happy with, but some of it I wish I hadn't done. Rob and I spoke, and I decided it should show the journey warts and all. Wolf was a happy time particularly as I decided to invite other musician to add their talent. Stevie, Chris Thompson, incredible singers. Manfred Mann – great synth solos, Rabbit added tasty Hammond. Jack Bruce and Mo Foster on bass, and Simon Phillips on drums.
MM : Simon Phillips and Jack Bruce joined the album "Wolf" as a drummer and a bassist. They accelerate live feeling of the album. What was the circumstance which you invited them for the project?
TR : I called Simon and he was into it. Simon called Jack for me and Jack was happy to be involved. Those sessions were very excited and you rightly say, they added a live vibe.
MM : Please tell us about "Lost Soundtracks Vol.1 Jack Frost" and "Lost Soundtracks Vol.2 Film Music".
TR : Basically they're writing demos of the film.
MM : How did you started working for soundtracks for films and TV series?
TR : I really, really was missing writing for orchestra during the 14 years with YES, although I did quite a bit of orchestra for Big Generator. Steven Segal had asked me if I would be open to spending some time teaching him guitar. I spend around 2 hours with him. He was thankful and asked if he could do anything for me. I mentioned that I had just left YES and was looking to writing for film. Did he know of an agent for film composers. He nonchalantly offered me his current film.. "Glimmer Man"……. that was my 1st movie. Jerry Bruckheimer heard the music and booked me for his next 12/13 films. So I fell into the deep end.
MM : In film soundtracks, a short melody for 8 bars can determine the impression of whole film. Do you find any difficulties to work out melodies for films or have you ever struggle for it?
TR : Melody and theme was what lead to me being successful being a film composer. I think that was my strong suit.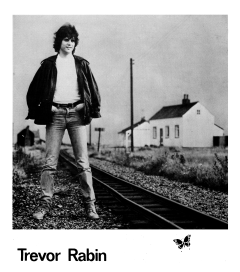 MM : What are the differences between producing Rock music and soundtracks? Please tell us how you approach to both.
TR : Rock is very different. Reading music was not used in Yes. Or any of the bands I've been with. A couple read, but the process was all about creating and learning by ear and memory. For me, film was a lot about orchestras. Some films can be more synth based or non orchestra, but most of mine were orchestral. I'm old fashioned when it comes to orchestra. I think it's important to be a reader and really understand each instrument, it's capabilities, voicing, formal analysis etc. For my orchestra sessions, these A class players would come in, see the music for the 1st time, often extremely technologically challenging, and record it. Time was always critical given the expense. It would be impossible without great readers who were top players. My orchestral scores are some of my proudest music.
MM : I feel like you were the main person to give musical ideas and produce for YES when I listen to your 90124. I reckon what happened was more like this; you did not join the band YES, members of YES joined your project and created the well-known hit album"90125". What you reckon?
TR : The changes that happened to my songs on 90125 was mainly Chris and Alan's playing, Jons voice. Production wise the album came out exactly the way I expected with great input from Chris, Alan and Jon. Like the Wolf album, Jack and Simon's input was similar to what happened with Chris and Alan.
MM : The album "CAN'T LOOK AWAY" is an absolute classic that contains dramatic, catchy and simply great tunes. What does this album mean for your long career?
TR : My favourite solo album is Cant look away. I had a great time with Bob Ezrin. It was the 1st time I'd worked with a producer who had influence on my work.
MM : The previously released live album "Live in LA" contains tracks from the original album "CAN'T LOOK AWAY". Please tell us about the live album "Cry Lonely Wolf" from this boxset.
TR : This is something that Rob came across. I hadn't heard it. But when I did, I thought it would be an interesting part of the set. But obviously my " Live in LA" album, I mixed specifically to capture the amazing atmosphere that the audience had created. I'm very happy with that.
MM : Please tell us your gears for production and recording. What DAW, keyboards, guitars, amps, pedals and others do you use for your tracks?
TR : I use a lot of tradition keyboards as well as a lot of software. I have an incredible sounding 7'2" Young Chang. I love my piano as much as I love my favourite guitars. I use mostly a Fractal unit for guitar. It's all I use on the road. In the studio I add some old amps. On the road, Fractal the way I travel. Guitars are still my trusty old 60s strat which looks very different now than when I got it. I have several strats, but the only time I play them is if a string breaks or on a song or two where the tuning is different. I still use my signature model Pantera designed by Tom Presley who's the best. And I also use my new Washburn signature in the studio quite a lot.
MM : Please tell us the whole story of how Washburn productised your signature model PARALLAXE M20-TREVOR RABIN? Also advise us what are characteristic of the guitar.
TR : I'm very proud of the Washburn Trevor Rabin model…. I was extremely involved in the guitar and I believe it's an amazing guitar. It sounds and feels incredible.
MM : Please tell us your upcoming plans. What will happen to your activities as "YES FEATURING JON ANDERSON, TREVOR RABIN, RICK WAKEMAN"?
TR : I'm focusing on my new album. A follow up to "Can't look away". I've been putting in blood, sweet and tears. I'd say I'm 60% there. I'll still be doing film. As far as YES/ARW, we're probably done. My highlight during the Reunion tour was Rick Wakeman, and Rick and I had vowed to work together again. I absolutely loved playing AND hanging with Rick on the ARW tours 2016-2018. We still communicate all the time. As far as YES/ARW goes, we're amazed at the atmosphere the fans created every show and will remember the two years with love.
Trevor Rabin official website  https://www.trevorrabinmusic.com/
Trevor Rabin official store    https://www.musicglue.com/trevor-rabin/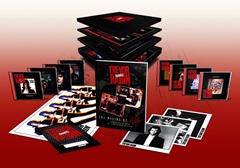 Trevor Rabin / "Changes" 10 Disc Box Set, signed and numbered
Trevor Rabin official store    https://www.musicglue.com/trevor-rabin/
Disc 1 Beginnings
Disc 2 Face to Face
Disc 3 Wolf
Disc 4 Can't Look Away.
Disc 5 Can't Look Away bonus tracks
Disc 6 90124
Disc 7 Live in Boston 1989 part 1
Disc 8 Live in Boston 1989 part 2
Disc 9 Lost Soundtracks Vol. 1 – Jack Frost.
Disc 10 Lost Soundtracks Vol. 2
Signed and numbered certificate 24 page A4 photo book, "The Making of Wolf" 24 page A4 photo / scrap book A3 Poster 4 x 10" x 8" reproduction Promotional Photos