Derek Sherinian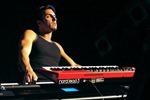 Derek Sherinian is the Ex-DREAM THEATER keyboard player currently playing for BLACK COUTRY COMMUNION formed by Glenn Hughes, Jason Bonham and Joe Bonamassa. Derek is also known for working with Billy Idol and is know releasing an album featuring a hard rock oriented fusion sound.
Participating in the album are Steve Lukather and Simon Philips, who just finished a successful tour to Japan in September as members of TOTO. Steve Stevens, Joe Bonamassa, Tony MacAlpine, Doug Aldrich, and others also take part in the album, all contributing excellent performances.
Derek talks about his album "Oceana" and about the various musicians taking part in the recording.