Joseph Williams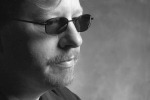 In September, 2011, Joseph Williams appeared in front of the Japanese audience and put on a great performance as the lead singer for the re-united TOTO. Joseph talked to us about the Japan Tour, about his project WILLIAMS/FRIESTEDT with Swedish guitarist/composer Peter Friestedt, as well as some insights on his songwriting.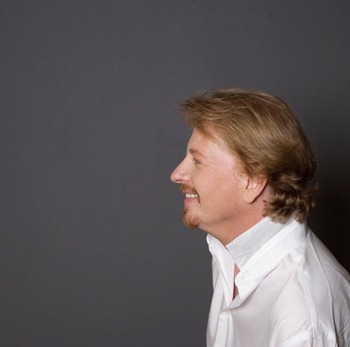 Interview / Text  Mamoru Moriyama
Translation         Tomoko Kikuchi
Joseph Williams, son of John Williams who is famous for composing numerous film scores such as "Star Wars", "Jaws", and "Indiana Jones", started out his career as a singer with his self titled solo album in 1982. In 1986, Joseph was recruited as the new lead singer of TOTO. Joseph sang on the "Fahrenheit" album (1986) and "The Seventh One" album (1988) before leaving the band to continue as a solo artist. Though Joseph has left TOTO, he has kept close to the members of the band, and in September, 2011, Joseph sang as the lead singer for the re-united TOTO during their Japan Tour. 
Joseph Williams has also released an album with Swedish guitarist/composer Peter Friestedt titled "WILLIAMS/FRIESTEDT" featuring melodic rock music reminiscent of the TOTO sound in the 80s. Joseph talks to us about TOTO, the WILLIAMS/FRIESTEDT project, as well as some insights on his songwriting.
Muse On Muse : At first, please tell us about Japan Tour in September. We loved this tour because you, David Paich and Steve Porcaro came back. It has been a long time since your last show in Japan with TOTO. How did you feel about this tour?
Joseph Williams : I have come to Japan many times over the last 25 years and all of those trips were fantastic but none of that compares to coming back to Japan as a member of Toto AGAIN! It was fantastic! I really loved playing at the Budokan … Very important to us california musician types! hahaha .. I love traveling with Luke Dave and Steve.. we do have a lot of laughs. and my job as singer is made very easy with the greatness of the musicianship of these guys!
MM : It seemed that fans and members on stage enjoyed the show. I thought the condition of the band was also really good. How was it for you?
JW : Great! I think many of the guys are in the shape of their lives. this is certainly true for Lukather and Steve Porcaro .. I have been working with a physical trainer and vocal trainer for over a year and it has really paid off!And the show, Man I love playing live again just in general.
MM : Is there anything particular that impressed you during Japan tour?
JW : I was impressed with how wide the age range was at our concerts.
MM : Is the setlist going to change on TOTO World Tour in summer 2012?, if there is schedule which TOTO world tour in summer 2012.
JW : All things 2012 are being talked about as I write this … I have no news to tell you but I will tell you that Toto will be back and yes the tunes in the set will change … I can guarantee that!
MM : How was the show in Italy that was filmed for Live DVD?
JW : I felt great about that show .. we were on a roll, the band was pretty tight, the vocals were all there .. It was awesome! I can't wait to see it!
MM : Is it possible to release new studio album with this reunion members?
JW : That is a question for Luke and/or David.  I can't speak for the band here but I don't think that's happening!
MM : Second, please tell us about the album "Williams-Friestedt" which was also released in Japan in September. How did you start this project with Peter Friestedt?
JW : Peter has been a friend for years .. He came to LA years ago to make one of his solo records. He worked a lot with Bill Champlin so I met him through Bill .. We started planing these trips to Sweden where we would perform as a band .. Anyway, I'm in my 3rd or 4th year working with Peter and it's still going strong .
MM : What was your concept of making this album?
JW : It was really Peter's baby. Originally I was just going to be one of a few singers but I just kept singing everything he played for me. That's really it!
MM : How long did it take to make this album? How was the recording in Sweden? Did you also take part in the work as producer?
JW : as I said My contribution is mostly as a singer. I gave a few ideas but the entire production and arrangements we Peter's.
MM : Peter's writing and guitar approach for the songs seem to be influenced by TOTO. What do you think about it?
JW : Oh yes! you can tell the Peter grew up listening to Luke and Mike Landau … Players like that! . and writing wise for sure he is influenced by Toto .. I love that about him. He's a serious fan but he took that and became a fantastic player himself. He is truly on my short list of favorite guitar players is .. I will name a few … Mason Williams, Bob Bain, Robin Ford, Steve Howe, Trevor Rabin, Graydon, Luke, Landau .. Actually my short list is not so short!
MM : I couldn't find your name in the credit of writers on this album. Were the songs already made when you join?
JW : I am not a songwriter on this project.
MM : Is there any difference between singing your own song and singing songs that others wrote? I think you have what you want to express in your songs. Do you try to understand what to express first when you sing the songs that others wrote? Please tell us about your singing approach to each type of the songs.
JW : The approach is the same! Sometimes it takes forever to get a vocal right on one of my tunes and when someone else's tune is a breeze .. And then the opposite is true. The fact is that for me I always write very hard stuff to sing … but sometimes I'll here an outside demo that Peter or Luke or Dave ..whoever wants me to sing and I will feel like there is no way I can sing it the way it was written, well, it that situation I either have to figure a way to make the song work for me or I will suggest someone else sing it .. I have NO problem admitting when my singing style is not working.
MM : How do you think of Peter Friestedt as producer, writer, and guitarist through making this album.
JW : Peter's fantastic. He really knows how to produce that 80's west coast muzojazz pop/rock thing .. and he really knows his way around Facebook!
MM : Are you going to keep working on this project with Peter from now on?
JW : Peter and I are sure to make some projects together in the future absolutely .. I cant say when that would be but it will be …
MM : You released your solo album "This Fall" in 2008. Do you have any plan to release new original solo album?
JW : Not at this time but I am always fantasizing about making another album. One that is met with huge success and makes me the most important singer in the universe … hahahaha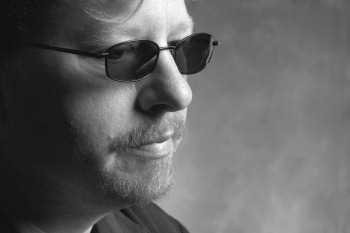 MM : You are an amazing vocalist and a great writer too. Please tell us about you as writer.
JW : You are very kind .. Perhaps a bit too kind! I think I have done amazingly well with the voice I was given. I am proud of my career as a singer. I don't think I will ever be the writer I always dreamt of being but I like some of my work .. I have been really lucky to co write with some truly gifted songwriters and composers. Paich, Luke Jeff, Steve P. My Dad! The list goes on from there! My biggest success as a writer is as a co writer!
MM : When did you first write your original song? What kind of song was it?
JW : I can't actually remember but I'm sure it wasn't any good …! hahahaha
MM : Your father John Williams is also a great writer, and he had created so many amazing songs. Do you get influenced by him through your career as writer? If so, what part of writing is it? Did you get some kind of training in music theory or writing by him in your childhood?
JW : Yes my father is a gifted composer and a great conducter but what most people may not know is what a fantastic piano player he is. And he can play the trombone!
MM : Which is more difficult more for you: writing lyrics or creating melody?
JW : Neither are difficult … for me it's like putting on shoes !
MM : Do you shut yourself up in the room when you write songs? Or do you keep melody or lyric that occurs to you in your daily life? Do you have any useful thing to keep that kind of melody?
JW : I use the recorder in my iphone if I need to remember something. It's such a great piece of technology!
MM : I think sensitivity and ability are very important in writing songs, but it is difficult to write hundreds of songs with only sensitivity and ability. what else is important for you to write so many amazing songs as professional writer?
JW : Discipline! Don't forget that!
MM : Do you have any advice for people, who want to become singer or songwriter like you, to improve their creativity?
JW : Go back to school and get a degree that can earn you a living! And then if you must explore your inner idol, go by a lottery ticket and hope that you win because you will need the money while you starve trying to break into this vicious business .  And practice … practice … practice!
MM : Which artist did influence you in songwriting? Is there any young artist that you pay attention to?
JW : Stevie wonder and Paul McCartney are my influences … Sheryl Crow's a good songwriter!
MM : What is your work plan from now on?
JW : One gig at a time! hahahaha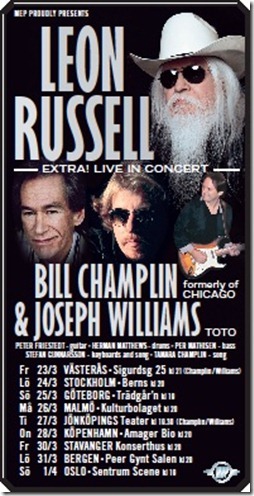 MM : Please leave a message for your fans in Japan.
JW : My message to my Japanese fans is this …. Thank you! I love you! Hope to be back over soon to sing in concert!!!!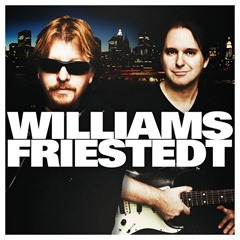 「WILLIAMS/FRIESTEDT」  JOSEPH WILLIAMS & PETER FRIESTEDT
VSCD3535 / ¥2,625(tax in) / VIVID SOUND
1. Stay With Me
2. Gotta Find It
3. Swear Your Love
4. Sometimes You Win
5. Going Home
6. Where To Touch You
7. Say Goodbye
8. One More Night
9. Water Colors (Japanese Bonus Track)
10. Letter To God
11. One More Night(Unplugged)
12. Letter To God(Unplugged)
13. Stay With Me(Instrumental)
14. Swear your love(Instrumental)
15. Sometimes You Win(Instrumental)
16. Say Goodbye(Instrumental)