FLYING COLORS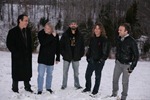 Photo : Joey Pippin
FLYING COLORS is a new super band featuring Mike Portnoy on drums and vocals, Dave LaRue on bass, Neal Morse on keyboards and vocals, Casey McPherson on vocals and guitar, and Steve Morse on guitar. Their self-titled album is an amazing blend of folk, prog, pop and metal, creating a marvelous style of music. Steve Morse and Neal Morse talked to us about the new album.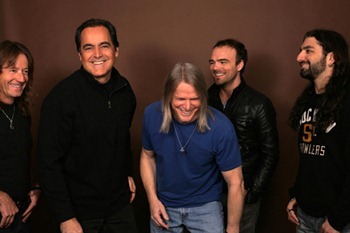 Photo : Joey Pippin
 
Interview / Text  Mamoru Moriyama
Translation         Louis Sesto (EAGLETAIL MUSIC)
There are many bands with members that are technically skilled. Although, it seems to be quite rare to find a band that is not only technically skilled, but also skilled in songwriting and the in creative aspects of music. FLYING COLORS is definitely one of those super bands with musicians that are skilled both in the technical aspects and creative aspects.
Mike Portnoy is known for his work with DREAM THEATER, as well as his participation in various projects after leaving DREAM THEATER. Steve Morse plays for the hard rock legends DEEP PURPLE while also delivering high quality music with his own STEVE MORSE BAND. Bass virtuoso Dave LaRue is known for supporting Steve Morse on various projects. Neal Morse has been delivering countless quality albums in the progressive rock scene. These names simply tell us that this band consists of a group of unbelievably talented musicians, suggesting that you would hear a great progressive jam on the record to begin with. Added to that, FLYING COLORS vocalist Casey McPherson adds a pop essence approachable to the mainstream listeners. The blend of these amazing musicians result in a mix of various music styles such as folk, prog, jazz/fusion, pop and metal. FLYING COLORS has definitely succeeded in establishing a challenging style of new music.
Steve Morse and Neal Morse took time to talk to us about their new album.


Part1 – Steve Morse –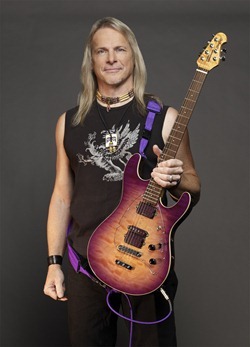 Muse On Muse : You have some great musicians gathered up for the FLYING COLORS album. Can you tell us how the members of this band joined forces?
 Steve Morse : Bill Evans got in touch with me and asked if I'd like to do an album project with Neal Morse and Kerry Livgren. I thought it would be a great compositional album idea, so I agreed. Kerry was unable to do it after some health problems, so Neal and I got together to write a little bit. It went very well, so we decided to make the album. He and Bill suggested Mike Portnoy, which I agreed to because of his amazing drumming, and I suggested Dave LaRue. We all got together to discuss a singer, and Mike suggested Casey. We all loved his singing and the fact that he wanted to work on a project like this, which was outside of the comfort range of many of his generation, (he's a bit younger).
MM : Please tell us about the concept of this album.
SM : Originally, it was to be a prog rock meets commercially viable music album. It ended up with us just writing whatever we all liked, but sort of did fit that first idea, I think.
MM : We were told that the album was recorded in 9 days. Nevertheless, the album sounds great. What is the secret behind being able to deliver agreat album in such a short recording period?
SM : The 9 days was the final writing and basic track recordings, which still needed overdubbing and some lyrics rewritten, and all vocals redone. We worked every day until we all felt we had something special to keep.
MM : Were the songs on this album prepared by each individual prior to recording, or were they made at the studio while recording?
SM : Some songs were somewhat arranged, such as "Infinite Fire" or "love is what.." but most were done on the spot, or at least were heavily modified on the spot.
MM : This album sounds like a perfect pleaser for both mainstream fans that enjoy vocal music, as well as listeners that actually play instruments and enjoy the instrumental aspect of the music. How do you view the balance between these two aspects in regards to the making of this album?
SM : Well, we had an entire group with several different visions, but in the end we all came together to celebrate the ideas that everybody liked. The chemistry of a group pretty much defines the way it works, and this one worked very well.
MM : The opening track "Blue Ocean" has a live band recording feel. How did you actually record this song?
SM : Just like it sounds. That was the talking and playing that we actually did when we first recorded it. Mike wanted this to seem very live and to start the album, which turned out to be a surprising idea because it brings the audience close to the band. Having a very humble beginning is great because it all builds from there.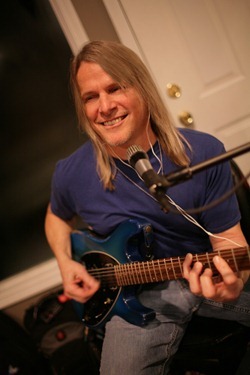 Photo : Joey Pippin
MM : "Shoulda Coulda Woulda" has an impressive heavy groove guitar riff that is reminiscent of bands such as Motley Crue. How do you feel?
SM : Thanks to my son, Kevin, I got to meet and spend some time with Mick Mars. He is one of my heroes for spending time with us, and especially for patiently answering the questions that my son had for him. Kevin regards him as one of the best guitar players in rock and I have to agree. His tone and rhythm ideas are exceptional, and, like I said, he is one of a handful of heroes that I have personally seen go out of their way to meet a young fan. Kip Winger is another that I have seen like that.
As far as the riff goes, I can come up with guitar riffs all day long. I thought that riff was a fun groove, sort of like something that Smashmouth would do. Mike was a little concerned about it at first, but I assured him that the riff isn't trying to be anything but a good time.
MM : All of your guitar solos, especially the one on "Kayla", are very beautiful and match the songs perfectly. Are your solos improvised, or do you make them prior to recording? Please tell us about your approach to guitar solos.
SM : The solos are improvised. I do several at one time, and keep erasing the worst one. When I get one that I like, I listen and fix some parts that could be a little better. Usually, I will keep the ones that accidentally have little melodic sections that surprise me. In the end, I will probably quote something from these solos such as Kayla, since they are melodic. However, thinking back on that one, I intentionally referred back to the intro melody in the solo since I felt it wasn't brought back enough during the song.
MM : "The Storm" sounds versatile, with a striking melody line, appealing to not only hard rock fans, but to mainstream rock and pop fans as well. What is your perspective? 
SM : When you can get Casey to sing a song that he believes in, it's an automatic appeal to everyone who has ears. I think he's so great, and Neal and he make some of the best sounding harmonies together.
MM : The trade-offs with bass player Dave LaRue in the middle section of "Forever In A Daze" sound very impressive. Do you find that there is some kind of special "team work" going on between you and Dave, as you also play with him in the Steve Morse Band?
SM : Yes, Dave and I didn't need to even say many words to each other as each song was being formed. He knows what to do and when to step in with his almighty technique, which is why I suggested him.
MM : Casey McPherson's voice sounds like he would have fans from both hard rock listeners as well as mainstream pop listeners, and is a great match to the music of FLYING COLORS. What is your impression on his singing?
SM : Like I said before, he's so great at conveying sincere emotion and beauty all at once.
MM : "Everything Changes" sounds very epic and grandeur with the intro guitar orchestration-like part and impressive vocal lines. The guitar solo has a very melodic feel plus a very speed oriented feel with your trademark alternate speed-picking. What do you keep in mind when playing solos like this, both performance-wise and sound-wise? 
SM : The intro was something I had brought in, and the working title for it was 'Majestic' which does fit the mood. The solo is very typical of me, little bits of difficult technique, but more emphasis on melodic, natural feel with lots of bends to keep a natural feel. I always have to be conscious of changing the range of where I'm playing, the density of the notes, and not rushing………but in reality, I just play what comes naturally and will eventually play a solo that I like.
MM : There is a great contrast from the beautiful "Better Than Walking Away" to the bombastic "All Falls Down" with shredding guitars. The overall running order of the songs also creates a feeling of pulling the listener into the music, thus keeping you focused on the music throughout the album. What do you keep in mind when deciding on the running order for the album?
SM : Mike has very quick mind which is always working. He wanted to do the song order, and I was glad to have him do it, since I found it difficult to visualize how every tune would seem to a listener. I've never been able to judge music that I've been a part of until much later when it's been done a long time….that gives me perspective. I think Mike did a fantastic job.
MM : "Infinite Fire" has a dramatic and thrilling trade off between the vocals and instrumentals, and is a great closer for the album. How was this song created?
SM : This was a product of the first writing session that Neal and I did together to see how well we worked together. Neal is very quick to work with, and normally I'm the guy who is constantly throwing out ideas very quickly. I had to work hard to keep up with Neal! When we showed it to the band, Casey really wanted a different chorus, and we changed it.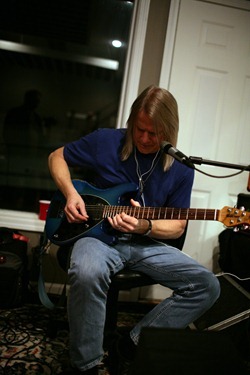 Photo : Joey Pippin
MM : From your point of view, which song portrays the uniqueness/trademarks of each of the following members? Please also explain why.
SM :
Mike Portnoy
All falls Down is very difficult to play on drums evenly, on the double bass pedals, and Mike has flawless technique always, which makes this so easy for him that he could have texted his family during the performance in the studio.
Dave LaRue
The bass solo in Forever in a Daze fits Dave since it's technical, funky, and brilliant, like him.
Neal Morse
Infinite Fire describes Neal's style the best, to me. It's a little bit of everything, with such perfect vocal interplay in one of the bridges.
Casey McPherson
"Love" has the slightly caustic lyrics and ironic twists that define Casey. He is a complex, very gifted, wonderful guy.
MM : Which song from the album is your personal favorite? Which song do you like best in terms of your own guitar performance?
SM : I like Infinite Fire, maybe the best. Actually, I like them all. I guess Everything changes might be one of my best, but I'm not a good judge of that!
MM : Did you use your signature Musicman guitar as your main guitar for this recording? Tell us what amps and pedals you used for the recording as well.
SM : I used my blue 4 pickup SM model and a Y2D model to record this. Most of the guitar parts were done with my signature ENGL amp and one stock cabinet with celestions. I used a Keeley compressor pedal for some clean parts, and a TC delay for some live takes such as Blue Ocean. I also used an E bow, but those parts got mixed down so low that they're not very apparent.
MM : What kind of guitar picks did you use?  What kind of guitar strings did you use?
SM : I use my picks from Musicman that are heavy regular shape. I use Ernie Ball 10, 13, 16, 26, 32, 42 strings.
MM : What are your future plans with FLYING COLORS? Do you have plans for another album?
SM : Yes, I'm sure we do. At the moment, we haven't even done our tour yet, and everybody has busy schedules, so we don't know when that will be, but we all love the product of this chemistry and want to do more, I'm sure.
MM : Please give a message to your Japanese fans.
SM : I hope you enjoy this album as much as we did making it. Thank you for your attention and support, and especially for keeping guitar music a very important part of your culture!


Part2 – Neal Morse –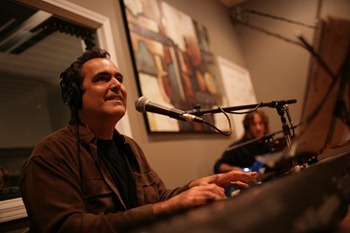 Photo : Joey Pippin
 
Muse On Muse  : How do you feel now after making a great album with FLYING COLORS?
Neal Morse : Great! I love the album and am thrilled that other people are responding as well.
MM : How was it recording with the other members of the band?
NM : Well, Steve and I got together for a few days to write almost a year before the whole band got together to write and record the album. But, when we finally got together, we all converged in nashville at my studio and just began to make it happen. There was great chemistry and also having Peter Collins was a new experience for me. I had never really been produced by someone else before, so that was a cool new thing for me.
MM : This album sounds like a perfect pleaser for both mainstream fans that enjoy vocal music, as well as listeners that actually play instruments and enjoy the instrumental aspect of the music. How do you view the balance between these two aspects in regards to the making of this album?
NM : Originally, Bill Evans had this vision of there being a band that had prog and musical elements to it, but was more accessible or mainstream so to speak. The funny thing was when Steve and I sat down to write at his place in Florida, we cast off all preconceived notions and just wrote from the heart  and much of that music got used on FC, but somehow, it all came together pretty much like Bill had said. So, I didn't really calculate it that way, but it just happened….or did it?
MM : Please tell us briefly about each song from the album.
NM :
"Blue Ocean"
This is one Steve and I pretty much framed in while in Florida. It has a nice dual vocal thing going on and a very cool vibe for an opener I think. I remember Steve not wanting to take such long solos and us encouraging him to go on. Nice Bass work from Dave.
"Shoulda Coulda Woulda"
This was written together in the room. I think Steve had the first riff idea and we all worked on the verse on chorus together. Wild vocal from Casey.
"Kayla"
Originally titles "Daylight", I had the idea to make it "Kayla" as I thought it sang well and we could make it kind of a dreamy romance thing. This was the first song we recorded; it was based on a beginning verse that Casey had that we all liked and we wrote the rest together in the room. This is one of my personal favorites; I just love the melody and Casey's voice is killer on it.
"The Storm"
I wrote 3 different sets of lyrics for this song until peter said "yes" to one of them. Then Casey and I worked on it together while Peter listened and approved or disapproved. It was a very different way to work than I had ever done before. I really like the way this one turned out. Casey played the piano bits in the verses and it's totally cool. Great song and vocal.
"Forever In A Daze"
This one sprang from a jam that Mike, Steve and Dave were doing and Casey began to sing over it. Key changing into the chorus, it wound up going to a place we hadn't foreseen. Nice one I think.
"Love Is What I'm Waiting For"
Casey brought this one in and all we did to it was shorten a section, add the guitar solo and mod for the last chorus. Love it. One of my favorites on the record.
"Everything Changes"
I came in the room and casey and Steve were working on a verse and Casey was singing "everybody falls apart" over and over…it had a really cool vibe and we all love it so we worked it in with a big majestic melody that Steve had. I think I wrote the bridge and we were off and tracking.
"Better Than Walking Away"
I was working the lyrics for this while in the Caribbean. Sitting on the balcony overlooking the ocean; I was thinking of someone I know that is always leaving his family. This one came from the initial writing sessions with Steve and I.
"All Falls Down"
This was all Steve, Casey, Mike and Dave really. I just sat back and listened and marveled. Riff city!
"Fool In My Heart"
This is one I had written mostly about 6 months before. I presented it to the band and they liked it so we tracked it real quick with an intro from Steve and a bridge from Casey. Mike's vocal is cool on it.
"Infinite Fire"
This is the big one. This is FC's prog epic. Nice work from everyone. I'm glad the chorus is different from what we might have done. I think Peter encouraged us to try some different choruses. This came from a framework that Steve and I had put together in the writing sessions but we took it to another place as a band.
MM : From your point of view, which song portrays the uniqueness/trademarks of each of the following members? Please also explain why.
NM :
Mike Portnoy
ALL FALLS DOWN – Although Mike is an incredibly MUSICAL person and player this really shows off his crazy shredding ability.
Dave LaRue
I'd say Forever in a Daze. Killer slapping!
Steve Morse
The whole album! Steve's playing shines throughout, however, my favorite is his playing on BETTER THAN WALKING AWAY.
Casey McPherson
Oh man, he's great all the way…I'd say also BETTER THAN WALKING AWAY for me. I just love his vibe on that one.
MM : Which song from the album is your personal favorite? Which song do you like best in terms of your keyboard performance?
NM : For me, my favorite song is either THE STORM or BETTER THAN WALKING…or maybe KAYLA … it's hard to choose…my favorite for keys is probably INFINITE FIRE cuz it has the most key parts.
MM : What are your future plans with FLYING COLORS?
NM : Touring in September! Woo hoo!
MM : Please give a message to your Japanese fans.
NM : Thanks and we hope to see you soon. I hope you love this record as much as we do!! God bless you,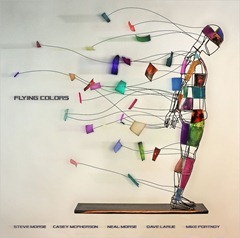 FLYING COLORS / FLYING COLORS
1. BLUE OCEAN 
2. SHOULDA COULDA WOULDA 
3. KAYLA 
4. THE STORM 
5. FOREVER IN A DAZE 
6. LOVE IS WHAT I'M WAITING FOR 
7. EVERYTHING CHANGES 
8. BETTER THAN WALKING AWAY 
9. ALL FALLS DOWN
10. FOOL IN MY HEART
11. INFINITE FIRE
Steve Morse: Lead and Rhythm Guitar
Casey McPherson: Vocals, Keyboards, Rhythm Guitar
Neal Morse: Keyboard, Vocals
Dave LaRue: Bass Guitar
Mike Portnoy: Drums, Percussion, Vocals