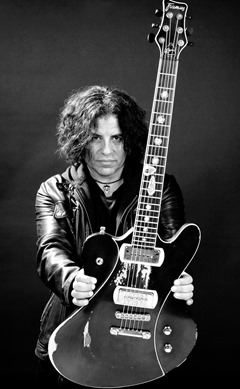 So like many musicians when I was a kid I would dream about being able to get into this incredible trade show called Namm that was filed with amazing music equipment.
I first got in when I was about 19 and I bought a cool peddle board made by a guy named Jay Sessum and since that day I have been hooked!
After that every year in January I would try to find a way to sneak back into the show. Back then it was easy to sneak in, someone would have a badge then go inside and grab someone else's badge then you would wear it and just like that you could walk into music gear paradise.
Well now I am a regular at Namm and people often pay me money to be there but there is no more sneaking in! You have to show your passport or drivers license to get in now BUT once in it is still music gear paradise!
This year at Namm 2016 was a busy Namm for me since I have my signature line with Framus guitars out. My guitar is called the Framus IdolMaker and its has been kicking ass at the Namm since we first introduced it in 2014.
I also introduced my new overdrive peddle called The Nishi Drive made by the Italian company LAA Custom ( they also make me incredible custom guitar amplifiers).
The show opened on Thursday and I was there bright and early and my first stop as always was to see my best friend Jimi Dunlop from Jim Dunlop.
His booth and the Framus Warwick booth are always the coolest hang outs if you can get lucky and get into the private rooms in the back where the Rockstars hide out.
I did a few interviews that afternoon but around 2pm I got a text from my long time musical partner Bernard Fowler asking me to come to his rehearsal with the Rolling Stones. Why??? Well I also am working with a really cool company called REV33 TrueSound and we make a small devise that eliminates distortion from ear buds, headphones and in ear monitors. This is important because that distortion leads to hearing loss and ear damage but the REV33 fixes the problem. Well many of my friends now use it like Steven Tyler and his band Aerosmith, Matt Sorum, Phil X, Cindy Blackman from Lenny Kravitz and Bernard does too. So while he was rehearsing with the Rolling Stones Mick Jagger decided he wanted a REV33 so I left the Namm show and went to LA to the Stones secret rehearsal spot.
I then spent the rest of the weekend doing interviews and hanging out with Framus, Dunlop, LAA Custom and my friends at REV33 and like always Robert Trujillo, Armand Sabal-Lecco, Charlie Sexton, Devin Townshend, Phil X, Billy Duffy, Jonas Hellborg and many others were there to hang out too.
I saw some great gear there and got some great guitar straps from Jodi Head, Getm Getm, and Moody straps. The straps they make are so amazing.
On Sunday it is known that if you have some cash you can buy some things for cheap to take home. Often a company would rather sell you the gear instead of pack it and pay to send it back to where it came from so I found a cool Chinese manufacturer that made a mini Warwick copy bass and I bought that for my Son Shane who is 8 years old.
I got home late last night and he woke this morning and was very happy to see me home AND to see his new mini bass.
Namm 2016 is now over and again as always I am super tired but as always it was a great hang!
This is a giant poster showing my relic finish Framus IdolMaker.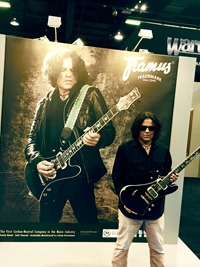 This is me with Devin Townshend and Estelle Wilfer the daughter of Warwick owner Hans Peter Wilfer having fun with my Chrome Tone IdolMaker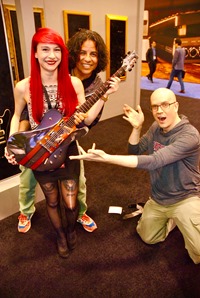 Two Framus guitars we did just for Namm. My Korina IdolMaker and the new Framus Pantera 2 designed by Marcus Spangler, Phil X and myself in the Framus Custom shop. What a beautiful top!!!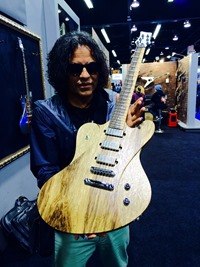 You never know who you will see at Namm! Charlie Sexton and Che Zuro.
Stevie Wonder and a cool Namm magazine add I was in.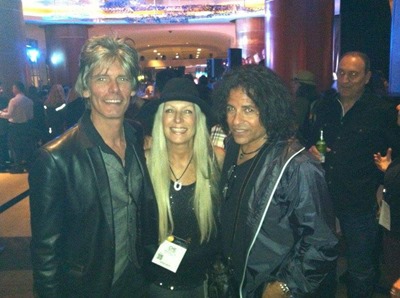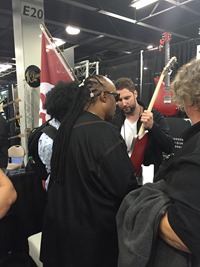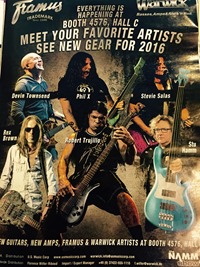 My new Nishi Drive overdrive peddle. It's SO awesome!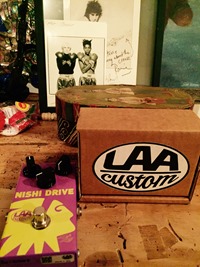 Shane and his new mini bass!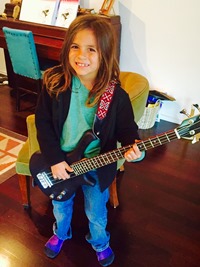 Stevie Salas
Stevie Salas official site : http://www.steviesalas.com/
Stevie Salas official facebook : https://www.facebook.com/StevieSalasOfficial
Stevie Salas official Bandcamp : https://steviesalas.bandcamp.com/music