Swedish melodic hard rockers TREAT made their return to Japan, 25 years after their last tour back in the 90s. Joining headliner EUROPE, the band took part in the 3rd KAWASAKI ROCK CITY event held at the renowned Club Citta Kawasaki in January 2015.
TREAT released what their latest studio album "Coup de Grace" in 2010 before announcing in 2013 that the band would be taking a break from any live or studio activities for the time being. Knowing that the band was inactive, it was a pleasant surprise for the Japanese fans to find TREAT on the bill for the KAWASAKI ROCK CITY event.
TREAT was very well received by their long awaiting Japanese fans, performing a magnificent set list of their hit songs, proving that the band is still alive and kicking. Fans are anxious as to what TREAT plans to do after their successful Japan tour. Check out what they have to say!!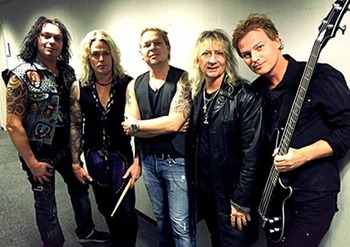 Robert Ernlund[Vo]
Anders Wikström[G]
Fredrik Thomander[B]
Jamie Borger[Ds]
Patrick Appelgren[Key]
Interview by Yuzi Okumura
Interview coordination, translation & all pix by Louis Sesto(EAGLETAIL MUSIC)
Q:How was the Japan tour? It's been a while for most members to tour Japan. Tell us about your recent stay in Japan.
Robert Ernlund: I really loved ! it Japan is a fantastic country and the people are very nice and friendly I hope I can visit it again.
Fredrik Thomander: I was blown away by the hospitality of the Japanese people and the amazing fans that came to see us. Can't wait to come back!
Anders Wikström: I was of course blown away by the kind hospitality and that we still have so devoted Fans in Japan after all these years! To see so many younger fans, who wasn't even born when we toured Japan last time (1990) was almost surreal.
Q:The band announced in 2013 that it will not continue on. Nevertheless, how did you end up coming to Japan under those circumstances?
Anders Wikström: I was honestly surprised that we got an offer to come over, since it is some time since we released Coup de Grace, nevertheless, so worth the wait!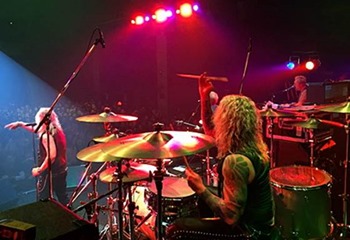 Q:All members from the 80s line-up excluding Fredrik came on tour. Why were Ken Siewertson or Joakim Larsson not part of the line up for the Japan tour?
Anders Wikström: Ken quit the band in 1988 and Joe in '93 So they've gone on to other things in life.
Q:Nalle Pahlsson was part of the reunion line up. Why did he leave the band in 2012?
Anders Wikström: I haven't really spoken to Nalle since he left in 2012, but I think he's doing a solo album now, all luck to him.
Fredrik Thomander: Ken and Joakim haven't been in the band for many years. I later filled in for Nalle Påhlsson, who was the bass player in the reunion line-up. So it was Natural that I came on the tour.
Q:How did Fredrik Thomander join TREAT?
Anders Wikström: I originally asked him to join when Joe Quit, but I guess we were all feeling we had to take a break from each other, and he also Had other obligations at the time. Me and Fred teamed up as songwriting/ producer partners in ' 97 and have had some significant success with international artists over the years, Up to this date. So when Nalle left, he was the natural choice as he was already involved in the songs and mixing of Coup de Grace.
Fredrik Thomander: I was actually asked to join TREAT in 1992, but had other obligations then. I was involved in the writing and mixing of Coup De Grace, so I guess I was a natural choice when a new bass player was needed. (That or my good looks…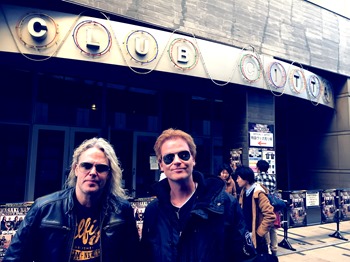 Q:How did you decide on the set list for the Japan shows? You took requests from the fans.
Anders Wikström: I guess we kind of both went with the songs that we prefer to play live from our catalogue, but we also took some requests From our fans through our Japanese website treatjp.com If this would have been our headlining tour We would of course played a longer setlist Including more Japanese request songs.
Q:You played a medley of several songs for the Japan shows. How did you decided on which songs to play full and which to play as a medley?
Anders Wikström: We do the medley almost everywhere we play due to setlist and time restrictions Especially at festivals, to be able to get a little bit of all albums represented live.
Q:How was it playing together with EUROPE and CRASHDIET? Were you already acquainted with them prior to the tour?
Anders Wikström: The Europe guys we've known since day one! We actually played one of our first shows together in Stockholm in 1984! We consider them good old friends:-) Me and Fredrik co/wrote songs with the Crashdiet guys before their first album, but we've only played one show together in Sweden before the Japan dates.
Q:Tell us the story behind Jamie's cute ass outfit.
Jamie Borger: As I remember, it was something of a prank I came up with during the "Organized Crime" tour back in 1989/90…I used to wear my leather chaps and had various different colorful tights/spandex pants on underneath…On one occasion I pretty much just took a pair of scissors and cut out my ass, and then after my drum solo I just turned around and cheered the audience with "Jamie´s cute lil´ ass". I/we had some great reactions to it and some great laughs as well…I pretty much did it from that day on, for a year or so…The biggest success for " Jamie´s cute lil´ ass" was in Japan, though. I haven´t done it in some 25 years – so I figured it was time for my 25 Years Celebration when we got back in Japan this year! And I guess it worked out pretty well! At least I had a lot of fun – and some parts of the audience may have appreciated it too.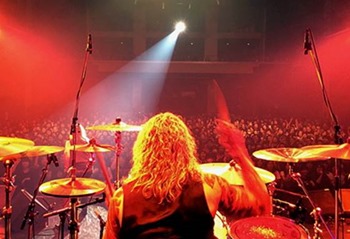 Q:What was the concept behind the band photo for the "Coup De Grace" album?
Anders Wikström: I guess we wanted the band to come back from something like a battlefield type of thing, portraying 5 guys almost 20 years Later in life, with a humorous twist! It was also a recurring theme in some songs metaphorically and album intro.
Q:Do you have any plans to record new material in the future? Any chances of TREAT getting back into action after your experience in Japan?
Anders Wikström: I'm hard at work on new song material and hope to get the guys in on the whole process soon:-) It's really hard Not to get excited about the warm welcome we received in Japan, And as an artist you have to ask yourself How many artists can perform Songs one wrote 30 years ago to an exciting audience On the other side of the world?? It's mind blowing to me!
Q:Tell us about what you do besides TREAT at the moment.
Anders Wikström: I'm working with several songwriting projects at the moment. That hopefully will be out later in the year.
Robert Ernlund: Right know I work as a sound engineer doing lots of different jobs and of course having my vacation in the summer.
Jamie Borger: I try to keep myself busy working in studio on a lot of different projects in pop & rock music! I´m always writing music myself – some songs always end up on Last Autumn´s Dream – we have just started working on the new album and some tunes may end up elsewhere! I´m also doing some 30 shows a year with Secret Service (one of the biggest popbands in Europe during the 80´s) On top of that I´m hired for sessions here and there and enjoy playing drums in various bands with my fellow friends and colleauges…
Fredrik Thomander: I'm a songwriter/producer and have worked with Anders for many years. We've written songs for both rock and pop artists like Scorpions, Gotthard and Backyard Babies but also Pop acts like Nsync, Arashi. The latest released song I had in Japan was Paparazzi with Girls Generation.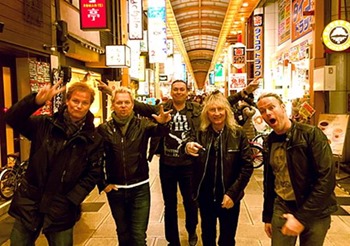 Q:Please give a message to your Japanese fans.
Robert Ernlund: Hope you had a good time and enjoyed the gigs and if you can do something so we can come back.
Fredrik Thomander: You are the best, thank you for having us!!
Anders Wikström: I wanna thank our fantastic Japanese fans for waiting so long for us to come back, it was definitely worth it for us and It Won't take 25 years again for us to return! Domo Arigato.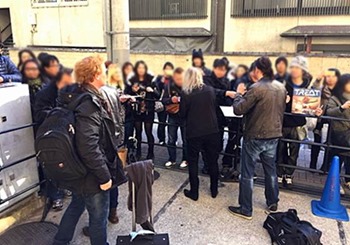 TREAT Facebook: https://www.facebook.com/treatofficial