Eric Johnson & Mike Stern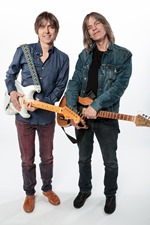 Photo by Max Crace
Eric Johnson and Mike Stern are definitely two top-notch musicians with musical talent and originality. They are also iconic guitarists that many look up to. The album "Eclectic" was created by these two icons, and have fascinated countless music fans around the globe. The album features not only quality performances by two top-notch guitar players in the industry, but the music also displays the artists' comprehensive strengths in every aspect of music, which can only be done by artists with experience. MUSE ON MUSE asked Eric and Mike about their new "Eclectic" album.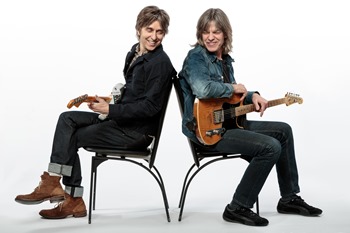 Photo by Max Crace
Interview / Text Mamoru Moriyama
Translation Louis Sesto (EAGLETAIL MUSIC)
Muse On Muse : The "Eclectic" album sounds great and it's definitely an appealing album, not only to guitar fans, but to a wide variety of music lovers. What was the concept behind this album?
Mike Stern : The concept was to get together play and do each other's music. Some of my tunes and some of Eric's. We knew already it would be kind of eclectic so the title was appropriate. The record was lots of fun to make.
Eric Johnson : To play freely and spontaneously – creative room for everyone. To capture a live performance.
MM : Do you have any plans to shoot and release a live DVD for this project?
EJ : Not at this point.
MS : No plans but who knows.
MM : The album includes re-recorded material and covers, as well as some new songs. How did you decide on what songs to record on this album?
MS : We both went with instinct and tried different stuff and everything seemed like it worked.
EJ : We tried to write as much many new pieces as time would permit. We selected and rearranged older pieces that we thought would be befitting to the record.
MM : I heard that the recordings were done in 3 days. Can you tell us a little about the recording process?
MS : It was done quickly because we toured some before. We played together already and we wanted it to sound live with a minimum of production. We precorded the tunes and maybe added a little rhythm part. Fixed a couple of things and then we're done and on to the next tune. It went fast and spontaneous.
EJ : It was done live in one big room in Austin, Texas. We tried to do only the fixes that were necessary and as few overdubs as needed.
MM : What are the differences between when you're recording your own album and when you're recording on a collaboration like this album?
MS : In allot of ways it's very similar except the last few records of mine had a allot of guests. This was one band.
EJ : Making room for others styles and contributions. Letting their energy and performance combine and change where you would go if just recording yourself.
MM : You recorded a new version of "Roll With It" from the album "Who Let the Cats Out", this time with vocals. The song naturally seems like it was made to have vocals on it. Tell us the reason behind why you decided to add vocals to the new version.
MS : Because exactly what you said. It seemed right for vocals. The first time I've written words on a record. Malford Milligan sounded great on it.
MM : "Whenever You Go" has a mysterious sounding vibe in the intro, followed by a very brilliant and beautiful song structure. How did this song come to be?
MS : I wrote a while ago and I never recorded so I thought this would be a good opportunity.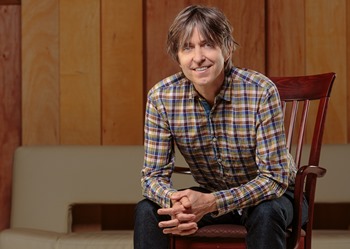 Photo by Max Crace
MM : "Sometimes" shows a very "soothing" vibe with your song writing in addition to Eric's guitar creating an excellent blend. Tell us about this song.
MS : That was one I wrote specifically with Eric in mind. I had Eric in mind for everything. Eric is a really, really wonderful musician. He has such an ear for not just soloing but complimenting a song no matter the style.
MM : "Benny Man's Blues" has a very nice lively swing feel to it.
EJ : We wanted an uptempo blues piece for the record. I thought it would be nice to have a swing blues piece reminiscent of the blues pieces played by the Benny Goodman Sextet from the late 1930's and early 1940's.
MM : "Hullabaloo" has a catchy melody to it, and the brass section adds a very impressive vibe to the song.
EJ : It's just a fun song that's supposed to feel like a 1960's TV show theme. It was Chris Maresh (bassist) who wrote and arranged the horn parts for it.
MM : You both use versatile choices of chords on your songs. When you both play rhythm parts on a particular song, how do you go about deciding on who plays what? How do you work around each other in regards to what kind of sounds to use, or what notes within the chord you will be playing, or how to structure the rhythm of a particular part of a song?
MS : Sometimes we did in instinctively by ear. Eric is particularly wonderful at choosing what to play and when to play it.
EJ : You have to listen closely. Try to support the other soloist when they are playing. Sometimes you have to play very quiet and stay out of their way. Listening to their note selection is important.
MM : How does it feel when a guitarist other than yourself plays your songs? I'm sure different players take different approaches to songs, and also bring in different licks and phrases. Were there any new discoveries you found in your own songs due to what your counterpart brought into the song?
EJ : Yes. Mike adds very deep & interesting ideas to the compositions. I always learn something from this.
MS : It's always fun but with Eric it's especially fun.
MM : You are both top-notch guitar players as well as very talented songwriters. Tell us who your influences were as a songwriter and how they influenced you.
EJ : Songwriter influences are Joni Mitchell, Simon & Garfunkel, Beatles, Stevie Wonder, Jimi Hendrix, Aaron Copeland.
MS : There are so many influences, it's hard to say. Some bebop like Charlie Parker. Some soul like Curtis Mayfield and some classical like Bach. That's just off the top of my head. There are so many influences. I really dig Eric's songs, they're memorable and I like songs that catch you right away.
MM : How do you decide on the key for any particular song? I'm sure that you determine the key for vocal songs based on the vocal range, but when you're writing instrumental songs, what actually determines the key? For example, if you're writing in a minor key, you could choose E minor, A minor, G minor, etc. What factor determines your choice of key out of the many options available?
MS : That's a good question as I really don't know the answer. Sometimes some melodies sound better on the guitar in certain keys. If you're writing for other instruments, you have to think about their range.
EJ : Each key has a different vibe. Also, sometimes the mechanical and physical layout of the structure of the guitar plays a part.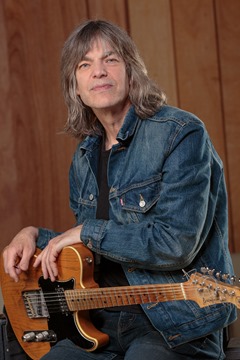 Photo by Max Crace
MM : How do you stock the ideas you come up with for song writing? Do you use a DAW? Do you record it on tape? Do you write it out as sheet music? Tell us how you do your songwriting?
MS : Usually write it on sheet music with a pencil and an eraser. Pretty much the old fashioned way.
EJ : I usually make notes, write charts and record demo versions a lot of the times.
MM : Please tell us about your gear. What guitars, guitar amps, effectors, foot pedals did you use for this recording?
MS : I use a Yamaha SPX 90 for the chorus sound, Boss super overdrive and a Boss delay. Also 2 Fender Twin Reverb 65 Reissue Blackface Amplifiers.
EJ : Deluxe Reverbs for clean tone, 18 watt Fulton Webb for the crunch rhythm, 50 watt Marshall for the lead tone. Fuzz Face,TC Chorus,BK Tube Driver. All tracks for the record were a 1950's Stratocaster and Signature Stratocaster except "Tidal" ES175 and "Red House" ES 335.
MM : Both of you already have an established original guitar sound. Do you still try new amps and/or pedals? We see a lot of high quality modeling amps in the market lately. What's your perspective on the current trend of modeling amps?
EJ : Don't use them. The newest "Blues Cube" by Roland is a nice affordable amp for guitar students.
MS : Sometimes I try new pedals but I keep it very simple. I do like Boss pedals. I've been using them for years.
MM : After watching and playing with Eric on stage and in the studio over the years, tell us in your own words about Eric Johnson and his music, performance, sound, etc. in detail.
MS : Eric has a wonderful sound and he is a wonderful performer that plays from the heart. Very soulful. He rocks his ass of, plays great blues but he's always a sensitive musician no matter what he plays.
MM : After watching and playing with Mike on stage and in the studio over the years, tell us in your own words about Mike Stern and his music, performance, sound, etc. in detail.
EJ : He's very dynamic and has lots of soul & emotion in his playing. He knows a lot about harmony and has a great rhythm to his playing. Excellent songwriter.
MM : What do you have coming up next? Tell us about your upcoming schedule.
EJ : We have a tour on U.S. west coast in January and February.
MM : Please give some words of advice to the many musicians out there aspiring to become top-notch artists like both of you.
MS : For me all I can say is my own experience. I practiced allot over the years and continue to do that. I'm always trying to learn new stuff. Music is beautifully endless. The most important thing is to play from the heart.
EJ : Practice diligently and find the type of music that gives you joy and enthusiasm. Keep steering towards the music that elates you and inspires you to be dedicated.
Eric Johnson official site : http://www.ericjohnson.com/
Eric Johnson official Facebook : https://www.facebook.com/OfficialEricJohnson
Mike Stern official site : http://www.mikestern.org/
Mike Stern official Facebook : https://www.facebook.com/mikestern0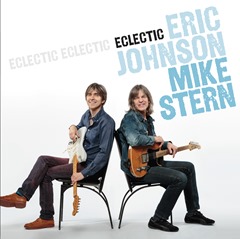 Eric Johnson Mike Stern / Eclectic
01 Roll With It
02 Remember
03 Benny Man's Blues
04 Wishing Well
05 Big Foot (with Intro)
06 Tidal
07 You Never Know
08 Dry Ice
09 Sometimes
10 Hullabaloo
11 Wherever You Go (with Intro)
12 Red House