Michael Thompson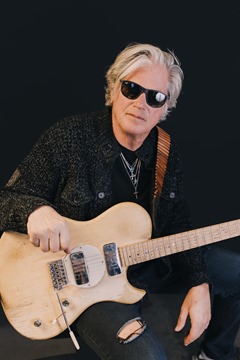 © Lindsey M. Thompson
Michael Thompson, a well-known session guitarist, boasts an impressive resume packed with collaborations alongside top artists like Celine Dion and Mariah Carey, both in the studio and on tour. Not only has he lent his six-string mastery to movie soundtracks, but he has also graced the world with his solo projects, including the critically acclaimed albums 'The World According To M.T.' and 'M.T. Speaks'. These records serve as a testament to Thompson's artistry, showcasing his astute and ingenious guitar prowess.
Not content with solely pursuing solo endeavors, Thompson has also steered the ship of Michael Thompson Band, delivering three studio albums and a captivating live album. Now, their highly anticipated release, 'The Love Goes On', which is just released. This musical offering features the exceptional vocal talents of Moon Calhoun, promising a harmonious blend of their respective strengths.
'The Love Goes On' is more than a treat for guitar aficionados; it aims to captivate a diverse audience of music lovers who revel in the sonic landscapes of AOR/Rock. With this album, Michael Thompson and his band are poised to transcend boundaries and make a resonating impact on the music scene.
We had a chat with Michael Thompson himself about the brand new piece "The Love Goes On"
Interview / Text  Mamoru Moriyama
Translation         Hiroshi Takakura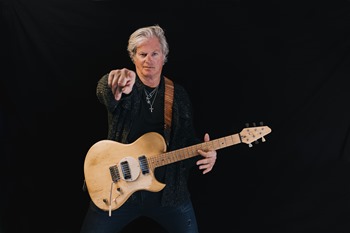 © Lindsey M. Thompson
Muse On Muse : It's been around four years since your previous album, "LOVE & BEYOND", and now you've released your latest work, "THE LOVE GOES ON". Could you tell us a bit about what led to the release of this new album?
Michael Thompson : During the Covid lockdown I was approached by Frontiers Records about possibly reuniting with Moon Calhoun to do a new MTB record. I thought about it for a while then I decided to dive in and do it. I mostly wanted Moon to get a chance to be heard again on a new recording.
MM :As you sung in the title track "THE LOVE GOES ON", this album seems to radiate positive energy that encourages people. What were you hoping to express with this album, in your own words and through your personal worldview?
MT :  We wanted the message to be full of positive energy…there's so much negativity in the world today we need to find a place to get away from all that. For us, music is that place.
MM : In this album, we can see a comeback of Moon Calhoun, who was the vocalist on your first album, "HOW LONG". Could you share with us what led to his return?
MT : Moon and I have been friends for 40 years but we only made 1 record together. Back in the day we played live together a lot but we only had done the one record – MTB "How Long". The new MTB record was long overdue but in the back of my mind I always hoped we could make another record together someday and now we have!
MM : The bass is played by Tom Croucier (former Life By Night, younger brother of RATT's Juan Croucier). Could you tell us what inspired you to invite him to be the bassist for this project?
MT : Tom really was the catalyst and the glue that made the new record happen. Tom and Moon have been friends for even longer than Moon and I. He directed a lot of how the lyrics and melodies were created. Our procedure would be that I would write a pretty complete track then I would give it to Tom and Moon to write words and melodies to. This method worked well for us and we wrote 11 songs that way.
MM : We'd love to hear more about the man behind the drum kit. Could you share with us your thoughts on working with your drummer, Annas Allaf.
MT : Annas Allaf is actually Michael Heart. He's from Syria and Annas is his Syrian name and Michael Heart is his entertainment name. He is one of the most talented people that I've ever met. He co-produced, mixed, mastered, played keys, sang background vocals AND he played all the drums…this record would not have been possible without him!
MM : When it comes to crafting your music and playing guitar, what are the key things which you look for or expect from your drummer and bassist? Can you share some insights?
MT : With drums and bass I look for simpatico musicians who sound like they belong on the track. There are so many great musicians but only certain ones click for me as far as who I want to hear on my music.
MM : The songs on this album were composed by you, Calhoun, and Croucier. Could you give us a detailed account of how you divided the roles and what the composing process was like for each of you? How did you collaborate and blend your individual styles to create the unique sound we hear in this album?
MT : I created the music tracks in my studio but Moon, Tom and I really collaborated on all the vocals together at Moon's studio. We really spent a bunch of time working on the phrasing and choice of notes for the vocal melodies. It was definitely a case of "three heads are better than one".
。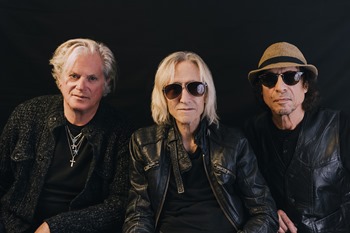 © Lindsey M. Thompson
MM : We'd love to hear more about the title track and its accompanying music video, "THE LOVE GOES ON". Can you share with us the inspiration behind the song.
MT : I actually came up with the title when I wrote the track. Back in the 80s Moon and I had a band called "Slang". It was a precursor to MTB. Slang had a song called "Love Goes On" that was never released. I thought that THE Love Goes On had a good sound to it. Also, the last MTB record was called "Love and Beyond" so I thought that "The Love Goes On" was a further extension of that vibe.
MM : Your sophisticated arrangements and mature vibe in tracks like "WHISPERS AND DREAMS", "WAR OF THE HEARTS", and "IN YOUR ARMS" emit a unique charm that sets the Michael Thompson Band apart from other Rock bands.
MT : We are just fans of great hooks and good songs. These songs are really just pop songs with rock guitars and rock drums. So our vibe as writers is to embrace all the music we love and I think that shows with songs that you mention. But at the end of the day I wanted it to be a rock record…
MM : The expansive, driving guitar sound and the impactful playing on energetic rock songs like "ALL OF IT" and "JUST WHAT IT TAKES" create a flow in the track-list that feels truly satisfying. Could you talk about how you crafted this sequence and what you aimed to achieve with the progression of the songs?
MT : Those two songs were more guitar riff driven songs. For a lot of these songs I start with a riff on guitar and expand it from there until it feels like a complete song idea. These songs were all written on guitar.
MM : The laid-back and soothing number, "MY FOREVER JUNE", provides a healing effect. The melancholic and melodic guitar solo further enhances the allure of the song.
MT : This song was another one of my titles and music. I wanted to write a song that honored Moon's wife, June who passed away almost 20 years ago from cancer. She was so beautiful and so well loved by all those that knew her. It's a sad song but ultimately uplifting I think.
MM : In tracks like "HIGHER", "OUT OF NOWHERE", "WHAT KEEPS YOU ALIVE", and "A PICTURE OF YOU", the presence of the guitar notably and positively grows more and more prominent. Could you delve into how you approached the guitar arrangements in these songs to achieve such a compelling and escalating guitar presence?
MT : Again, all 4 of those songs started with me just sitting in my studio messing around with a guitar riff. When I got something good I would just start building the track until it sounded like a song then I would give it to Tom and Moon to do their lyric / melody thing.
MM : The composition of the bonus track, "WHEELCHAIR", is credited to you, Calhoun, and Paris. Could you share the story behind this song?
MT : Wheelchair was included as a bonus track on the re-issue of the original MTB record that Frontiers released a while back. It was their idea to include it on this record too because they felt that maybe a lot of people never got a chance to hear it the first time that it was released. It's a sad song but also uplifting.
MM : This album allows us to once again appreciate the remarkable expressiveness that Calhoun brings to the table as a vocalist. Could you discuss your thoughts on his vocal performance in this?
MT : The thing that I've always loved about Moon's style is that he has a lot of R&B influence to his singing. We both share a love of that music. I've always felt that Rock and R&B go together and my favorite singers like Paul Rodgers and always showed that.
MM : This album not only showcases the total musical charm through its magnificent melodies and arrangements, but also prominently features your guitar work. It seems you've successfully crafted a work that satisfies both AOR and rock music listeners, as well as guitar fans who appreciate the players' perspective. Could you share your thoughts on achieving this balance and how you approached the album?
MT : As a session musician I would always try to play to the song and the vocal. Even though MTB is more of a showcase of my guitar playing than a lot of records that I've played on, I still have the same approach of trying to enhance the song with my guitar parts. One of the really fun things about doing these records is that I get to take guitar solos! In my career as a session guy I would get to take a solo every now and then but not very often…this record there's one on every song! LOL
MM : Please tell us your gears. What guitars, amps, pedals did you use for this album?
MT : I used a lot of different gear for this record. One major thing is that I don't use speaker cabinets. I use a box called the A.C.E. (with a reactive load) made by Suhr instead of a cabinet and mic. If you've ever seen videos from inside my studio I have a lot of guitars, amps and pedals. I try to mix it up and use a bunch of different stuff to keep the sounds varied.
MM : Please tell us about any plans or upcoming projects?
MT : I don't have any immediate plans other than staying happy and healthy and making music.
MM : Please leave a message to your fans.
MT : For the fans: THANK YOU so much!!! It's always very touching to me to meet someone who has followed my career and just enjoys the music that I make. That is the whole reason that I do this: to bring joy to people!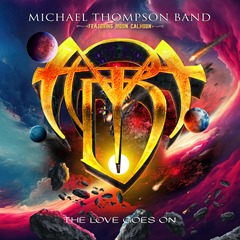 Michael Thompson Band / The Love Goes On
1. The Love Goes On
2. Whispers And Dreams
3. War Of The Hearts
4. In Your Arms
5. All Of It
6. Just What It Takes
7. My Forever June
8. Higher
9. Out Of Nowhere
10. What Keeps You Alive
11. A Picture Of You
12. Wheelchair (Bonus Track)
Line-Up:
Moon Calhoun – Vocals
Michael Thompson – Guitars
Tom Croucier – Bass
Annas Allaf – Drums