Martin Miller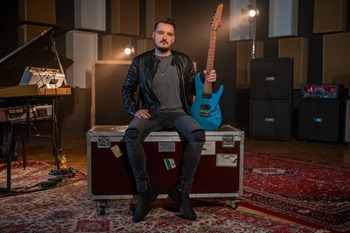 Martin Miller, a musician hailing from Germany, has gained a dedicated fanbase worldwide through his online guitar lessons, guitar resources, and his YouTube channel which holds over 700,000 subscribers and more than 120 million views. On his channel, he performs high-quality covers of classic hits from the 70s to 90s alongside the Martin Miller Session Band.
In 2013, Martin released an instrumental album focused on guitar called "The Other End". Then He released his latest album "Maze of My Mind", where he not only showcases his guitar skills but also takes on the role of a vocalist. The album, brimming with catchy song melodies and high-level technicality, exhibits a progressive heavy rock genre coloured by sophisticated feeling and sensibility in his guitar work. It doesn't just flaunt Martin's charm as a guitarist, but also his overall musical sense as a vocalist, composer, and arranger.
We had a chance to speak with Martin about his latest work, "Maze of My Mind".
Interview / Text  Mamoru Moriyama
Translation         Hiroshi Takakura
Muse On Muse : You have released the brand new album "Maze of My Mind". How are you feeling about that?
Martin Miller : I'm very excited, it's my first solo record in 10 years and I'm eager to see how people receive it.
MM : What was your aim or goal for this project?
MM :  I wanted to make a Progressive Heavy Rock record with vocals, that is combining 70s-90s nostalgia with cutting edge music production and musicianship.
MM : Could you share with us the background story of how you named this album as "Maze of My Mind".
MM : It's a reference to a line in the song "Fragments". The lyrics are generally very introspective and the title is a perfect resemblance of that.
MM : The artwork of the album has an atmosphere of beauty and mysteriousness.
MM : It was created by an artist named Markus Vesper. He worked with the album title and lyrics in mind and we put a lot of lyrical references onto the cover.
MM : Please introduce musicians who joined force with you for this album.
MM : We have Sebastian Lanser on Drums (ex-Obscura, ex-Panzerballett, Obsidious) as well as Marius Leicht and Ben Jud from the Martin Miller Session Band on keys and bass.
MM : You not only played guitar, but also sung on this album. We could see your singing in the cover-song project on Youtube. How come you took a part of songs as a singer officially?
MM : I've been training my voice for the last 7 years and got really passionate about singing. It was time to do something original and creative with it.
MM : The song "Something New" that opens the album is spectacular, with the beauty of the resonating piano sound that supports the melodic voice, the groove created by the synth at the beginning, the driving rhythm guitar, and the rhythm section. The whole song has a dramatic vibe.
MM : Thanks, groove and melody are of the highest importance for me with the composition for this record.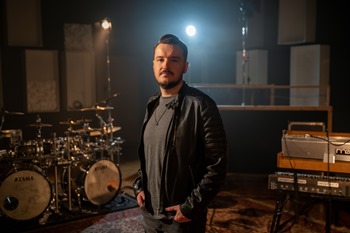 MM : In 'Fragments', a beautiful ballad, the song unfolds with the resonant piano and the dulcet tones of your tender singing voice at its core.
MM : It's the darkest, moodiest song on the album. It's an antithesis to the brighter, more uplifting tone of the rest of the record.
MM : In 'Left Inside', I felt a Dream Theater type of sound in the heavy and intricate guitar work and the melodic chorus. Simultaneously, it had a sophisticated beauty and coolness reminiscent of British New Wave rock artists from the 80s, creating a sense of originality that is unique to you.
MM : Left Inside was the first song I started when writing this new record. I was still trying to figure out, where to go with the songs musically.
MM : "The song 'Web of Lies' has an impressive bassline from the beginning. Could you please tell us the meaning behind the song 'Web of Lies'?"
MM : It's a song addressed towards people, who spread negativity and lies among the online community. Musically it's a really fun, energetic rock song with a bit of jazz fusion thrown in.
MM : I was overwhelmed by the vastness and beauty present in 'Compass (Beneath the Lights)'. Please share with us your thought about this song.
MM : This to me is the most important song on the record. It's an ode to musicians and artists of the word and emphasizes the importance of creativity in difficult times. Musically it's the most complex. It's a through-composed piece with various themes, similar to a classical piece or soundtrack.
MM : Please tell us about your gears. What guitar, amps, effectors and pedals did you use for this album?
MM : I used my two Ibanez signature guitars: Ibanez MM1 and Ibanez MM7. The main amp is a Laney IRT-Studio, as well as some plugins.
MM : Your skilfulness as a guitarist is already well-known to many people, but with this latest work, I was really impressed by your outstanding skills as a vocalist and composer/arranger.
MM : Thanks a lot. It's a real challenge to play three roles at the same time. I'm happy you enjoy it.
MM : This album showcases your overall musical prowess as a musician, featuring songs with intricately woven and indelible melodies that can be appreciated by a wide range of music fans, as well as arrangements that deliver a sense of structural beauty. It's not just a work geared towards guitar players, but rather a collection of songs that have the potential to leave a lasting impression on the listener.
MM : Yes, it's not a guitar record. It should feel like a band record, even though everything is composed by a single person. I want the music to be able to speak to anybody, whether they play guitar or not.
MM : Could you please share with us what you have been doing to enhance your abilities in composing and arrangement?
MM : I spend a little bit of time most days practicing the piano, which is my main composition tool. I also study production techniques with Digital Audio Workstations very deeply, so I can quickly realize any idea I may have.
MM : Please tell us your upcoming plans.
MM : 've just released a new book "Modern Rock Guitar Soloing" on Amazon. I'm about to go on tour
with the Martin Miller Session Band and my new signature Ibanez MMN1 signature model will come out later this year.
MM : Please leave a message to your fans.
MM : Thank you, dear fans from Japan. You're absolutely amazing and I love coming to see your beautiful country every single time. Domo arigato!
Martin Miller Official website https://www.martinmillerguitar.com/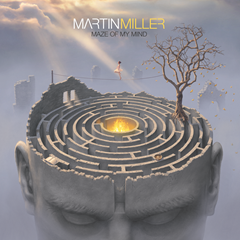 Martin Miller / Maze of My Mind
1. Something New (8:56)
2. Fragments (5:51)
3. Left Inside (7:32)
4. Web of Lies (6:39)
5. Compass (10:26)
Line-up
Martin Miller – Composition, Lyrics, Production, Mix, Guitars, Vocals, Programming,
add. Keyboards, Bass (3)
Sebastian Lanser (Obsidious, ex Obscura, ex Panzerballett): Drums (all tracks)
Ben Jud (Martin Miller Session Band): Bass (1, 2, 4, 5)
Marius Leicht (Martin Miller Session Band): Keyboards (1, 2, 3, 4)
Zach Ansley – Lyrics Co-Writer (all tracks)