Simon Phillips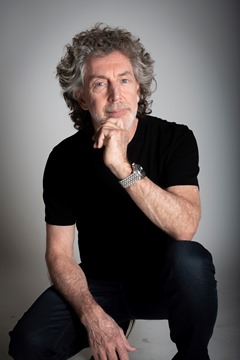 Photo ©Stephanie Cabral
Simon Phillips, one of the best Rock drummers has been working with legendary musicians, Jeff Beck, Michael Schenker, The Who, to name a few. No need to mention his brilliant works for the band TOTO.
Simon is not only the top level drummer, but also a top notch music creator who is enthusiastic about his project Protocol and makes use of his enormous talent for it.
The new Protocol consists of Simon Phillips (Drum), Alex Sill (Gtr), Jacob Scesney (Sax), Otomaro Ruiz (Key) and Ernest Tibbs (Bass). Each player contributed with their own style and colour to the new album which strikes Protocol fans with pure musical magic.
Also Alex Sill, who took over the guitar role from masters, Andy Timmons and Greg Howe, should be in the spotlight. He played his guitar differently from his predecessors wit his own clever and thrilling style and emphasized the power of Protocol.
We had a chat with Simon Phillips about the brand new 5th album of Prtocol, "Protocol V".
Interview / Text  Mamoru Moriyama
Translation         Hiroshi Takakura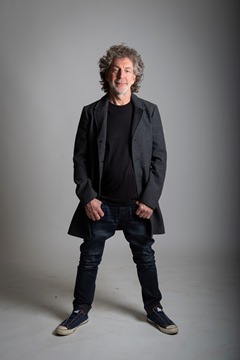 Photo ©Stephanie Cabral
Muse On Muse : I was very happy to see your message through Go Fund Me saying your house, which was affected by the wildfire in California in December 2017, was back to normal.
Simon Phillips : Thank you.
MM : Have you lost any musical ideas/data which were stocked up on your devices because of the wildfire?
SP : Oh yes – I lost many hard drives which were sitting in boxes, as I had only moved into the house 5 months before the fire, and was on tour for most of that time. However, those drives were older projects and thankfully all the newer drives with current projects on them were saved by my partner at the time.
MM : Your house is very important for your musical production as well. Your fans must be happy with that. Besides the release of the brand new "Protocol" album is the happy news for us!
SP : I am so happy to be able to work in my own studio again and even though most of the material on Protocol V was written in my rental house during 2020 I was able to record demos in the new studio.
MM : Each musical player brings their vibes onto beautiful and dramatic songs on Protocol V. This is an album with musical pleasure which makes us want to listen to it more and more.
SP : Thank you. Yes – this is the new line up of Protocol and each record has its own character and I am so pleased with everyone's contribution to the new music.
MM : What was the aim/direction for this album?
SP : No specific aim really, just more of my music which has evolved and some slightly different influences and styles. Of course adding Jacob Scesney on horns really changes the sound of the band and it is a most welcome change!
MM : Alex Sill, who was the successor of Greg Howe for Protocol tours, joined forces with you as a guitarist on this project. How did he get involved in Protocol?
SP : Alex was introduced to me by both Jacob and Ernest. Ernest heard Alex at an Alan Holdsworth memorial concert and recommended him and Jacob has played many times with Alex. I asked him to play local fun jazz gig with me and I was blown away by his playing.
MM : The new album starts with the driven track "Jagannath" and it lures us into the Protocol world.
SP : This was actually one of the last tunes that I wrote. I felt that I needed an up tempo tune as most of the material was medium tempo and that sparked the idea. In fact, it started with a Moog sequence arpeggio which I programmed and I also wanted to bring an Indian flavor to the tune. Hence the name, which as well as meaning a Hindu deity, is also where the word Juggernaut came from. The intro to the album reminds me of the sound of my local EJ Harrison trash collector truck as it trundles up my road!!!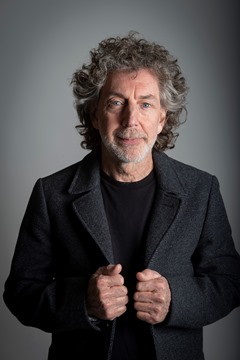 Photo ©Stephanie Cabral
MM : The rhythm section by you and Ernest made a special groove on "Isosceles".
SP : This was also conceived on my Moog Subsequent 25 but of course it went through many changes. In the studio we came up with the intro groove which was influenced by my sequenced horn solo section but Ernest came up with a really cool bass part which I then suggested we start the song out with.
MM : "Nyanga" has a unique atmosphere.
SP : This was written during Covid in my rental house in Ojai and started out with the Kalimba ostinato and built up from there. There are a few tunes in 3 on this album – a total coincidence but I do love grooves in 3, 6 and 12. It has an African feel to it so I named it Nyanga, a town in Zimbabwe and also where the tallest mountain in Zimbabwe exists and also the place where the Kalimba is believed to have originated.
MM : Intro of "Undeviginti" reminds me of your old pal and colleague Jeff Beck. Then the song goes on to the part where each musician communicates with their instruments in the Protocol manner.
SP : This started out with the melody, as many of my tunes do. I was cooking breakfast – boiled eggs – and was humming this melody. I turned the stove off, ran into the studio to switch on the equipment whilst singing in an attempt to not forget the melody, and then played it into the Pro Tools sequencer. I did not know the meter at first so once it was recorded I was able to figure it out. It was in 19/16 and then I spent the rest of the day composing the piece. It is based on my interpretation of Bulgarian folk music, but not any specific tune. Undeviginti is Latin for "19".
MM : "When The Cat's Away" is an interesting song title.
SP : I had written all the music for Protocol V but I still needed another tune and it had to be an easy funk groove to balance out the other compositions. I kind of hit a wall compositionally and couldn't come up with anything that I liked so I delved into some older tunes and found this one which I had co-written with my former keyboard player, Jeff Babko, for a project we were doing back in 2008. It was originally in 9/8 but I re-arranged the tune in 4/4 and altered the melody to work in its new form. It's a cheeky melody and the title reflects that.
MM : As the name suggests, "Dark Star" starts with dark and sad keyboard sounds.
SP : This started with auditioning sounds on the Arturia soft synths Fairlight CMI. I used to program this instrument back in the 80s and was curious to hear how the Arturia version sounded. I stumbled onto this "disturbing sound" and started playing those 5th chords – the tune came from that in just a couple of hours. One of my favorite early 70s movies was "Dark Star" and I felt it was an apt title.
MM : The 11 minutes (!) long song "The Long Road Home" tells us a dramatic story with beautiful sounds.
SP : This was the interesting one. I actually wrote this in Japan whilst on tour with Hiromi. Possibly in Osaka but I'm not sure. I wanted to write something for acoustic guitar and once again it was a 6/8 groove. However it sounded so different to the music of Protocol I didn't go any further with it. In 2020 Alex and Jacob came to dinner and I played them some of the new material for Protocol V. It was then that I thought I should play this to them. Alex loved it and asked if he could work on it. We sent midi files back and forth over the next few months and eventually we had "The Long Road Home"!
MM : You produced all songs on the album by yourself or with some other producers. Please tell us your writing/production process in detail.
SP : I produced the album but this is the first Protocol album that I did not record. Jason Mariani at Carbonite Sound in Ojai was the recording engineer and did a beautiful job. The process is simple – all the musicians in the room at the same time playing live! That's how all Protocol records are made. So important for this style of music. I mixed the record in my new control room and Jason mastered it.
MM : Great guitarists with their own style, Andy Timmons, Greg Howe and Alex Sill have worked for Protocol. What is your thought of them and what they gave Protocol music?
SP : Each player brings their own style and talent to the music and I love them all dearly. I mainly compose for guitar which started with writing music for Jeff Beck on "There & Back" in 1980. The guitarist is the "singer" of the band and therefore the focal point compositionally. Now I have added saxophone to that "voice" as I had on earlier albums "Symbiosis" and "Another Lifetime" which broadens the pallete.
MM : Please tell us your upcoming plans.
SP : The band played 5 shows in California recently and we are hoping to tour Europe in the Fall and of course return to Japan to play as soon as it is possible with the current restrictions.
MM : Please tell us a message to your fans.
SP : I really miss not traveling to Japan – it has been long time and I hope to be there very soon!
Simon Phillips official website  https://www.simon-phillips.com/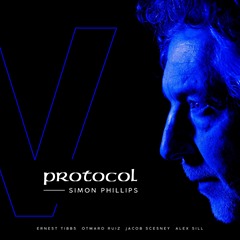 Simon Phillips / Protocol V
1. Jagannath
2. Isosceles
3. Nyanga
4. Undeviginti
5. When the Cat's Away
6. Dark Star
7. The Long Road Home