Corrado Rustici
A guitar legend Corrado Rustici, who is known as a member of the Italian Progressive band in 70s Cervello and the Jazz Rock band Nova, has released his solo instrumental album "Interfulgent"He also is famous for contribution to other musical giants. Phil Collins, Allan Holdsworth, Herbie Hancock and Miles Davis to name a few. Works he has done in his brilliant career over the past 40 years made him one of the most successful producers from Italy. We had a chat with Corrado Rustici himself about the brand new album "Interfulgent"
Interview / Text  Mamoru Moriyama
Translation         Hiroshi Takakura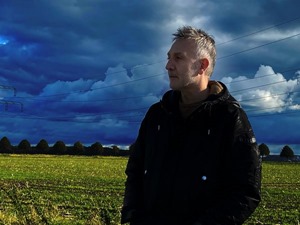 Muse On Muse : The dynamic and dreamy synthesizer soundscape and your aggressive yet beautiful guitar sound are merged together into the very artistic album "Interfulgent".
Corrado Rustici : Interfulgent is my new solo album – in 5 years… I wanted to create a musical work that was far from a shred oriented guitar album. So I devoted my main focus on the compositional aspect of the project and not on creating just some basic tracks to be used as an excuse to solo over them. The contribution of Alex Argento on keyboards has been very important for the overall sound of the album.
MM : Please tell us about the concept for this album?
CR : The effort was to place the electric guitar in a contemporary sounding context and I, also, wanted to use a different approach to my guitar sound. Since the recordings of my last album "Aham" (in which I experimented a lot, on the possible sounds that I could reproduce with just a guitar) I've been working on a pedal (which will be on the market later this year) that would allow me to express the notes with a lyrical abandon and sonic fluidity that I find so lacking these days. This approach freed me from worn out guitar schemes and concepts, allowing me to just "sing" and not just play the notes.
MM : The songs on the album are well structured and arranged. Please tell us about process of production and arrangement in detail.
CR : For this album, I wrote all of the songs (except for one) on keyboard.
I fleshed out the actual form of the songs first and then I started experimenting with the rhythmic layers of the songs.
I'm a big fan of electronic music, so I decided to use that as a starting point, rather than a "real" drums and bass section, cause I did not want to fall into the well known fusion/prog landscape. Once, I was satisfied with the rhythm section, I then started to create the layers and the hierarchy of notes, along with my "Push and Pull" approach to production, that I've developed throughout the years, to finish the tracks. I usually create the lead guitar parts by improvising and then "arranging " those ideas into a "song within a song" that becomes the solo.
MM : You have shown your musical versatility as a songwriter, arranger, producer for this project rather than making an album by a guitarist. Did you purposely do it?
CR : Yes, as I mentioned before, I am not interested in making "guitar" albums. I am really interested in creating musical works, which have a meaning beyond the instruments used in creating them.
MM : The opening title "Halo Drive" featured the impressive keyboard solo and your strong guitar play on the Drum n Bass track.
CR : This tune was inspired by the astronomer David Kipping, who suggested that even spaceships with the mass of the planet Jupiter could achieve relativistic speeds by exploiting black holes as galactic waypoints. So I wanted to convey the speed, excitement and the danger of such a feat. Alex Argento plays an exciting synth solo.
MM : The music video of "Night Of The Jackal" has been released. Please tell us about this exotic song.
CR : The jackal represents one who seeks to gain advantage or profit from the difficulties of another. It is an image that I see portrayed in the actions and in the rhetoric vastly used, by some misguided groups and individuals, during the past few years of obscurantism. It is also portrayed and perhaps more importantly, in betrayal… in the life as a couple, between friends, or people in general.
MM : We can see your strong originality on the avant-garde Blues number "ZuZu Blues".
CR : In this song I wanted to play around with the concept of "Blues", so I wrote a chord progression that might be recognizable, as bluesy, but I wanted to integrate it with something unusual. So I used whole-tone drenched melodies, to push it towards ear challenging harmonic landscapes.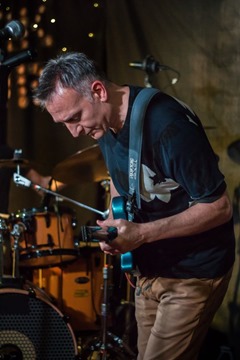 MM : Your emotional guitar sounds on the moody synth tracks on "Anna", "The Waters Of Enceladus" and "G. on a sunny day" are very touching.
CR : All three of these songs exemplify the sonic effort that I described earlier. I wanted to be able to "sing" my "Neapolitan/European" based blues, not the Afro-American one (which we are accustomed to hear from electric guitarists)… So I let the sound of my pedal guide me and free me from my mental guitar schemes and try to express the pure emotion and love that were the basic inspiration for these songs.
MM : This fantastic album is very highly addictive and when I listen to the whole album more and more, it lures us into your production and guitar sounds.
CR : Thank you. I am very happy to know that my efforts in making the album are rewarded by your attention to details and to spending more time in discovering the different layers within the songs.
MM : Your guitar sounds have great dynamics like horns and we can feel the vibe. What is your thought about guitar play?
CR : Besides what I have already mentioned earlier, for me – dynamics in a musician's vocabulary – are the secret to his/her success in communicating their emotional state and intentions. Because it's through the careful manipulation of those dynamics that notes find their meaning and have a better chance to transmit them to their audience. I have always been a great fan of wind instruments (sax, flute, duduk, etc) so I tend to emulate their expressivity with my playing.
MM : About the song "The Man From Yorkshire (Dedicated To A.H.)", we can see the influence of Allan Holdsworth on your music and you have actually worked with him. What you think about what his music has done for us?
CR : I'll take that as a compliment, because I think that Allan Holdsworth was one of the greatest guitarists of the past century… But, I'd like to say that I've never tried to learn/imitate anything that Allan played, because I think that – 1 – it is pointless and – 2 – nobody could ever play his music, the way that he did.
Having said that, Allan inspired me – through his music – to imagine a different way of looking at the guitar and to try to escape the well known guitar mental traps.
So I'm trying – perhaps badly – to find my voice and my sound on the guitar.
This is the only song that I, initially, wrote on the guitar.
I had known Allan since the 70's when I lived in England and we had stayed in touch on and off for decades, so needless to say I was extremely sad when I heard of his passing.
Some years ago I visited Bill DeLap, because I wanted to explore the idea of him making me an electric guitar.
After an initial visit, Bill was very kind and generously offered me to take home , for a few weeks, the guitar that he had built for Allan, so that I could get a feeling for his instruments.
After taking the guitar home, I sat down and within 15 minutes of playing it, I wrote this song almost exactly as it is on the album.
I took it as an inspirational gift from Allan – who had recently passed away – so I decided that it would be proper to dedicate it to his memory.
MM : Please tell us about your gears for production and recording.
CR : These are the "tools" that I used on Interfulgent:
Guitars:
DV Mark Corrado Signature guitar
Godin MultiAc
Godin Inuk
Synthaxe on "Khetwadi Lane"
Amp:
DV Mark MultiAmp with Custom Firmware
2 X 12 Cabinet
Microphones:
Lauten LS-208
Lauten LS308
Lauten Atlantis
Lauten Torch
Outboard gear:
Eventide Ultra-Harmonizer
Tube-Tech LCA 2B
Brunetti PAR 400 Pre-Eq
Pedals:
©Sophia – Corrado Signature Pedal
DAW:
ProTools
Overloud and ReMatrix Plugin
MM : You are known as one of the most succeed Italian guitarist and producer who worked with legends include Phil Collins, Allan Holdsworth, Herbie Hancock and Miles Davis to name a few. Please tell us some episodes within your works with them.
CR : That would take a book. Let's just say that I'm grateful and honored to have played with all of them.
MM : Please leave a message to your fans.
CR : I hope that Interfulgent can find its way into my Japanese friends' musical libraries and I really hope that – as soon as things get better – I will, again, be able to share my music in beautiful Japan, with my favorite audience in the world.
Corrado Rustici official website https://www.corradorustici.com/
Corrado Rustici bandcamp https://corradorustici-official.bandcamp.com/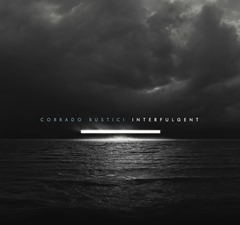 Corrado Rustici / Interfulgent
1.Halo Drive
2.Night of the Jackal
3.The Man From Yorkshire (Dedicated To A.H.)
4.Black Swan
5.Anna
6.Interfulgent
7.Khetwadi Lane
8.ZuZu Blues
9.The waters of Enceladus
10. G. on a sunny day